After a lull for several days, Orissa government on Thursday said Posco-India could easily start its work over 2,000 acres so far acquired to set up its proposed mega steel plant near Paradip.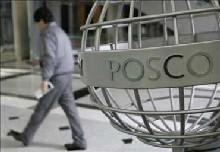 "The state government has so far acquired over 2000 acre of land for Posco steel plant. The company could easily start its work over the acquired land," Chief Secretary B K Patnaik told reporters.

Stating that the South Korean steel major wanted about 4,000 acre of land, the Chief Secretary pointed out that 2,000 acres was not a small patch.

"They (Posco-India) had proposed to set up 12 mtpa steel facility in three different modules. Now the acquired land can accomodate the steel plant," he said.

After holding about half of the required land, Patnaik said 2,000 acres was sufficient to start work.

However, the state government was not sitting idle, Patnaik claimed adding efforts were on to acquire land for construction of roads to the proposed plant site and other associated requirement like rehabilitation colony.

Rejecting allegation that slow land acquisition delayed implemenation of the country's biggest FDI (Rs 52,000 crore),
Patnaik said the company got final forest clearance from the union government barely some months ago.
The state government acquired over 2,000 acres since May, 2011 after the project got final forest clearance from environment and forest ministry, an official said adding it is not proper to blame the state government for the delay.
Meanwhile, the officials argued that while Tata Steel could build its 6mtpa capacity steel plant over 2200 acres in Kalinga Nagar, why not Posco.
Though Tata Steel had sought 3,471 acres for its steel plant while signing MoU with the state government in 2004, it worked out new designs and confined its requirement within 2200 acres, said an official in Steel and Mines department.
The chief secretary had already issued direction to the district administration of Jagatsinghpur and the authorities of the IDCO (Industrial Infrastracture Development Corporation) to immediately start land acquisition and other related activities for construction of roads to the proposed plant site area and rehabilitation colony, sources said.
Replying to a question on the need for a new MoU with Posco-India as the old one lapsed in June 2010, Patnaik said, "The law department is examining different angles before revising the document."