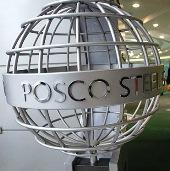 With Posco's $12 billion proposed steel plant in Orissa still hanging fire, Korean Ambassador Kim Joong Keun said on Friday countries in Europe are "carefully watching" the Posco issue in terms of FDI.
"All countries in Europe are watching the Posco (issue)...it is a test case (for them) for FDI (into India)," Keun told reporters in Chandigarh on Friday. Describing the Posco investment as the biggest FDI project in India, Keun said he was amazed to know the level of interest shown by other countries in the 12 million tonne per annum Posco project.
"I was surprised to hear from European countries that they know the (Posco) project better than me. I found (that) they are carefully following it. Even Japanese ambassador knew about this project," he stressed.
However, the envoy said
the project would start in Orissa though it has taken a lot of time.
"Even though it takes time, I think the Posco project in Orissa (will) in anyway start," he said.
Keun, though, said the delay in setting up of the steel project by Posco would not in anyway hit the flow of investments from Korean companies into India.
Giving updates about the Posco project, Keun said land acquisition, which is one of the two big issues, has been resolved though some NGOs are objecting to the acquisition process.
"In other case of rights over iron ore, the case is pending in Supreme Court," he said.
He further said the Environment Ministry has already given its nod to Posco for setting up an integrated steel plant in Orissa.
In June 2005, Korean steel giant Posco signed an MoU with the Orissa government for Rs. 52,000 crore (Rs. 520 billion) project.