Future Capital Holdings has had a troubled past, but Vice-Chairman and Managing Director V Vaidyanathan has an ambitious gameplan. Can he pull it off?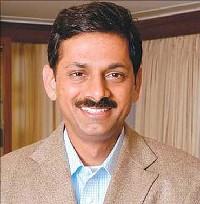 The lights on the fifth floor of Kalpataru Synergy in Mumbai's Santacruz are on past midnight most days.  And the man in the corner office - V Vaidyanathan - says this has been so for his "hyper-charged" top team for the last four months.

"We are in a build-up stage across the financial spectrum; that's a challenge all of us enjoy," the vice-chairman and managing director of Future Capital Holdings (FCH) says.

Vaidyanathan became what he says is a "partner" at FCH, Kishore Biyani's financial services company, on August 10 this year, for a compensation of Rs 50 crore through warrants and salary.

The 42-year-old former ICICI Prudential head now wants to create a financial powerhouse, and says the results will show when the current financial year ends.

Looking at FCH's troubled past, that's a claim some investors in the company are still unwilling to buy. "I wonder whether he has a magic wand," says one. But more of that later.

At the heart of Vaidyanathan's turnaround plan is a shift from a private equity (PE)-led asset management model to a net interest income and fee-based business.

"All businesses will be secured here, the higher yielding ones," Vaidyanathan adds. One of the first things he has done is to exit what he calls "non-core".

Talks are on with Centrum Capital to unwind their two joint ventures in retail foreign exchange services and wealth management, as well as retail broking & financial products distribution. If the talks over pricing fructify, FCH will shortly sell the forex business and buy out Centrum from the other businesses.

The second is to exit the self-employed personal loans space. "Salaried personal loans are good business, but banks are more suited to do these, as they have the bank accounts and can tap the salary flows," is the logic.

So, what will be the businesses he will build on? The company will offer loans against gold, property, securities and consumer durables. Then there will be fee-based businesses like wealth management and an asset management company, or AMC (its application for a licence is awaiting approval).

Net-based retail broking is another core area. The Rs 750-crore equity capital for FCH (another Rs 237 crore will add to net worth when the warrants convert) will certainly come in handy.

But these are things that every NBFC worth its salt is doing. So, how is FCH going to be different? His USP will be to set up financial supermarkets in all Pantaloon Retail's outlets such as Big Bazaar.

The company has to open branches anyway to service customers, but the theme is to open in an area where customers naturally walk in. Four such stores will come up in Big Bazaar stores by February next year.

FCH already gives consumer durables loans from the stores; it now plans to scale it up and sanction loans in 30 minutes. Since speed is of essence, it has tied up with TransUnion and Credit Information Bureau (India) for on-the-spot customer scoring.

That is a proven profitable model globally. The UK's largest supermarket chain, Tesco, gives credit to millions of customers; Sears and Marks & Spencers do the same.

He is also putting in place a new team at the top. The new members are Apul Nayyar, who will head the retail business, a chief financial officer and a chief risk officer from Standard Chartered Bank, some of whom are serving their sign-off terms with their current employers and hence can't be named at this time.

The CEO of the wholesale credit business is an existing employee, whom Vaidyanathan refers to as a "great guy".

Somewhere on the radar also is a banking licence. But for the moment, Vaidyanathan is looking at a financial conglomerate comprising a non-banking financial company, AMC, wealth management firm and broking.

At some point, even insurance (both life and general insurance with Generali) could become part of the financial services architecture.

Some of his plans have already started yielding results. For example, FCH is now disbursing Rs 80 crore in retail loans a month and is on course to have a Rs 1,000-crore retail loan book by March 2011.

That's an over three-fold rise from Rs 300 crore in the previous three financial years. The next goalpost: A Rs 3,000-crore retail loan book by March 2012.

But if many investors are still hesitant about buying the turnaround story that Vaidyanathan wants them to hear, the reason is simple.

The three-year-old company has been making headlines more for the much-publicised parting of ways between two erstwhile partners, and one of the most spectacular stock price crashes in recent times.

The FCH stock (the company had a public issue a month earlier) had hit a high of Rs 1,190 in February 2008 and collapsed to a low of Rs 93 in March 2009. It is currently trading at slightly over Rs 200.

Also, institutional investors who had put in money in the public issue were growing impatient, as they had high hopes from the stellar track record of the then FCH head and Biyani's business partner, Sameer Sain (formerly a Goldman Sachs International managing director in Europe).

But the relationship didn't last and the two parted ways in February. Though he was to create a financial powerhouse by leveraging the reach and customer base of Pantaloon and Big Bazaar, observers say Sain was keener on the PE part as the core business.

"No company has changed its strategy so many times as FCH within such a short span of time, between PE-led asset management and personal loans and distribution," says an observer tracking FCH from its inception. FCH has also been in the wilderness on almost all financial parameters: be it sales, net profit or operating profit.

Vaidyanathan doesn't want to comment on the past. "Be patient for two-three quarters. The results will show. We will do a promise vs performance (analysis) then," he says, adding, "The platform is equity capital, that's very strong; it's listed, and it's a strong group. The rest can be built."

Vaidyanathan says his former employer ICICI Bank gave him opportunities that helped him take on this kind of challenge.

"It's great to be an entrepreneur, especially when the economy is growing. There is a tailwind to growth. So, it's now or never," he says.

That must be music to the ears of Biyani, who has finally got somebody else to dream big in the financial services space, and switch off lights late. Investors, however, are keenly awaiting the results.