Rajesh Bhayani highlights all that you need to know about the online currency.
Illustration: Dominic Xavier/Rediff.com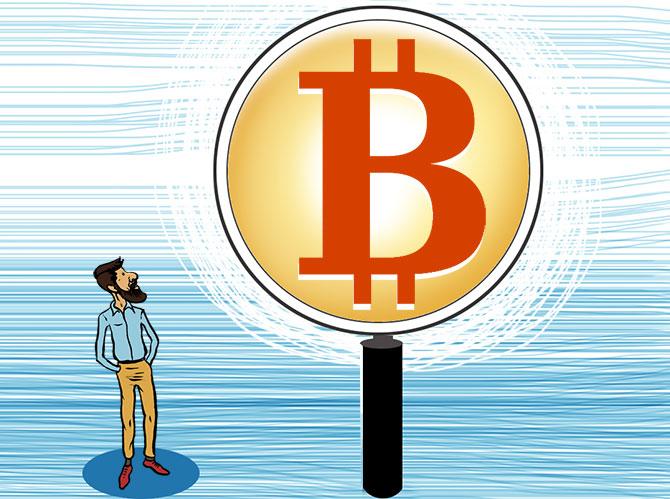 Bitcoin, an online currency produced (mined) using the cryptography program, is catching people's fancy and in the past four months, its price has nearly doubled and is trading at $1018.82 per unit. It is just $140 from the all-time high reached three years ago.
Prices on Indian Bitcoin exchanges are around an all-time high of Rs 72,000 per unit, a 4-5 per cent premium to cost. The cost is based on the international Bitcoin price and rupee-dollar exchange rate.
Why are the prices rising?
Bitcoin, like gold, has emerged as a tool to hedge dollar risks. Two big consuming countries -- India and China -- have started discouraging gold demand. China has placed informal controls on import and trading norms for gold have been tightened.
Demonetisation has worsened the already dismal scene in India. Investors in China have found Bitcoin an alternative to gold as a safe haven when the Chinese currency is falling against the dollar.
Interest in India picked up after demonetisation and at one time in mid-November Bitcoin was trading at a 40 per cent premium to cost. Now the premium has fallen to 5 per cent following fresh supply from those sending remittances using the Bitcoin route.
Bitcoin is mostly seen as a currency but is accepted as a commodity.
Though earlier there was hesitancy on the part of consumers in accepting Bitcoin, currently there has been a surge in interest because of the expansion of e-commerce. There are many options to purchase, use and store Bitcoin, said Sathvik Vishwanath, co-founder and CEO, Unocoin, one of the four major Bitcoin trading exchanges in India.
How to buy Bitcoin in India?
There are four Bitcoin exchanges -- Zebpay, Unocoin, BTCX india and Coinsecure -- where even venture funds and private equity funds have started putting in money. These exchanges have apps, which have to be downloaded and the buyer has to transfer money from his account to the exchange's bank account using net banking. Exchanges usually take two days to verify the customer details and then buying and selling can start.
Where does the supply come from?
Most Bitcoins are mined in China, which has emerged as the largest market.
In India, Unocoin has offered the facility to overseas Indian employees to even send their remittances in Bitcoin form, which can be encashed here.
Where to store Bitcoin?
All exchanges offer wallets to Bitcoin buyers to store their Bitcoin. There are two types of storage facilities: Online and hardware storage, available at fees. The hardware wallet remains in the buyer's control.
The scene in India
The RBI has maintained that Bitcoin is not a currency. However, private equity firms are investing in Bitcoin exchanges and merchants are accepting Bitcoins. Legal experts are decoding how this crypto currency should be defined.
Risks and regulations
One risk is hacking because trading is online. The other risk is the regulatory risk because many countries, including India, have not recognised Bitcoin.
Is it worth taking the risk of buying the digital currency?
Sandeep Goenka, co-founder and CEO, Zebpay, said, "Bitcoin has been the best performing alternative investment and its potential is stronger than ever today. Everyone who cares about money should experience Bitcoin now. After the Internet, it's the next revolutionary network technology."
However, many financial planners ask their clients to stay away from digital currencies.
However, the exchanges have tied up with merchants like Amazon and Flipkart, on whose platform goods or gift vouchers at a discount with Bitcoin.
Tax treatment
Zebpay's advice (with a disclaimer) is that "if the person is regularly buying and selling Bitcoin (say, five transactions or more a week), the gain from the sale of Bitcoins will be a business income and the loss would be a business loss. If the person is buying or selling Bitcoin occasionally, then it would be considered as purchase/sale of investments, which would be subject to long-term or short-term capital gain or long-term or short-term capital loss. The short-term gain shall be subject to 30 per cent income tax and long-term gain shall be subject to 20 per cent income tax".
Need for regulations
Organised crime syndicates including those spreading terrorism may shift to Bitcoin if remains unregulated and this is a global challenge. Bitcoin can be regulated the way Sebi had strengthened regulations of P-notes in capital markets.