Pichai will visit India accompanied by the heads of various Google business units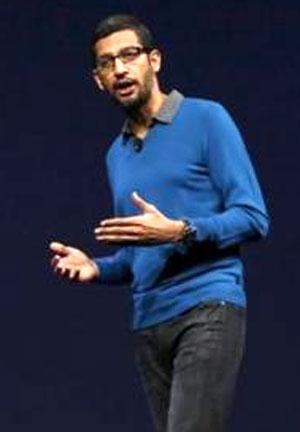 When India-born Sundar Pichai, chief executive of Google, the world's largest internet company, visits next week, President Pranab Mukherjee will host a dinner for him at Rashtrapati Bhavan, a privilege normally accorded to heads of state.
Industry watchers agree this reflects the importance the government is according to technology companies, whose products and services are used by billions across the world, including India.
During his visit to Silicon Valley in September, Prime Minister Narendra Modi visited the headquarters of Google and Facebook and met Indian-origin technology bosses, including chief executive of Microsoft, Satya Nadella.
The government recognises the importance of disruptive technologies for development initiatives like Make in India and Digital India," said B V R Mohan Reddy, chairman of information technology industry body Nasscom. "Digital technology is disruptive. If we can take the technology to rural areas, we can ensure a great deal of social equity," he added.
Since Modi's visit to the US, Mark Zuckerberg, founder of Facebook, has visited New Delhi and Agra. Pichai, who took over at the helm of Google in August, is next, and it is his first visit outside the US in his new role.
Pichai will visit India accompanied by the heads of various Google business units, including Google Search, Android, YouTube, Google Maps, Chrome and Google Ventures.
It was rare for the boss of a Fortune 500 company to bring his entire team to a country, said Lalitesh Katragadda, former head of Google's India R&D centre who is advising the government on the Digital India programme.
On December 16, the first day of Pichai's visit, Google is conducting Google for India, an event focusing on how it is bringing more Indians online. Pichai will deliver the keynote address at the event where other Google executives like Tamar Yehoshua, vice-president, search; Jen Fitzpatrick, vice-president, maps; Eyal Manor, vice-president, YouTube; and Caesar Sengupta, vice-president, Android and Chrome; will also speak about the company's products and solutions.
The other speakers at the event include Rajan Anandan, managing director for Google South East Asia and India; Jason Spero, vice-president, global performance solutions; Jason Titus, vice-president, developer product group; and Marian Croak, vice-president, access strategy and emerging markets.
There is a reason why the whole Google team is in India. There are two billion internet users, including 500 million in developing countries like India. However, there are five billion people who are out of the system, including a billion in India.
"India is the sharp end of the stick. If you win India, you will win the five billion people. If you lose India, you will lose those five billion," said Katragadda, a former colleague and friend of Pichai.
Pichai, an alumnus of the Indian Institute of Technology, Kharagpur, is scheduled to meet Communications and Information Technology Minister Ravi Shankar Prasad and Finance Minister Arun Jaitley before meeting Modi in the evening.
Sources in the know said he was expected to discuss Google's offer of free Wi-Fi services in 400 railway stations across the country in partnership with RailTel and plans to set up a campus in Hyderabad, an agreement regarding which has already been signed with the government of Telangana. The new campus can accommodate 13,000 people, making it Google's second largest centre outside its headquarters in California.
On the second day, Pichai is attending an open session with students of Delhi University at Shri Ram College of Commerce organised by National Skill Development Corporation. At Rashtrapati Bhavan Pichai is expected to attend a round-table with select invitees from the government and industry.
Homecoming
This would be Pichai's first foreign visit after becoming CEO of Google
Heads of Google Maps, Search, Android, Chrome, YouTube to accompany Pichai
President of India to host a dinner for him at the Rashtrapati Bhavan
To give keynote at 'Google for India' event, highlighting India specific products
To attend 'Ask Sundar', an open chat session with students of Delhi University
Meeting with PM, FM, minister for communications & IT