Samsung eyes growth in consumer electronics business in 80 districts through its service vans, and adding over 250 service points and as many resident engineers.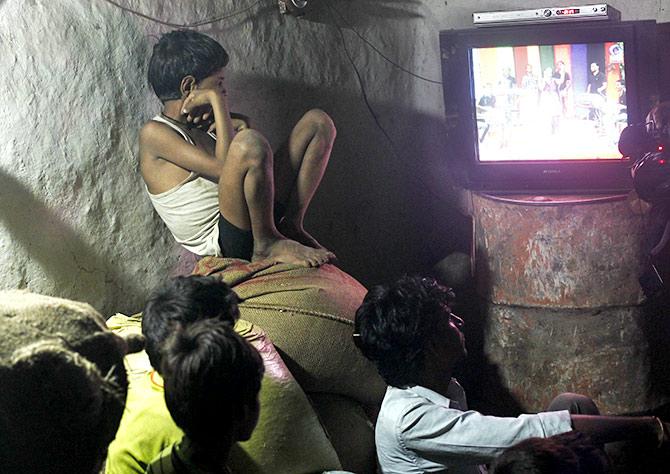 IMAGE: Children watch television powered by solar energy at Meerwada village of Guna district, Madhya Pradesh. Photograph: Adnan Abidi/Reuters.
Last year, Samsung India rolled out for the first time a district level strategy to drive its consumer electronics business.
The strategy, which sought to replicate the success of this Korean MNC with mobile phones, has helped the company to cap 2017 as a high-performing year in the consumer electronics space, says the company.

In the year gone by, the company continued its 12-year leadership in the television category with 30 per cent market share overall and 50 per cent share in premium television segment, propelled by the launch of QLED TV and The Frame.
According to the company, it retained leadership position in the frost-free refrigerator category with 40 per cent share, and further strengthened its top position in the smart oven (microwave) category with 34 per cent share.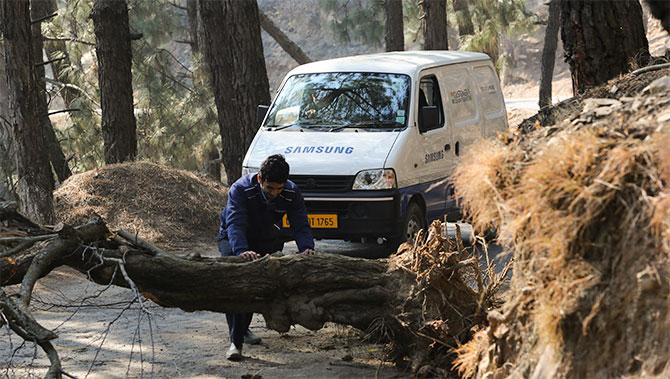 IMAGE: Samsung vans have clocked one million kilometres in India. Photograph: Courtesy Samsung India.
The rising economic prosperity and purchasing power of people in the upcountry market has unlocked high potential for growth there, says Rajeev Bhutani, vice-president, consumer electronics, Samsung India. While already present in these markets, Samsung witnessed a big demand pull.
"Quickly getting closer to the consumers was very important. We not only spruced up our customer service network by launching 535 service vans covering all villages in India and local resident engineers, but also adopted a district strategy identifying those where we needed to focus owing to growing demand," says Bhutani.

The company moved away from state/branch-level planning to the districts. Market mapping was done on a district level to gauge the potential and company share in these pockets. After dividing geographies into 606 districts for assessment, Samsung decided to tap into high-potential markets on a district basis, which contribute to almost 75 per cent of the market.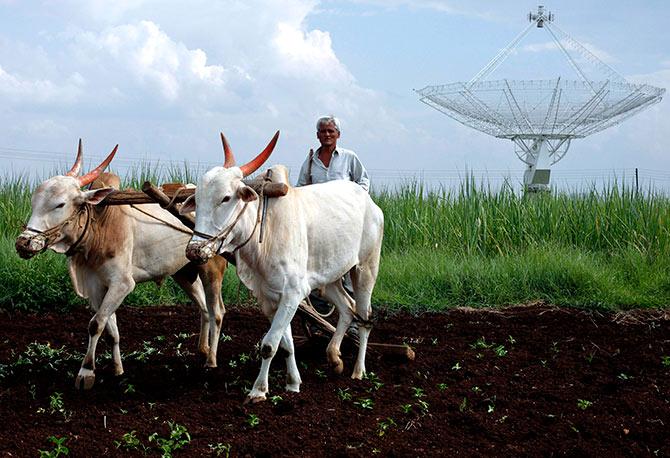 IMAGE: A farmer tills his land in front of a satellite dish set up in an adjacent field in Narayangaon, Maharashtra. Photograph: Vivek Prakash/Reuters.
Finally, 80 districts were identified which were further segregated into: Markets in which Samsung had absolute leadership, in order to maintain share, and then high-potential but low-share markets to attain leadership position.


Widening reach
Samsung identified 80 districts that were segregated into 1. Markets in which it had absolute leadership. 2. High-potential but low-share markets
It was supported with initiatives like doubling investments, expanding distribution reach, local marketing programmes and service support prioritisation
To complement the service vans, the company has also added over 250 service points and as many resident engineers
Among the districts targetted for a boost were Aurangabad, Raigarh, Kolhapur, Nagpur, Nashik, Sangli, Solapur, Allahabad, Valsad, Nalgonda and Hooghly. In some of these districts Samsung witnessed growth rates between 20 and 50 per cent. The largest number of districts that Samsung targetted were in Maharashtra, followed by Uttar Pradesh and Tamil Nadu.

"In some of these markets, we witnessed a complete turnaround with a 15 per cent growth year on year. We will continue with this approach in 2018 and work at an even more micro-level," adds Bhutani.

Samsung supported these markets with various initiatives like doubling market investments -- expanding distribution reach, rolling out local marketing programmes, service support prioritisation and strengthening the service network to reach remote markets through mobile service vans.
The service delivery has also been enhanced in these 80 districts. Samsung augmented its service network in 2017 with 535 service vans. Samsung India's service network has grown to over 3,000 points, extending its reach to customers in over 6,000 talukas across the country.

The service vans were flagged off in 2016. They are equipped with multi-skilled engineers, key components, power generator set and key jigs/fixtures for providing quick response and on-the-spot resolution. Since its launch, Samsung service vans have clocked over one million kilometres.
To complement the service vans, the company has also added over 250 service points and as many resident engineers. The resident engineers are stationed in remote areas to help reach out to Samsung's consumers.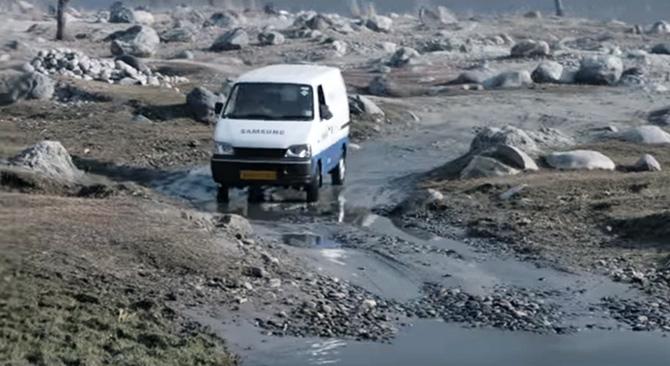 IMAGE: A Samsung service van heading to a rural destination. Photograph: Courtesy Samsung India.
According to experts, when it comes to tier-II and-III markets, pricing is a critical factor. Rajat Wahi, partner, Deloitte India, points out that consumer durables companies are taking a different portfolio of products, that are lower priced than those in tier-I cities, to the tier-II and III markets. He adds that the way to expansion in the upcountry markets is through direct availability of products.
"Because the companies have done pretty well in the big cities, with good penetration between the brick-and-mortar stores as well as supplies through e-commerce, in the two to three years it will be about expanding in tier-II and III cities."

When asked about the principal gaps in the tier-II and III markets, Wahi mentions service, availability of products, consumer experience and after-sales as critical. As of now, companies in general have smaller stores in these markets, so the consumer experience is minimal.

"The main thing is obviously that companies are waiting for the retailers to expand, as right now all the action seems to be in the tier-I cities."