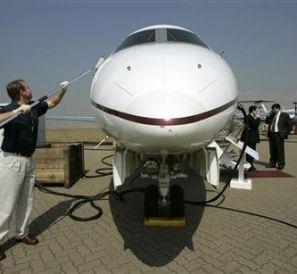 Barely a week after grounding a Cessna 525A owned by Punjab Deputy Chief Minister Sukhbir Singh Badal-promoted Orbit Aviation, the Directorate General of Civil Aviation (DGCA) in its safety audit of non-scheduled operators (NSOPs) has grounded two more business jets belonging to SpanAir and Business Jet India Private Limited for violating safety norms.
Union Urban Development minister Kamal Nath's family owns a stake in SpanAir. The air charter services firm is reportedly run by his sons. Business Jet India Private Limited is a subsidiary of Singapore-based BJETS Pte Limited in which the Tata group has a stake.

Captain G R Gopinath, too, is understood to have business interest in Business Jets India.

The aviation regulator found significant safety violations in the Hawker 900XP aircraft registered VT-BKL with SpanAir.

"There were several significant deficiencies in both the aircraft held up for surveillance. In case of SpanAir, the crew were not trained in safety and emergency procedures, the life vest was past its expiry date. There was a lady on-board who the operator claimed was a flight attendant but she was not trained in cabin crew safety and emergency procedures," said a source in know of the development.

Besides, the operations and the route guide manuals on the aircraft were outdated. Apart from the Hawker 900XP, SpanAir has four aircraft – a six-seater Premier 1A, a seven-seater Beech Super King Air B-200; and Bell 420 and Bell 407GX helicopters.

During the checks on the Cessna aircraft registered with Business Jets India, the aviation regulator found that the pilots in command did not have the necessary training certificates.

"The crew on-board were not trained in safety and emergency procedures. The operators manual and the log books were not updated. The operator even had goods in the lavatory which is strictly prohibited. The lapses cannot be overlooked", added the source.According to its website, Business Jets India Private Limited operates four business jet aircraft out of India. The fleet comprises of three Hawker 850 XP aircrafts and one Cessna Citation CJ2 aircraft.

Captain G R Gopinath of Air Deccan fame has business interest in Business Jets India Private Limited.
Air charter service providers Deccan Charters (of which Gopinath is the managing director), Taj Air (the executive charter service of Indian Hotels Company),and Business Jets India Pvt Ltd (BJETS) had formed an alliance in 2011 to launch Powerfly to offer services on demand by leveraging the synergies of the three brands. As part of the arrangement, Deccan Charters is the exclusive marketing concessionaire for BJETS aircraft in India.T
he violations have surfaced despite the regulator issuing a directive to all airlines on April 3 that penal action would be taken against them, too, apart from the crew, for non-compliance with safety norms.
In order to ensure safe operations during the election season, the DGCA had on March 24 also issued stringent safety guidelines and threatened to cancel airoperators' permit (AOP) of business jets and helicopters that failed to conform with prescribed norms.
The guidelines were reissued after the aviation regulator found discrepancy in operations by some non-scheduled operators. Taking a grim view of the frequent lapses on part of NSOPs, the DGCA has decided to step up surveillance carry out safety inspections on 44 major NSOPs who fly abroad and two aircraft each of all scheduled domestic airlines by June-end.