The total AUM rose 40 per cent, or Rs 6.3 lakh crore, to Rs 23 lakh crore at the end of November.
Illustration: Uttam Ghosh/Rediff.com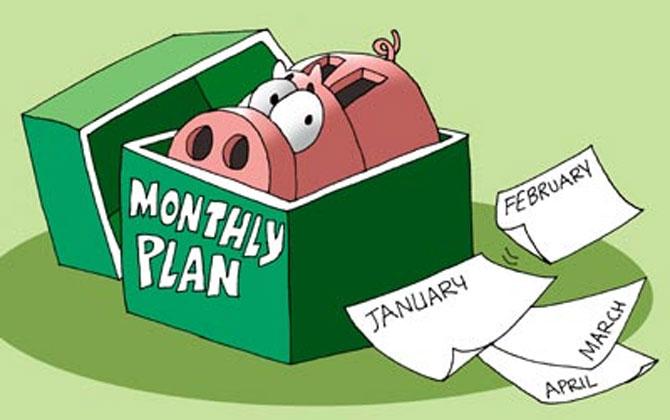 India's mutual fund industry witnessed an incredible journey in 2017. The sector, crowded with over 40 players, added as much assets in a single year as it could manage during the first two decades of its existence.
The year saw the industry break previous records it had set during the 2006-07 Bull Run.
The total assets under management (AUM) hit historic highs, investor count climbed new peak and inflows through the systematic investment plan (SIP) route saw huge improvement.
The total AUM rose 40 per cent, or Rs 6.3 lakh crore, to Rs 23 lakh crore at the end of November.
The accelerated pace of assets growth saw the industry surpass its own projection of reaching Rs 20 lakh crore AUM by 2020.
Sundeep Sikka, chief executive officer (CEO) of Reliance Nippon Life Mutual Fund, says, "There is no doubt that acceptance of mutual funds as an investment vehicle has certainly increased among investors.
"Further, with typical investment avenues like gold and real estate having not a bright outlook amid declining deposit rates in banks' fixed deposits, more and more investors are opting and enquiring about mutual funds -- which is quite a positive sign for the sector's growth."
In all, the inflows in fund industry has been to the tune of over Rs 4 lakh crore -- a massive sum when seen in time span of just a year.
Of this, equity schemes alone cornered a little over a third -- a significant trend. Amid this, what is more encouraging was the fact that participation in balanced funds is at an all-time high with investors pumping over Rs 76,000 crore till November.
Preference for balanced funds clearly suggests that rise in maturity of investors' behaviour when it comes to asset allocation.
A Balasubramanian, CEO of Aditya Birla Sun Life Mutual Fund, says, "The industry is going through a golden phase. Collective efforts by all stakeholders -- AMCs, distributors and the regulator, have helped the sector shape and go on a growth path.
"However, though the participation is on the rise from across the country, we still have a long way to go.
"Penetration of mutual fund products continues to be poor at less than 5 per cent."
A general good mood in the economy and recent reforms taken up by the government are being seen as aiding the growth of the sector.
Further, a robust stock market has continued to attract investors to mutual funds' folds.
Rising monthly SIP book presents an encouraging picture for the sector. From less than Rs 1,000 crore a month few years back, the SIP flows have almost neared Rs 6,000 crore.
Thus far in 2017, over Rs 53,000 crore of money has flowed in through SIP mode -- most of it is in equity. With this pace of growth, sector hopes SIP monthly flows to touch Rs 10,000 crore by 2018-end.
Currently, overall equity assets stand at about Rs 8.4 lakh crore -- constituting more than 36 per cent of the total assets under management.
The total number of investors' accounts is 65 million, out of which equity accounts are nearly 48 million.
The sector now projects a five-fold rise in asset size by 2025 and nearly doubling the number of investors' accounts.