'I have done enough work for many years.'
'This is a decision that many people at my age need to review.'
'I may become an exit example for people to study.'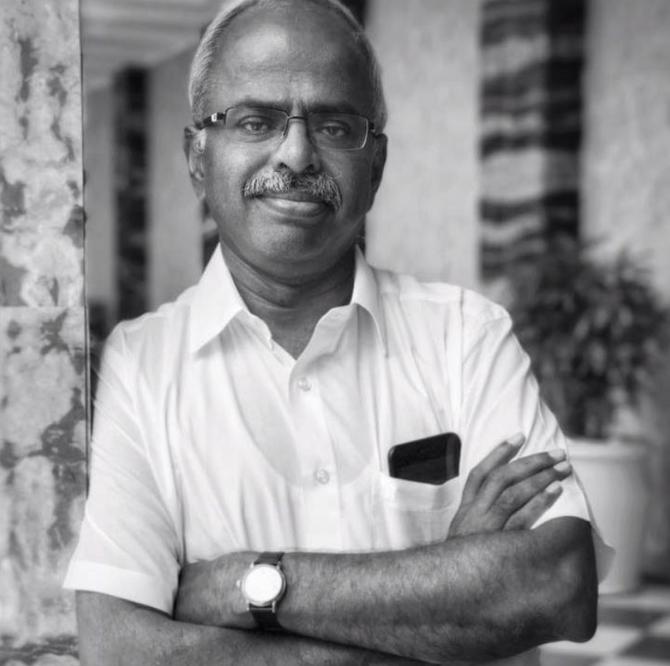 PharmEasy's parent API Holdings recently announced the acquisition of a majority stake in Thyrocare for Rs 4,546 crore.
In an interview to Sohini Das, Thyrocare Chairman Arokiaswamy Velumani says while the decision to exit was five years old, he did not wish to get into a desperate deal and refutes speculation that a lack of succession planning induced the sale.
Why did you decide to sell your entire stake in Thyrocare?
A proposal came and the valuation was high. The decision to move out is five years old; I lost my wife five years back. Somehow, I was thinking 'Kis ke liye kaam kar raha hoon? (for whom am I working?)'
I did not want to do a desperate deal. The stock was also not doing well for a pretty long period. Only in the last 18 months, it has gone up by three times. I thought this is the right time to do a deal.
There is a buzz that lack of succession planning induced the sale.
I have a son and a daughter. They are very much involved in the Thyrocare business.
The rumours around the succession plan are rude. This is vilifying the most capable children.
But one thing is clear, that my children do not want to be part of this business. They tell me it is your story and we will be supporting you till you are on the journey. Then, we will have our journey.
When did you decide to sell, and what made you choose PharmEasy?
Around four months back, I gave a mandate for sale. PharmEasy is a new and dynamic business, with new promoters.
PharmEasy was searching for the right fit, and came to know that Thyrocare is available. It took around a month to finalise the deal -- it started on May 25 and ended June 25. It is one of the biggest deals in the healthcare space.
An unlisted entity picking up a listed entity -- it's a unique deal.
Are you looking at a board seat?
I am picking up less than 5 per cent in API. I am an investor, and not insisting on any board seat. I am selling my entire stake of 66 per cent.
Do you think the valuation was right?
Around 18 months back, the stock price was Rs 400 apiece, and today, I got Rs 1,300 apiece when I sold it. I am not supposed to sit and wait for prices to go up. After buzz around the deal, the stock went up by another 10 per cent. But I sold it at the pre-determined price.
Tell us about your journey of building Thyrocare...
I was a government officer for 15 years. I would have retired from my government job. All my peers are enjoying a relaxed lifestyle. I also want to rest.
I have done enough work for many years. This is a decision that many people at my age need to review. I may become an exit example for people to study.
I travelled from Coimbatore with only Rs 500, and had an interesting journey. For the 40 years in Mumbai, I have had a 40 per cent compound annual growth rate (CAGR).
It is very interesting for entrepreneurs to understand how without even a single rupee being put by any outsider, the company became a unicorn.
A man started his journey when the term unicorn was not even coined.
I have made an exit on time. Before COVID-19, it was a location-based life, and post Covid, it is a virtual life. I have no firm plans yet.
I have no house in Mumbai, none in Coimbatore.
I can build a house wherever I want now. There is no specific plan to settle in a particular place.
Will omni-channel healthcare services be the thing of the future?
In a country like India, you will only have the top of the pyramid online, and the rest offline.
This means, 10 per cent of the population has access to the digital mode, while the rest would only have access to brick and mortar outlets.
Doing both or omni-channel will be the option provided it does not bring down the outcome because you do both.
Each segment has its own strengths and weaknesses. My personal feeling is, in the last 10 years healthcare has grown at 12 per cent CAGR; in the next 10 years, it will be 24 per cent CAGR.