Thyrocare founder Arokiaswamy Velumani shares his success story with Anjuli Bhargava as he remembers the one person who stood by him through it all.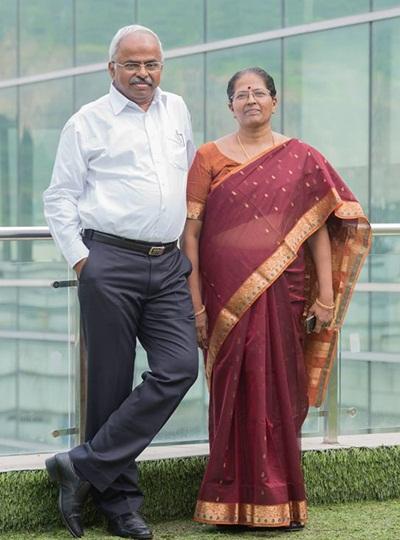 IMAGE: Arokiaswamy Velumani with his wife Sumathi. Photographs: Kind courtesy Arokiaswamy Velumani/Facebook
Roughly a hundred days before his initial public offering hit the market in April, Arokiaswamy Velumani lost his 55-year-old wife to pancreatic cancer.

The loss was more than a blow; it felt like a tight slap.
Velumani says his wife -- a woman he was initially reluctant to marry -- was the backbone of Thyrocare, the company he had built from scratch with a capital of Rs 2 lakh (Rs 200,000).

"No man can be successful unless his wife trusts, energises, supports and appreciates him," he says.

"If a wife questions or doesn't trust you, it can dissipate all your energy."
In his case, not only did she support him, she was his pillar.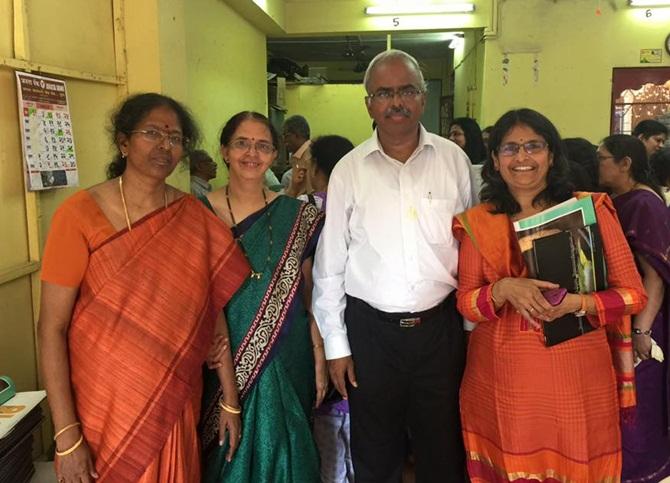 IMAGE: Velumani's wife was the backbone of Thyrocare, the company he had built from scratch with a capital of Rs 2 lakh.
But even as his investment of Rs 2 lakh grew to Rs 3,300 crore (Rs 33 billion), Velumani did not have the pleasure of sharing his joy with the one person who had contributed to it the most.
I feel tears pricking my eyes as I listen to Velumani's poignant description of his wife's illness, the mishandling, or so he suspects, by her caregivers in her short period of illness (she was diagnosed on October 1, 2015 and died on February 13, 2016), how he tried his best not to marry her but eventually did and how it turned out to be his best decision ever.
What kind of mishandling, I butt in. "She walked in alive and all I got back was a corpse. In between, I know nothing about what happened."

His grief, he says, was so devastating that he failed to question the 'how, why or why not' of the matter.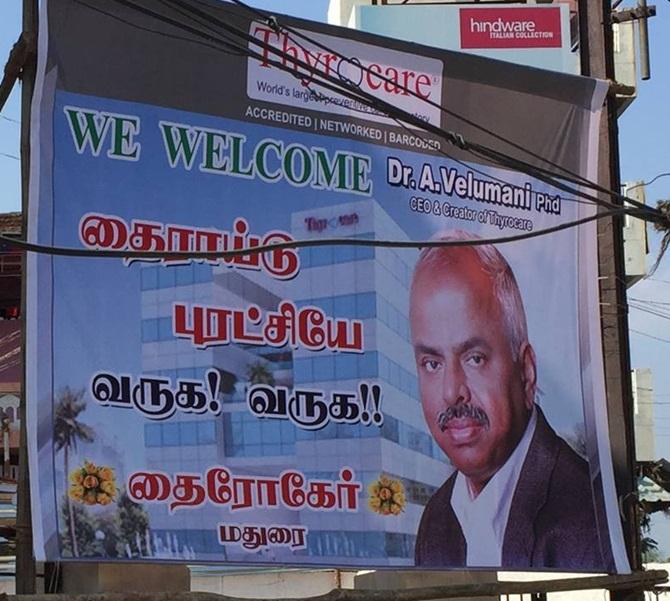 IMAGE: Velumani had to leave the village to attend college.
Velumani was born in 1959 to a landless farmer in a tiny village 26 km from Coimbatore.


Unable to cope with adverse circumstances for what appeared to be an endless period of time, Velumani's father had given up taking care of his family, which included four children, early in life.

Faced with her husband's helplessness, Velumani's mother took on the responsibility of keeping their head above water by investing in two buffaloes.

The money from the milk -- Rs 50 a week -- was what sustained the family for almost 10 years.
To attend college, Velumani had to leave the village. His motivation to enroll in college was unusual: To get a 'fair-skinned wife'. "In those days in our village, only boys who were graduates could hope to marry a fair girl," he says.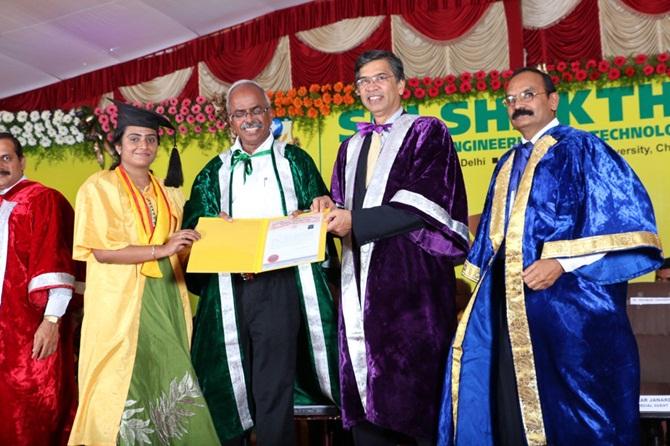 IMAGE: Velumani employs only freshers in his company that has 700-odd people.
In 1978, aged 19, Velumani got his BSc degree and started looking for a job, but could not find one in Coimbatore.

For one, prospective employers seemed keener on one's facility with the English language than one's knowledge, and Velumani's grasp of English was not -- and still isn't -- something to write home about.


Two, almost everyone who interviewed him wanted to know what experience he had. As a fresher straight out of college, he had none.
The matter irked him to such an extent that today he employs only freshers in his company that has 700-odd people.
After months of looking, he finally landed a job at a capsule-making factory as a chemist on a salary of Rs 150 a month. "Graduates in Tamil Nadu then were paid less than watchmen," he says.
He used to keep Rs 50 for himself and send Rs 100 home to his parents, who needed the money to educate his siblings.

"In some ways, I had become a father at the age of 10 when I realised that my father could not bear the burden (of the family)," he says.


"And it is to my mind the hallmark of a good son even today -- to live frugally and send 60 per cent of his earnings to his parents." I interrupt to add that I will let my son know.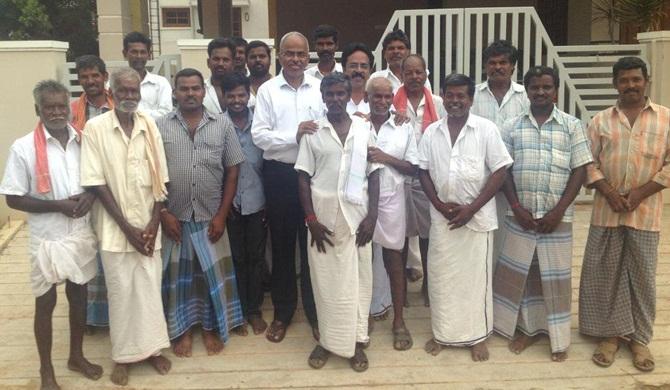 IMAGE: 'Men with whom I ploughed for an entire day in the early 70s. The men with black hair are their children.'
After working at the company for four years, Velumani could see that his life wasn't going anywhere.

Neither was his company. A month before its imminent closure, Velumani resigned and applied for a job at the Bhabha Atomic Research Centre in Mumbai.

He borrowed the money to go for the interview and landed the job at a princely sum of Rs 880 a month.
A government job was to his mind like eight hours of rest every day.

Air conditioned offices, comfortable chairs, a clean working environment -- he couldn't quite call it work at any stage, even though he put in long hours.

So, to supplement his income, he started giving four tuitions a day, earning another Rs 800.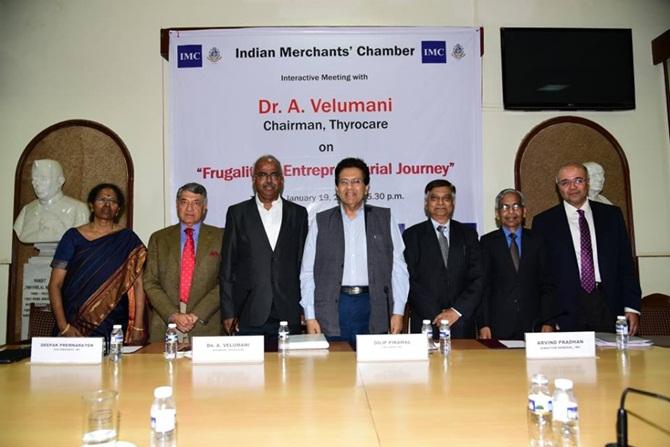 IMAGE: Sumathi, left, with Velumani, thirsd from left.
Of the Rs 1,680 he made, he sent Rs 1,200 a month home, which was crucial too as he had told a lie -- a white lie -- to his mother that he was drawing a salary of Rs 2,000 a month.

"If I didn't send at least Rs 1,200, she'd say her son was ruined for life. I knew she wouldn't let me leave the village for a salary of Rs 800," he says.
When he was 27, a man came to Velumani with the marriage proposal of his daughter.

The girl worked with the State Bank of India. Velumani took one look at her and decided that he was not keen on marrying her: She wasn't fair-skinned.

But he didn't want to reject her outright either, so he agreed to meet her.
IMAGE: Velumani took one look at Sumathi, second from left, and decided that he was not keen on marrying her as she wasn't fair-skinned.
At the first meeting at her office at the SBI, he falsely portrayed all his 'assets' as liabilities to dissuade her from agreeing to the match.

"I cooked up stuff hoping she would reject me and tell her father that this boy wasn't worth marrying."

He says he spoke continuously for 55 minutes and she listened quietly without saying a word.
That night, her father called to say that his daughter had agreed to the match.

Later, when Velumani asked her why she had agreed to marry him -- despite him de-selling himself -- she said she 'knew he was exaggerating' and that she realised that 'bade ghar me main chhoti ban jaungi lekin chhote ghar me main badi reh sakti hoon (I would lose myself in a big house but would have a say in a small one).'
On his part, she won since she had managed to keep silent for almost one hour (something he thinks women can't usually manage).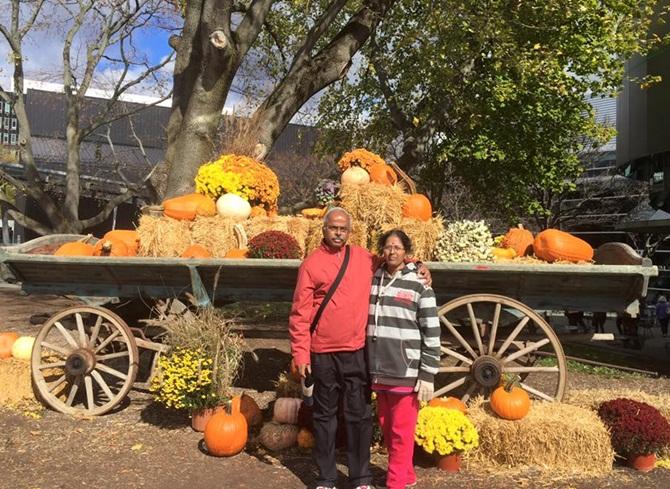 IMAGE: 'The entire credit for making the family what it became goes to my wife.'
He presented his mother with this fait accompli, aware that she would never accept such a dark skinned girl.
After marriage, Velumani started doing his PhD in thyroid biochemistry (by then his daughter, the second child, was born).

Meanwhile, his two brothers were in Mumbai for higher studies -- at the insistence of his wife.

"The entire credit for making the family what it became goes to my wife," he says. Today, one of his brothers is the chief financial officer of his company.
"In some ways, my HR was managed by my wife from 1986, my human resource," he says. While she took care of his family, she left him free to take care of his education and business.
Velumani had by now been working for 15 years tirelessly at the government job but a kind of restlessness had begun to set in.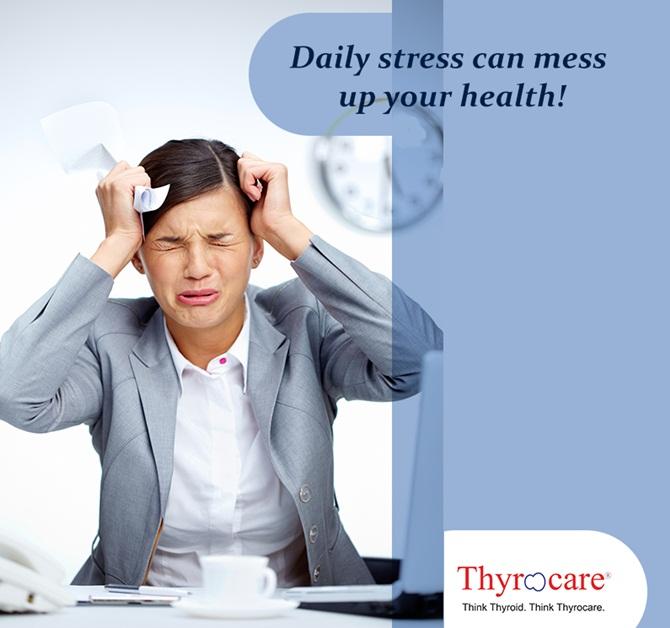 He watched those who had learnt thyroid testing from him mint money, while he continued to struggle on a government salary.
In 1995 -- without consulting anyone, not even his wife -- he resigned.

He broke the news to her at 2 am one day. "She didn't react at first and then said, 'What if I also resign from my job?'" he recalls.
"It came literally like a dhamki (threat). So I said, 'Jiyenge saath, marenge saath (we'll live together, we'll die together).'

From the very next day, she stopped going to office. She had quit SBI after 16 years.
Once, some years ago, Velumani told his son who was not focusing on his studies that he was worried about him.

He told him that his own grandfather was a very rich man and because of that his father became a very poor man.

Now he, Velumani, was very rich, so he was worried for his son.
The quick-witted boy promptly replied that he was very happy to hear this because this meant that his son (Velumani's grandson) would be very rich.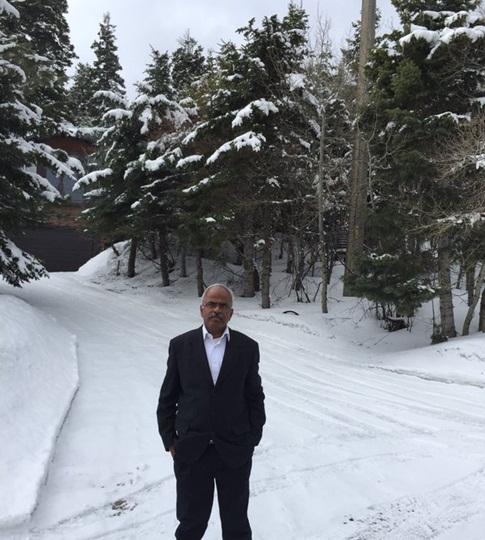 IMAGE: Frugality is the cornerstone of both Velumani's life and Thyrocare's.
Now 27, Velumani's son (an MTech in biotechnology) and his daughter (25) -- both unmarried and missing their mother "like anything" -- live in the laboratory with their father.
His children are frugal in their spending and approach to life. Does he then think they will amplify what he has built?
His daughter says he had an advantage, "the luxury of poverty," but he thinks the values instilled by him and his wife will hold them in good stead no matter what.
Frugality is the cornerstone of both his life and Thyrocare's.
Thyrocare offers thyroid tests to patients through its distributors at a fraction of the cost of competitors.
He calls the company "McDonald's plus Walmart" -- McDonald's for its focused menu and Walmart for its volumes.
"And she was also frugal. I don't think she consumed even 0.1 per cent of what she was entitled to," Velumani says, returning to the subject of his wife as our conversation winds down.
He says if the surgeon had come out of the operating theatre and said, 'Mr Velumani, I need Rs 1,000 crore (Rs 10 billion) immediately,' he would have signed the cheque without a thought.
"But he only came out and declared that she was no more."