'By demonetising higher denominations of currency notes, we have taken out the vehicle for corruption.
'But the motive is still there.'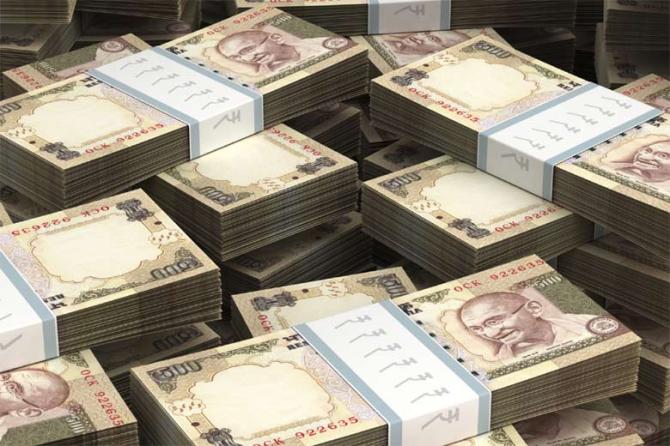 In 2000, Anil Bokil, chairperson of ArthKranti Sansthan, had proposed the government ban Rs 500 and Rs 1,000 notes to curb black money and corruption.
Bokil wrote newspapers articles about his proposals and made many presentations to government officials. Soon to be prime minister Dr Manmohan Singh heard his speech in 2003.
In 2013, when Bokil met then Bharatiya Janata Party prime ministerial candidate Narendra Modi, he realised Modi meant business.
After that meeting, Bokil met Modi four times to explain how black money can be curbed. On Tuesday, November 7, Modi announced that the Reserve Bank of India would demonetise Rs 500 and Rs 1,000 notes.
Bokil spoke to Rediff.com's Syed Firdaus Ashraf.
How did you react to the ban on Rs 500 and Rs 1,000 notes?
This was a surprise for all of us. It was our proposal to the government and we were expecting this to happen, but not so suddenly.
This was done in a very radical way and without any indication. It is very shocking news for us.
When did you approach the government with your proposal?
16 years ago. I wrote an article in Sakal, a Marathi newspaper, about this proposal in 2000.
After that, we held many presentations on different news channels. I used to say we have a solution to tackle black money, but we are not doing it.
When did you meet Congress leaders and what did they say?
I met them many times. We met Pawan Kumar Bansal, later insurance and banking minister in the UPA (em>United Progressive Alliance) government, with this proposal.
Dr Manmohan Singh watched our presentation in 2003 (he was not the prime minister then), but he did not give any response to it.
We also made a presentation to the National Institute for Public Finance and Policy (during the UPA regime) and they too did not give any response to our proposal.
What about Modi?
In 2002, I gave this proposal to (BJP leader) Nitin Gadkari, and he was very impressed. From that day, he supported our cause.
In 2007, he organised a function at L K Advani's residence. Arun Shourie and Arun Jaitley too were there. In 2014 Gadkariji again organised meetings with different leaders like Sushma Swaraj and Rajnath Singh.
When did you meet Modi with this proposal?
I met him when he was declared the prime ministerial candidate by the BJP in November 2013. He was very nice to me. After that, I met him four times.
Did he assure you that he would implement your vision?
He committed to us that he will take every measure to curb corruption and black money.
When this was implemented suddenly...
(Interrupts) Modiji had promised India he would tackle the issue of corruption and black money. He had to do something about this.
This was the only rational step he could have taken and he has taken it.
Your video says 80 per cent of the Indian economy operates on black money.
Everybody has accepted that 80 per cent of our economy is driven by black money.
Every study report from the World Bank to the IMF (International Monetary Fund) concluded that India's economy is run on black money because it is cash prominent.
Modiji was a tea vendor and, therefore, he knows about every small business practice. He was very convinced (by our proposal).
He is not an academician. He is an entrepreneur.
Many people are scared about the future after Modi's announcement.
It is just a reaction to uncertainty. People are insecure about this move. But this will improve the situation.
This move will not damage the social fabric. People are panicking because nobody was expecting this sudden shock of demonetisation.
This (uncertainty) will be there for only two, three days. Banks will run smoothly after that. People, in general, are supporting it.
80 per cent of the economy is run on Rs 500 and Rs 1,000 notes. How will that money get adjusted in the economy?
The amount is big, but the population (using it) is very small.
In India, 70 per cent of the population lives on less than $2 (about Rs 130) per day.
This move is to check speculators and control black money driven business.
The decision is to regulate the economy and act on the parallel economy.
Has this kind of move succeeded anywhere in the world?
It happened in the United States.
On July 14, 1969, Richard Nixon, the then president, had, in one go, demonetised $10,000 and $1,000 bills. He kept only $100 as legal tender.
What was the reason?
The reason was similar. There were a lot of illegal (higher denomination) currency transactions. Therefore, currency transactions became non-transparent.
To check all illicit businesses, drug trafficking, human trafficking, weapon trafficking etc, the Nixon government took this harsh decision.
Do you think the same is happening right now in India?
There is rampant corruption. We Indians know this. Modi has a commitment to the people. He said in his election campaign that he would check corruption and he had to take this decision.
Was this the only solution?
This is systemic correction. The next part of our proposal is to abolish all taxes.
Does it mean the 20 to 30 per cent taxes we pay on our salaries will go?
Definitely. We are asking for a single tax and it will not be more than 2 per cent (in the future).
Did the same thing happen in America?
No. This idea is the product of ArthKranti.
How is this situation different from when then prime minister Morarji Desai banned Rs 1,000?
It is not a similar situation. He banned Rs 1,000 notes in 1978 and at that time, Rs 1,000 notes worth Rs 55 crore were in circulation.
Today, the total value of Rs 1,000 notes in circulation is Rs 6.25 trillion, and that of Rs 500 notes is Rs 7.83 trillion (external link).
It is this huge amount that has been blocked.
Who will be affected most by this move?
Natural balancing will happen and everybody will be in a comfortable position.
Since there will be no parallel economy, businesses will run smoothly and everybody will get the opportunity to excel according to her.his capacity.
Do you think bribes will stop after this?
Everything will go through the banks and, automatically, traceability will increase.
Bank accounts are always traceable. Debit and credit cards will be registered.
Will this move end corruption?
Corruption is a manifestation of two things. One is the motive to evade tax and the means for it is the currency component.
Motive plus means equal to activity or manifestation.
By demonetising higher denominations of currency notes, we have taken out the vehicle for corruption. But the motive is still there.
Also, the flaw in the taxation system gives rise to black money.
If you abolish taxes, then there will be no motive to evade tax.
Automatically, there will be no black money.
You also stated that there were huge amounts of counterfeit Rs 500 and Rs 1,000 notes in our system.
Afghanistan is the largest producer of all kind of narcotics. Pakistan is using Indian fake currency and buying it which is landing in Punjab.
Ultimately, the youth of Punjab are using those drugs. It is coming to India because there is a pipeline of fake currency.
If you cut off the connectivity, then this (drugs) will not come to India.
Will the new notes be more secure and fake-proof?
(New) currency notes are not the solution.
Less cash and a cashless economy is the solution.
(If the government wants), it can freeze suspect accounts at any time.