'This has to be seen in the context not only of the legacy we inherited, but also of global economic weakness.'
'If after inheriting the very bad situation we have reached this level despite consecutive years of drought and no growth in the world economy, it is no accident.'
'It is a result of the sound macro economic policies followed by this government.'
'We have eschewed populism and stuck to a path of fiscal prudence.'
Prime Minister Narendra Modi in an exclusive interview to Business Standard.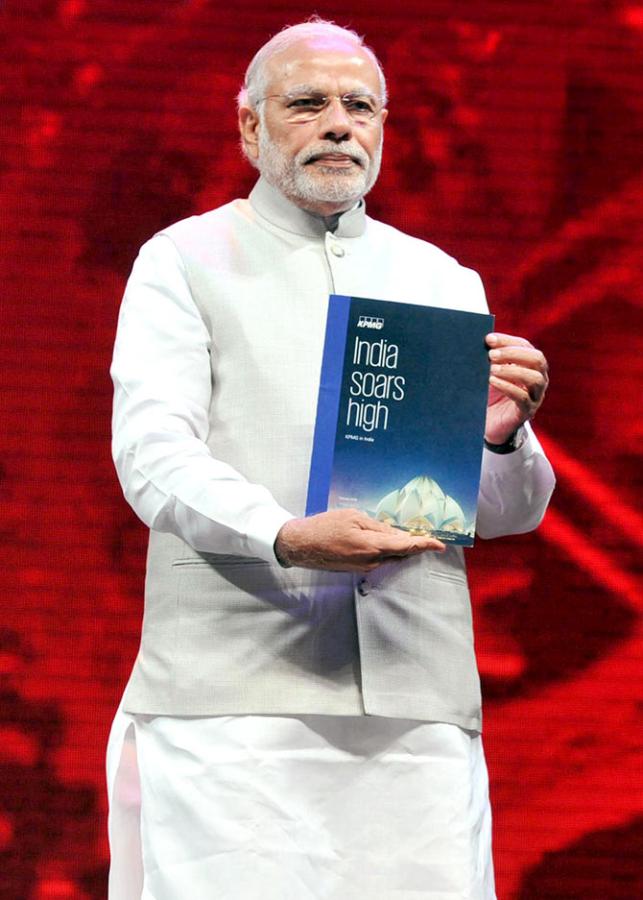 Prime Minister Narendra Modi tells Business Standard the Cabinet expansion will reflect Budget priorities
Prime Minister Modi said on Monday that one of the main achievements of his government in the last 26 months was to have eschewed populism and stayed on the path of fiscal prudence.
"We have eschewed populism and stuck to a path of fiscal prudence," he said in an interview with Business Standard.
On the crucial question of tax reforms, Modi said, "we need to move from a situation where only a few people pay direct taxes, and many escape, to a situation where many people pay a moderate amount."
"This expansion of the direct tax coverage should be achieved through better use of information technology and reposing greater trust in taxpayers," he said.
The interview was conducted in two phases.
In the first phase, the prime minister answered a few of the 30 questions Business Standard had sent to him for the interview.
In the second phase, the prime minister met a group of journalists and answered questions on a wide range of issues.
Excerpts of the interview given below include the prime minister's written replies to Business Standard's questions as also what he said in response to questions at the interaction on Monday:
What will be the nature of the ministerial reshuffle that we can expect on Tuesday?
This exercise is at the end of two years of our government.
The reshuffle will be largely aimed at expanding the council of ministers.
The expansion will also reflect the priorities and the focus of the Union Budget that the government presented earlier this year.
Your government had promised minimum government and maximum governance. Will this reshuffle reflect that principle?
You see, we believe in the goal of minimum government and maximum governance.
And we are trying to achieve that goal through four different ways.
One, we have already cut down the time the government used to take before a proposal would be finalised before being presented to the Cabinet.
From about three months earlier, it now takes only about 15 days.
Two, we have focused on improving the ease of doing business and our rank has already gone up several notches.
Three, the number of departments and ministries a file has to move before a decision is taken has to be cut down.
And finally, the government and its various departments must stop working in silos.
How is your government assessing the carnage in Dhaka?
All governments in the past have tried to tackle the menace of terrorism.
We have also tried to make the world aware of the challenges that terrorism throws up.
The world must recognise that terrorism is a problem and that the entire world is going to be impacted by it.
It is a challenge to humanity.
A resolution to define terrorism is still to be passed by the United Nations.
One of your key slogans before you became Prime Minister was to create jobs. While economic growth has stayed above seven per cent per annum in the last two years, the jobs growth data for the few sectors that are available do not show any upturn. How do you propose to fulfil your electoral promise to the people?
In our country, economic growth is usually thought of in two parts -- growth in the public sector and growth in the private sector.
However, there is a third sector which I can call the personal sector.
This personal sector is usually not part of the formal employment statistics.
You also know well that our employment statistics have limited coverage and are not very reliable.
We have given self-employment loans to 34 million entrepreneurs.
Many of them are from the Scheduled Castes, Scheduled Tribes, Other Backward Class and women.
This does not reflect in the employment statistics.
Going beyond the statistics, employment growth is a key plank of our economic policy.
This is the first government which has put in a strong linkage between employment and tax incentives by giving a 30 per cent weighted deduction for three years for new employees in the organised sector who draw less than Rs 25,000 per month.
We have also decided that government will pay the pension contribution of new Employment Provident Fund subscribers for three years for those earning less than Rs 15,000 per month.
These incentives have been further strengthened and enhanced for the garment sector which is highly employment intensive.
The re-orientation of our incentives towards employment, instead of capital investment, will produce major effects in due course.
We have also introduced a new model Act allowing shops to remain open without restrictions which will greatly improve employment opportunities.
On top of all these, the Make in India movement is gathering steam and will also begin to show substantial employment growth.
You have initiated some public sector banking reforms through the launch of Indradhanush. What do you plan next to create an adequate distance between the management of the public sector banks and the government, their owners? And do you want to dilute the government's stake in these banks below 51 per cent?
You must have heard of the Banks Board Bureau that has now begun functioning.
This bureau would create the distance that you are talking about between the management of public sector banks and the owners.
This is a big reform measure and would also help professionalise the bank managements.
You are a votary of cooperative federalism. You had talked about India being led not just by a Prime Minister but by a group consisting of the Prime Minister, along with the state chief ministers. The NITI Aayog that you created was aimed at realising that dream. How far have you achieved in that area? What more can we expect in this direction? Will the Aayog be the forum for discussing fiscal and policy issues with the states?
The NITI Aayog is an institution which is different in conception and in functions from the Planning Commission.
The key difference is that the NITI Aayog does not act as an arm of the central government but rather acts as a body which is common to the Centre and the states.
It is a key element in cooperative federalism.
NITI goes out to the states to promote new ideas and reforms, whereas the states used to come to Delhi for approvals and permissions from the Planning Commission.
Three groups of chief ministers worked last year and produced extremely useful reports which have determined important national policies.
One group came up with a new pattern for design and funding of centrally sponsored schemes, a matter traditionally decided unilaterally by the central government.
Despite having members from diverse political parties and regions, they reached a unanimous conclusion.
We also implemented the recommendations immediately.
Another two groups of chief ministers came up with the guidelines for skill development and Swachh Bharat respectively.
There is no precedent for this kind of active collaboration in the design of policy.
In the past, policies were made by the Centre or the Planning Commission with a pro forma endorsement by the chief ministers at the National Development Council, but without their active involvement in formulation.
NITI Aayog will continue to work closely with the states in evolving a healthy cooperative and competitive federalism.
Could your government do with the services of some more experts who could advise various ministries on policies?
We have the NITI Aayog for this.
It is an independent body and provides to the government independent inputs for policy making.
Your government is on the verge of creating history by passing the goods and services tax. While this will be a landmark tax reform, there are several other tax reform initiatives that need to be undertaken. You have mentioned that only about eight per cent of tax collection takes place through specific efforts of the tax department. What needs to be done to improve the tax collection efficiency of the tax department?
We need to move from a situation where only a few people pay direct taxes, and many escape, to a situation where many people pay a moderate amount.
We have to ensure that all those who should be paying tax actually do pay tax.
Such a situation will be healthy and enable revenue needs to be met at moderate tax rates.
Therefore, expanding the coverage of our direct tax through better use of information technology is crucial.
At the same time, we have to follow the approach of trusting the citizen. We have to make processes simple.
The sheer complexity of procedure dissuades citizens from meeting their obligations.
Therefore, it is critical that forms, procedures and rules support honest citizens and make it easy to comply with tax laws.
An important aspect of this is to make the process electronic and digital.
We are starting a pilot in seven mega cities where the entire process of assessment will be electronic, including scrutiny. The tax payer will not have to attend the income tax office at all.
There is a lot of scope for the use of electronic governance to simultaneously improve services to the taxpayer and increase tax collection.
But would you be able to garner the necessary support of the Opposition political parties in Parliament for passage of the Goods and Services Tax Bills?
I will always remain hopeful.
We are trying to take everyone on board.
Those who say we are not having a dialogue with the Opposition parties are mistaken. We are in touch with them.
What is your approach to subsidies? You want the rich to give up using subsidies voluntarily. Do you think a better way is to target the subsidies in a way that the undeserving categories of people are left out in a more objective and transparent way?
It is sad that in India, many intellectuals have adopted the thought process of those economists from rich countries who dislike subsidies, regardless of their nature.
In a poor country, it is a primary responsibility of government to look after the poor and handhold them.
The challenge in such countries is not whether to help the poor but how to help the poor.
For the poor to fight against poverty, they have to be helped and empowered.
The issue is how to reach the right person in the right way at the right time.
We have focused on targeting subsidies through foolproof direct benefit transfers using modern technology and thereby preventing leakages of subsidies.
This has been implemented only in a few areas so far, but has already yielded over Rs 35,000 crore (Rs 350 billion) of savings.
Excluding the rich from subsidies through legal measures is good for the exchequer; but if we can motivate the rich to give up subsidies, it not only is good for the exchequer but acts as a source of inspiration for the rich and for the poor.
For example, I know a retired widowed teacher who has given up her gas subsidy voluntarily.
When this happens, it is not just a financial saving, it is part of a social revolution among the citizens, an act of nation building.
It cannot be measured purely in rupees and paise.
Its significance is not in terms of value but in terms of values.
Therefore, the 'give it up' approach has multiple benefits.
But, cooking gas prices have not been raised or kerosene subsidies have not been touched as yet.
We have tasted success in many districts in plugging leakages in kerosene subsidies.
In Chandigarh, kerosene supplies have been stopped as there are no households without any gas or power connection.
That experiment will be considered for other areas.
For urea, I have stopped getting complaints from chief ministers from this year, after we increased its production and launched neem-coated urea.
Has the Swachh Bharat campaign lost some of its initial enthusiasm and drive? What can be expected in the coming months?
The question of Swachhta -- cleanliness -- should not be asked of the government, but from one's own self.
For so many years after Independence, this country's Parliament did not discuss Swachhta for even a minute.
Today, Parliament spends hours discussing it.
Ever since Business Standard began getting published, it would never have asked any political leader a question on cleanliness.
Today, it is asking the prime minister a question on the subject.
I would like to see Business Standard publishing one news report daily which focuses on Swachhta.
It should generate greater awareness, mount a campaign on the subject of cleanliness.
You have completed about 26 months in office. Looking back, what would you consider your three most important achievements?
When we took office, there was a pervasive atmosphere of gloom and defeatism.
The economy was in serious condition with high inflation, low growth, high current account deficit and low confidence.
Today, all key economic indicators -- inflation, growth and current account deficit are far better.
When we entered office, India was the weakest link in Brazil, Russia, India, China, South Africa (BRICS).
Today, it is acknowledged as the strongest not only in BRICS but as the bright spot globally.
The change from pessimism to confidence, justified by facts, is a major achievement.
This has to be seen in the context not only of the legacy we inherited but also of global economic weakness.
If after inheriting the very bad situation we have reached this level despite consecutive years of drought and no growth in the world economy, it is no accident.
It is a result of the sound macro economic policies followed by this government.
We have eschewed populism and stuck to a path of fiscal prudence.
Along with macro economic fundamentals, we have launched a micro-economic transformation through liberalisation of foreign direct investment, the Make in India programme and the drive towards ease of doing business, to name just a few.
Sweeping liberalisation of foreign direct investment covering sectors ranging from defence to railways and insurance and civil aviation has paved way for the massive inflow of equity FDI in recent months.
Equity FDI also promotes technological upgradation.
Make in India has already begun to witness major successes.
For example, the setting up of locomotive plants in Bihar by GE and Alstom.
Another important aspect of our policies has been the emphasis of innovation and re-kindling our native entrepreneurial spirit.
Through programme like Start-up India, Mudra and Stand-up India we are fostering a new generation of entrepreneurs.
These entrepreneurs cover the whole range from high technology to domestic services.
The energies unleashed by this movement, will create major opportunities for faster growth.
Most important, while doing all this, we have kept a paramount focus on the poor, on women, on youth and on farmers.
Four-point agenda on minimum government for maximum governance -- expeditious clearance of office files, improving ease of doing business, reduced time for Cabinet note finalisation and government no longer working in silos
Excluding the rich from subsidies through legal measures is good for the exchequer; but if we can motivate the rich to give up subsidies, it not only is good for the exchequer but acts as a source of inspiration for the rich and for the poor
Banks Board Bureau to act as an agent to distance ownership from management