'We have collected Rs 83,702 crore in deposits in five days.'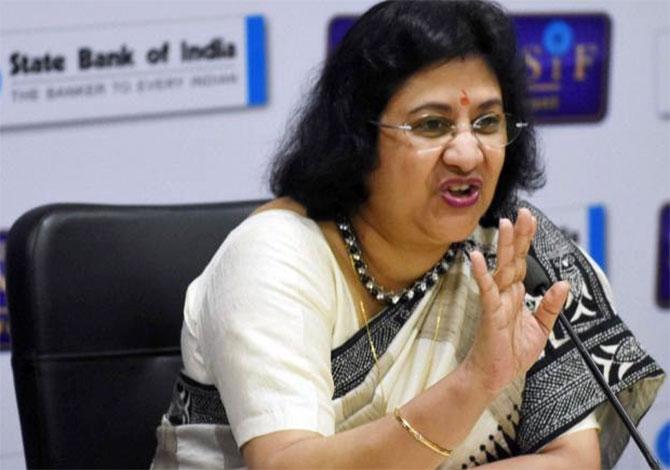 The pressure is evident in State Bank of India Chairman Arundhati Bhattachaya's voice as she, along with her senior colleagues, has been in constant touch with the bank staff to effectively manage the continuing demands on the network and to give confidence to the public that things are improving for the better after the demonetisation of Rs 500 and Rs 1,000 notes.
Even as she expresses satisfaction at the improving situation of currency transactions at the branch level, she has concerns over falling interest margins and having to forgo fee income on ATM transaction charges.
Bhattacharya spoke with Abhijit Lele on how the bank has dealt with the situation and the implications for its balance sheet.
What is the feedback coming from the branches and ATMs?
There has been pressure at branches, which the staff has managed pretty well. Ensuring that ATMs remain ready (for withdrawal) has been one of the biggest challenges.
Customers have been polite and have cooperated well. This has been the overwhelming feedback from the branch network across the country.
How long will the queues at ATMs and branches continue?
Transactions are going down as people get serviced. The network in South India was open on Monday where activity (transactions) saw a 25 per cent dip.
Since it was a holiday (on the occasion of Guru Nanak Jayanti) in some parts of the country, volumes may go up at branches on Tuesday as they open for business.
But from Wednesday, activity will begin to move down, reflecting customer confidence.
ATM units in the network are being reconfigured to facilitate the new notes.
We are working with technical partners and this work is picking up pace.
More and more ATMs will be available for use.
We expect things to become normal by the end of this month.
How much money has come into the bank's kitty as deposits and disbursed to customers?
We have collected Rs 83,702 crore (Rs 837.02 billion) in deposits in the last five days.
We have exchanged over Rs 4,000 crore (Rs 40 billion) of scrapped notes.
Withdrawals from SBI branches were Rs 9,342 crore (Rs 93.42 billion) since November 10.
Have customers used more electronic channels?
Yes, there has been sharp rise in transactions on electronic platforms.
The point of sales volumes have gone up by 300 per cent and Internet banking transactions have increased by 140 per cent.
Banks would certainly be happy to get so much cheap money, but where are the avenues to deploy, given the weak credit demand?
What does it mean for margins?
We are getting a lot of money in savings and current accounts and it will bring down cost of funds.
However, there is a challenge of both credit growth and yields on treasury bonds.
Net interest margins, which are around three per cent may come under pressure.
Plus, the bank will also have to forgo part of the fee income due to the decision to waive off ATM transaction charges till December end.
Photograph: PTI Photo