'I want us not to underestimate Indian voters. They can tell good work from bad.'
In the first part of her interview with Business Standard, Finance Minister Nirmala Sitharaman spoke about the slowdown in tax collections, GDP growth, subsidies, and other economic issues.
In the final part of her interview, Sitharaman speaks about employment, the Hindenburg report, Moody's report and, yes, elections.
There is a perception that the government is not choosing certain strategic sectors under the production-linked incentive scheme...
No, that's not true. All 14 sectors are sunrise sectors... which can have a big bearing on jobs. We have taken the lead in electric vehicle segment, solar... India is far superior to many other countries which are still struggling to come in.
How do you look back at the Hindenburg saga and our regulatory structures?
Short-selling is something which happens in all countries with established markets and huge listed companies with global presence. Regulators in India are doing the job. There is no hide and seek.
But the larger point is that corporate governance comes to glare and improves because of this. Even the markets are better informed about compliance. I think it will do a lot of good to the whole country.
Any regulatory measures in the works on short-selling?
It may not be right for me to even indicate anything on this matter because the regulator is fully seized of the matter and would be able to compare the best practices globally and see if any review of the situation is required.
Any review on capital gains tax regime?
Nothing.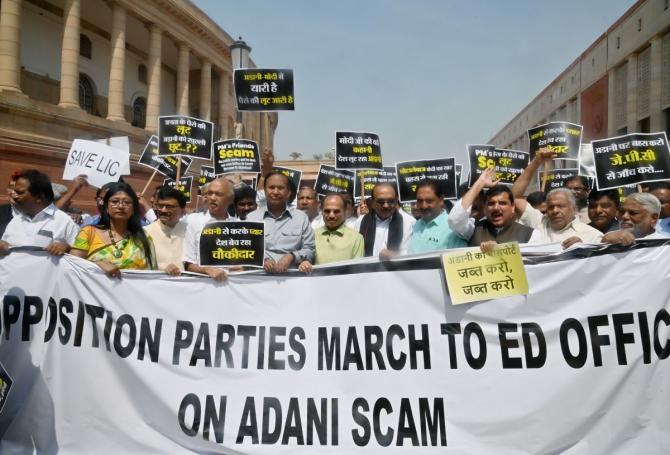 What is the status of GST rate rationalisation -- any timeline?
The state panel has been reconstituted. It will look at the GST rate rationalisation. It will submit its report to us. We have not given any mandate on timelines. Whenever they are ready, it will come to Council and we will take it up for discussion.
Employment has been one of the key concerns. What steps do you think the government should initiate for job creation?
We have been focused on skilling. There also are initiatives like the e-SHRAM portal to help unorganised workers. The portal also tells you about the skillsets required. We also held eight editions of Rozgar Melas.
We have a recruitment target of 1 million to fill central government vacancies. Over 500,000 appointment letters have already been issued.
The Moody's report also flagged curtailment of civil society and political dissent among the reasons why India's rating is low. Your views?
I don't approve of it. If that's the measure, look at the kind of violence and disturbances taking place in the US, affecting ordinary people.
Since Independence, India has faced repeated migration. But what is the experience of those countries which are otherwise developed?
Look at the way we have come out of Covid, the way we helped people who needed it the most, and the way we made sure that fiscal prudence was kept intact. If handling with responsibility is not seen in India, where else will you see it?
Exports and trade have been on a decline. How do you look at it?
It's not a challenge only for us. Demand in markets which normally depend on imports from other countries is completely flattened.
You can say that your competitiveness is lost or your logistics cost is very high or your products have lost value. But that's the case with every country.
We have to be smart enough to make sure we don't depend on just a few countries for each of our products. We'll have to look for new markets and also refashion ourselves and access those markets.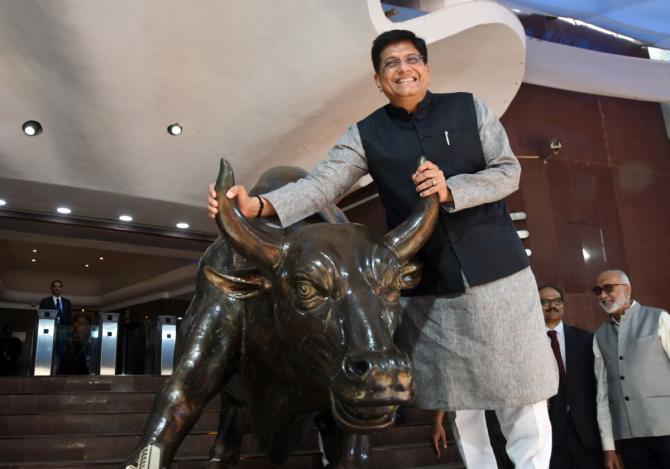 The Nifty and Sensex are at record high levels. Do you think they reflect the fundamentals of the economy?
I wouldn't say they're overpriced. They have their own metrics and that sometimes does reflect on the economy. It's a two-way street.
The markets are doing fine. Large industries and listed companies are doing well, so small investors feel confident.
We are getting into an election year -- 2024, if not earlier. What do you think the agenda will be? Will it be economy, prices, inflation?
I wish all this was the agenda. We will be able to stand up and answer.
Even on inflation?
Yes, why not? Compare yourself with Turkiye and Germany.
That is an economist's argument and not the street argument. Isn't it?
I will give you the street argument as well. Within a month, tomato prices came down. Now you will turn it around and say farmers are throwing the tomatoes away. Those are also issues and I would like to attend to them as well.
Is this government coming back, and with what numbers?
Yes. That's (numbers) not for me to say. People do recognise that here's somebody who's dedicated to the country, corruption-free and actually delivering on the ground.
I want us not to underestimate Indian voters. They can tell good work from bad.
Are you going to contest elections?
I have not been told... all of us go by the advice of the party.