'We had tremendous faith in honorable Modiji in his second term as he was well-settled. Sadly that has been belied.'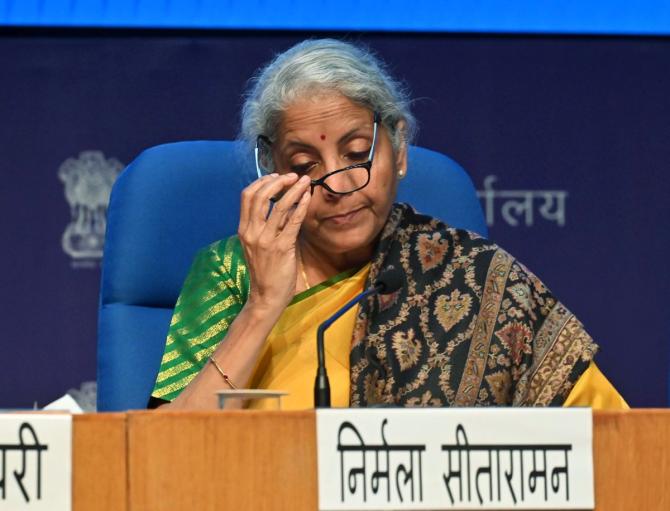 Finance Minister Nirmala Sitharaman's fifth Budget -- and the second Narendra Modi government's final full Budget -- has met with overall praise.
Be it the bold moves to increase the income tax rebate offered or the reduction of surcharge on the highest tax bracket, or even the healthy outlay for infrastructure, most economic thinkers say the Budget is on the right track.
But, there are sceptics as well.
Like industrialist Mudit Jain, co-promoter of a chemical conglomerate with a turnover of Rs 2,400 crores (Rs 2.4 billion).
Jain doesn't think the Budget has done anything exceptional and terms it "lacklustre" and "mundane".
In an interview with Rediff.com's A Ganesh Nadar, Mudit Jain explains why.
What are your first thoughts on the Budget?
It is pedestrian, mundane, boring, lacklustre and not exciting.
Would you say it has no pluses and only minuses?
No pluses, as many statements are just made and do not fructify. There is no imagination in the Budget; they have not taken people's inputs.
We were expecting the creation of a large bank.
There is nothing to address the trade deficit which is over $200 billion.
There is no thrust on exports. No thrust to make India Aatmanirbhar.
No thrust on increasing manufacturing.
No plan to encourage FDI.
No plan to make India internationally competitive.
No compensation for the hardworking Indian.
Emotional vocabulary is being used to call it populist. The common man is abusing the Budget.
The Budget deficit can be reduced with divestment of PSUs and by energising the economy so that more taxes are generated.
As this is not done, it will not reduce the fiscal deficit.
But the general consensus is that this is a please-all Budget with concessions for various segments, starting with income tax relief for the salaried class.
It is not a populist Budget as there is no impetus for creating jobs.
The common man is not bothered about the fiscal deficit. They should cut government expenses.
Critics say the government has not addressed the elephant in the room, inflation.
True. Inflation is caused by the government with 100% tax on fuel, which adds to the price of everything.
Inflation is because of monopoly pricing by government companies which decide the price of diesel, petrol, coal and furnace oil.
Interest rates and heavy indirect taxes have resulted in an increase in the price of inputs.
The price of petrol and diesel will fall by 100% if there are no taxes on them.
Do you think the Budget should have levied a huge tax on all imports from China?
Yes. In fact, we should increase import tax on all products to the maximum rates allowed as per WTO agreements.
This will encourage foreign companies to invest in India (to produce here).
Many companies have outsourced their manufacture overseas and they are importing finished goods here.
A strong message must be sent to China by increasing import duties from that country as they do not play fair. The trade deficit with China is over $100 billion.
What would you have liked to see in the Budget?
Measures to stimulate the economy which would increase employment, as we are seeing the growth of joblessness.
Reduce income tax rates to a flat 10% on income over Rs 24 lakhs. Increase import duties to WTO rates.
In short, India should have collaborated with other stakeholders like business people, they should have committees that include government and stakeholders, made popular in Japan.
You know after World War II, Japan became a first world country and the third largest economy -- before the arrival of China.
If Japan can do it without any raw materials, India is blessed with natural resources and can easily surpass China with good governance.
As the world is slow to move after Covid, countries like Vietnam have got a major share of transferred industry from China.
India with its large domestic market and strategically placed between Africa and the West can engage with other stakeholders and outsource activities to them and also be involved in a collaborative decision-making body.
This is the last full Budget of the Modi 2 government. How would you rank the five Budgets presented by Mrs Sitharaman?
All lacklustre Budgets.
We had tremendous faith in honorable Modiji in his second term as he was well-settled. Sadly that has been belied.
Vajpayeeji in his term as prime minister galvanised India by making excellent highways across the country.
We expected Modi to do better and really make India shining but sadly, India is shining only in the digital space where Modi has done wonders because of low costs and huge exports, thanks to NASSCOM.
Agriculture and manufacture are lagging way behind because of high expectations from Modiji.
I rank all the Budgets as below par.
Coming to your own chemicals industry, what were your expectations? Are you satisfied?
I don't have any expectations because of past experience. I am a patriotic dissatisfied Indian.
Foreign companies do not manufacture in India, but export to India.
We welcome foreign companies' competitiveness in India, but not their exports as they have a different tax structure there.
We need a plethora of approvals, making manufacture very difficult in India, compared to other Asian countries.
India with its huge population is unable to deal with all the bottlenecks which lead to unemployment.
The views and opinions expressed by Mr Mudit Jain in the said interviews are solely in his personal capacity and do not reflect the views or positions nor imply an endorsement of them by any entity he is associated with, its management, promoters, affiliates or employees.
Feature Presentation: Aslam Hunani/Rediff.com