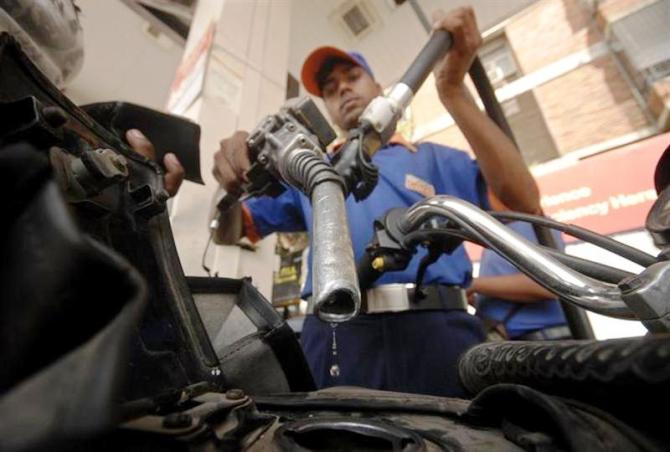 'If the benefit of falling oil prices was not passed on to the consumers, would inflation have come down to zero?'
'I haven't met a single family in the last 10 months that hasn't blessed me. They have received the benefit of decreasing petrol prices'
Petroleum and Natural Gas Minister Dharmendra Pradhan speaks to Sheela Bhatt/Rediff.com. The first of a two-part interview.
Dharmendra Pradhan, 46, the Union petroleum and natural gas minister with independent charge, is exceptionally lucky -- like his three Cabinet colleagues Smriti Irani, Piyush Goel and Nirmala Sitharaman. They are young and not as experienced as politicians in such important ministries usually are but still all of them have got high-profile ministries disproportionate to their political standing within their party.
Pradhan belongs to the low-profile state of Orissa. He was nominated to the Rajya Sabha in 2012 with Arun Jaitley's backing, before which he represented Deogadh in the Lok Sabha. His father, Debendra Pradhan, was also a Bharatiya Janata Party MP.
In 2011 Pradhan was made in-charge of Bihar and his hard work and political acumen helped him raise his profile and expand his network.
For Pradhan, at the moment everything is going right. He can't ask for more, as he has won the trust of the top leaders of his party and of Prime Minister Narendra Modi.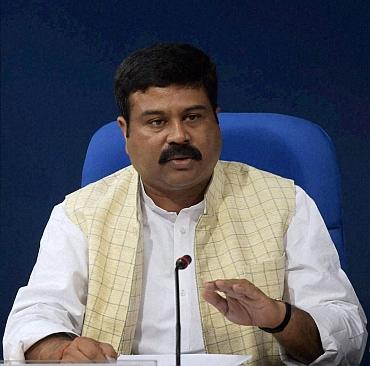 About the prime minister, Pradhan told Sheela Bhatt/Rediff.com in an interview: "He gives everyone a chance in decision-making. I have become a minister for the very first time, but if we want to raise any issues in the Cabinet, we have full freedom to do so."
When you came to power oil prices were hovering at $110, now it is around $56-60. Why is the benefit from this reduced price not reaching the common people? You have transferred only one-third of the benefit accrued from the sliding oil prices.
This calculation of yours is wrong. We have substantially transferred the benefit to consumers. The petrol market was linked to the global market since 2010, we linked diesel also to the market in the middle of last year. We got this opportunity, in the changing geopolitical situation, where inflation has come down slowly and substantially. The world's oil experts have all agreed on one issue, that the price of oil is so oily that nobody can make a prediction about prices.
The primary concern when we got the responsibility was, there was an issue of high inflation rate at the time. Today inflation has come down to zero and even negative. If the benefit of falling oil prices was not passed on, then would inflation have come down to zero? That is why I do not accept what you have said. A substantial amount of money has been transferred.
How much?
See, I do not want to get into numbers... But we gave a substantial amount of money to the consumers, first. This time prices have reduced more than Rs 20 for petrol and more than Rs 17-18 for diesel.
Some amount of money we have kept with the state exchequer as well. Some 33 per cent of the money goes to the exchequer. If we get any price benefit from the international market, we have given it first to the consumer.
Is it a crime to keep some money in order to make roads for the poor, to get drinking water in their houses, electricity in their home, to educate their children, to give them proper healthcare? If we kept that money in the government treasury and used it for welfare schemes, did we do something wrong?
Such questions should not be there. Our prime concern was the consumer, who was passed on the benefits, and the end product of that is zero inflation. Inflation is going down and it is under control.
But you will not find a single family in India which does not say they have problems with high prices. You are getting so many crores from the auction of 2G, coal e-auction and savings of $40 per barrel from oil imports. If there is so much of revenue, why is it not reflecting in our daily domestic budget?
Has your petrol budget in the last 10 months not come down? Tell me truthfully.
I haven't met a single family in the last 10 months that hasn't blessed me. They have received the benefit of falling petrol prices.
For the first time I am feeling that you are asking a biased question. I am telling you to look at the budget of your own house. We have received immense blessings on this issue. We have been lucky that oil price is decreasing continuously in our tenure. I told you before, it is the result of changing geopolitics.
The National Democratic Alliance of Narendra Modi is going to complete one year in office. Can you tell me the fundamental shifts in the paradigm of the government? What are the broader and big changes that have come?
Decisions. While sitting in Parliament we see that small things were pending since a long time. We took decisions. I can give you thousands of examples but for now I will give you two-three big examples.
Since Independence, 14 crore bank accounts were opened in the country. The honourable prime minister on August 15, 2014, said in front of the country that we will have new bank accounts in a year. So 12 crore new bank accounts were opened. Banks are mandated to open accounts for every citizen. Poor people had problems, so they could not go to the bank and get an account opened.
Inclusive growth also means having a bank account for the poor. We opened 12 crore new bank accounts under the Jan Dhan Yojana. We made a decision, the system supported us, the public supported us, and the poor of the country got the benefit.
Second, in the ministry which I look after, in the time of Congress rule, efforts were made for direct cash transfer. The aim was good, but the preparations and planning were not done properly. And they tried packaging it only with political motives. And that is why this process had to be shut down during their period itself as they started without any preparation.
We started the same programme again. When we got the responsibility we thought this would be called smart governance, people would be given subsidies directly, leaving out the middlemen and eliminating corrupt practices, then the burden on the exchequer would also be less and the public would get the benefits and relief. We have registered 12.5 crore people and are transferring subsidies straight to them.
Aren't the people relieved? Have they not got the benefits?
All of this is only an improvement upon the United Progressive Alliance's decisions. What are the paradigm shifts?
If you want to see selectively, then I can't help you. If you say what we initiated didn't happen, even though it has immense impact on the poor and the common man. Today inflation is at zero. Have people not got the benefit of it? It should go lower. The prices of food commodities should go lower.
The kind of natural calamity that has happened in the last three months, is it in the hands of the government? What we have done is, earlier if there was less than 50 per cent crop damage, then that area was not announced as a damaged area. The government has now reduced it to 33 per cent damage. Any farmer whose more than 33 per cent of crop is damaged is entitled to remuneration. Is it not a pro-people initiative?
We have planned for big ramifications of such small decisions.
In the public discourse, one issue that crops up is that by passing the Land Acquisition Bill in the Lok Sabha, you have given parties like the Congress a big advantage on a political platter. Rather, they are reviving now. Do you agree?
See, it is a loaded question. Do not say it is from the public's side. It can be your view and I would respect it, you are a journalist and it is your right to ask and so does the Opposition have the full right...
What do you think? The public says your government is anti-farmer.
The public is not saying anything like that. This is your view.
What is the public saying, then?
I told you, the public is happy. The public is happy with the fact that we got their bank accounts opened as they did not have one.
Earlier the government would consider 50 per cent damaged areas, we made it 33 per cent and we have the sympathy of the farmers with us now.
Third, our prime minister in a very clear and straight forward manner said in Parliament and even outside that if our government in states tells us that some clauses can be harmful for the farmers, we will be ready to change it. The amendments were made in certain areas.
Should employment in this country not increase? Should industrialisation not increase? Should irrigation not increase? Should rural infrastructure not be there? Shouldn't poor people have homes? Will all this be constructed in the sky? Don't we need land for this?
And in this land acquisition, no land will remain in the name of any private entity. It will all be acquired by the government and remain under the government. And if even after that you feel it isn't working, the public is intelligent and they are with us.
Part II: 'The image of Modi as a tough taskmaster is completely wrong'