Dinesh Thakkar, chairman and managing director, Angel Broking, tells Business Standard the heady pace of markets could trigger selling. Excerpts: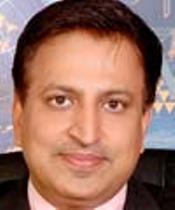 Do you expect the Sensex to cross an all-time high?
Fundamentally, I am not comfortable with the 20,000-21,000 levels being achieved so fast. Retail investors have not taken part so far.
If they do at these levels, the markets can reach an all-time high, which is unhealthy. It can lead to selling by those who bought at lower levels.
Given the corporate earnings and the momentum, I would like to see the 18,000-20,000 levels last for the next six months.
Market consolidation at this stage would be good. While the Sensex touching new highs is good news, it makes me think, where can retail investors invest at this level?
Is there a correction in the offing?
Historically, the markets have corrected in October. However, I do not see it happening soon. In the long run, markets mirror an economy's performance. In the immediate future, it is liquidity that matters.
At present, the liquidity is robust. Probably, retail and other investors are waiting for a correction. There should be a four-five per cent correction.
Given the high valuations, is it the right time for retail investors to enter?
Ideally, the right time will be when the markets are available at a book value of between two and three. Anything beyond three is a wrong time. Considering this, the markets are not very costly on Tuesday.
But retail investors need to invest regularly to create wealth from the market. Unfortunately, investors are interested only when there is some positive noise about the economy being good and there is a movement in the market.
Irrespective of the levels, if a company's earnings are healthy and you are getting fair value, it is the right time to invest. One can expect 18-20 per cent growth for the next three-five years.
What should be a retail investor's strategy?
The safest way is to invest in at least 20 stocks, by constructing one's portfolio in a way that it reflects the indices.
You can be underweight or overweight in a sector, but should not avoid any sector, as all sectors are likely to grow in a growing economy. 80 per cent of your portfolio should mirror the indices.
Which sectors look attractive and which ones are you underweight on?
We have been bullish on banking and continue to remain so. But prices in the sector have risen to the levels where we are telling our clients to wait for a correction.
With fears of recession fading, we expect companies to get into the expansion mode, which will mean orders for the capital goods industry.
The infrastructure and IT sector also look good. Although we are not very worried about the commodities sector, we are underweight in it.