India's role in outsourcing will continue to grow and there will be substantial opportunities in the BPO space, said Dilip R Vellodi, chairman and chief executive officer, Sutherland Global Services.
Recipient of the Ernst & Young Entrepreneur of the Year award and the Herbert W Vanden Brul Entrepreneurial Award, Vellodi is one of the first entrepreneurs to enter into the BPO space. He started Sutherland Global Services in 1986 in Rochester, New York with three employees.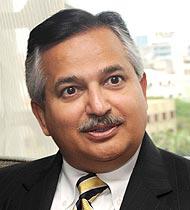 After 24 years, Sutherland today has around 30,000 employees and 25 delivery centres in the United States, India, the Philippines, Canada, Mexico, Nicaragua and Bulgaria.
Sutherland Global won Operational Excellence & Quality Award for the Year 2007 and also the All India Six Sigma Contest for Global IT & ITeS Companies.
In an interview with rediff.com, Vellodi talks about the changes in the BPO industry over the years.
You were one of the earliest entrants into the BPO space. How has the outsourcing scenario changed in the last two decades from the global and Indian perspective?
In 1986, when we started, there was no such thing called BPO. I had headed a group at Xerox where we had done something similar inside the company. I felt there could be an opportunity outside. That's how Sutherland came into being.
Those days we called ourselves a customer management company. Our vision and mission have not changed in the last 24 years.
While people, processes and technology continue to play a role, it has evolved from point solutions to integrated solutions. There are other disruptive technologies that will come into play.
For example, cloud computing is one area that we are aggressively looking at. It has ramifications in terms of having a solution that can be sold one too many. That has implications in terms of how you might service say the F1000 (Fortune 1000) space versus the mid-market.
Currently, over 84% of our revenues come from F1000 space. These are the continuous evolutions that are taking place when you go through different business cycles.
This is happening on a global basis. The question is, where does India fit in? As far as India's relevance is concerned, we have a relatively young population, which is an advantage.
We have educational institutions, both on the liberal art side as well as on the technical side. We have a significant number of graduates coming out of these institutions. The challenge is whether they are employable and what percentage are employable.
Are they employable?
Yes, a small percentage of them are employable. You have to attack this from two fronts. There has to be a long term strategy where fundamental changes - in curriculum, in the manner in which education is being imparted, the skills that are being imparted - have to be effected in the education system at the primary and secondary school level.
Tactically, companies like us are taking the talent that is available and investing heavily in training and development to make them employable.
Do you take only from the small percentage?
Given our growth rate, we don't have a choice. We have to invest heavily and take people from a larger percentage.  It is not only in India but in other places also. We invest in training and developing talent heavily. We started our Philippines unit as a redundant operation to India.
As far as India goes, that's the biggest challenge and yet that is the greatest opportunity as well. The manner in which that challenge is taken up and converted into opportunities would spell tremendous growth for the industry in India.
With other Asian and East European countries coming into the outsourcing space, would you say that India's advantage is waning?
Asia, especially India and China will be the frontiers of growth in the next 15-20 years. We don't see that ebbing or waning in the foreseeable future. There will be competition globally but India will be an important part of the equation.
As far as BPO is concerned, India has been a key global player especially after 2000 because of the huge talent available here. That was the impetus for Sutherland to come to India.
We then started a near-shore opportunities in Canada. After that, we concentrated on Philippines to set up a redundancy for India and then back to the West again to break into the Spanish market, which is a sizeable market, and opened up Latin America, which provides redundancy both from Spanish stand point as well as to other geographies including North America.
Then we started operations in Bulgaria -- in eastern Europe because it has availability of talent and good infrastructure. 
So what is needed for all companies is to create a global foot print?
It is a global economy. It is now a flat world. India cannot expect other countries not to participate. Take our case. We are a true multinational entity. The delivery of our revenues is equally balanced between North America & Europe and Asia Pacific.
On the one hand, we have the close-to-customer model - we are a US head-quartered company, that's where our client base was built, that's where a majority of the market resides. And from a delivery perspective, we want to make sure that our clients have the advantage of scaling operations by deploying resources around the globe.
You have offices in many parts of the world. How would you compare the work force? Are they similar or different?
That's the beauty and elegance of the model that Sutherland has created. We have a Sutherland culture across all our facilities worldwide. To create that one Sutherland culture is a challenge because every geography, every country has its own subtle nuances.
In India, for example, Sutherland has well over 12000 employees and is present in several different cities- Mumbai, Chennai, Kochi and Vizag. Each of these has its own unique culture, food habits and local language. You transfer that on a global basis and you can imagine the challenges you have. And that's where our investment in training comes into play in training the 'One global Sutherland culture'.
Are the BPO clients still mostly from North America?
Yes. The global BPO market is roughly around $175 billion, out of which 65% resides in North America. About 20% is in Europe and balance 15% of the market is in the Asia Pacific.
The growth rate in Asia Pacific in the coming years, given the way the economies are growing, will be higher but on a smaller base. There will be opportunities in the Asian market.
You acquired Adventity recently. Will we see more such acquisitions?
We are at a stage, where this year, we will comfortably cross the half a billion dollar ($500million) mark in revenues. In the last 2-3 years, we felt there were opportunities for acquisition. However it is not easy. One has to make sure there is alignment from a strategic and cultural standpoint.
Adventity has major clients in Asia, Middle East and Africa. That extends the geographic coverage from a market place stand point for Sutherland to deploy our suite of services. It gives us an extension of our services and capabilities into those geographies.
You said 65% of the BPO market is from North America. How has the slowdown affected the BPO market?
As a result of the economic slowdown, 2009 was the first time that the BPO market, which had been growing at a steady rate, actually shrunk. That was not because of lack of demand but because decisions were either not made or postponed.
Traditionally, when there is a downturn in the economy, companies tend to focus on their core competency, drive efficiency and productivity and that's when that they tend to outsource. However, given the situation we had over the last 15-18 months, decision making was postponed.
If you take a look at the projections from various analysts, you will find that the market is now slated to grow on a $175 b base at a rate of around 6-7% over the foreseeable future. So, the market is going to grow and there is a significant opportunity. You would start to see the pick up in decision making. We expect the BPO market to pick up towards the tail end of 2010 and that should go through till 2011-13.
As Sutherland has gone through several different business cycles in the last 24 years, we were well prepared for this. So, we were able to maintain healthy growth rates that were better than industry average both on revenue as well as on the profitability front.
There was a lot of debate in the US on out sourcing when we first spoke in 2004. Six years down the line, do you think outsourcing has become a reality?
Yes it has. When you have economic downturns and higher unemployment rates being posted, politicians don't have a choice. The outsourcing industry is one about which they make the kind of statements they do.
I don't believe outsourcing can be stopped. It was a reality 6 years ago, it is a reality today and it will be so in the future.  Outsourcing, in fact, will help the global economy. It will force companies to become more efficient, especially in a downturn.
What will India's role be in the BPO space?
India's role will continue to grow. There are and will continue to be significant opportunities in the BPO space. But it will not be the private domain of any one country. It will truly be a global work force we would be dealing with.