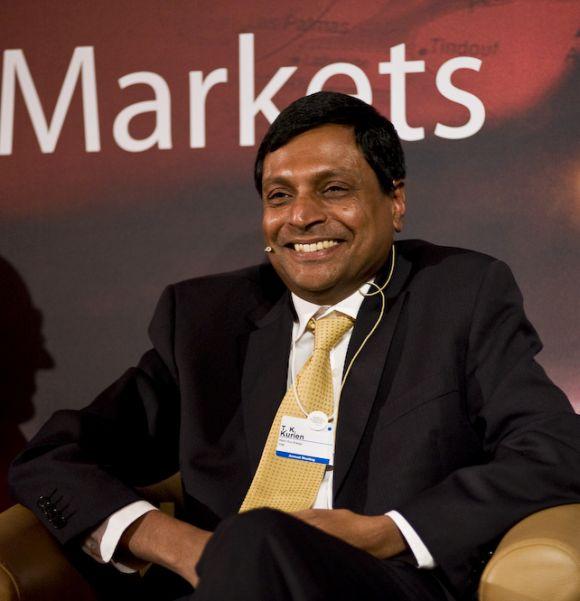 Betting on the digital business and increased exposure to the US, Wipro Chief Executive T K Kurien says the future is bright for the country's third largest information technology services firm.
Everybody wants you to participate in digital deals, he tells Raghu Krishnan and Anita Babu: Excerpts
There is more confidence in the second half. What are the drivers?
We have won a few deals. We think these will ultimately play their part in orders.
You said larger deals were not coming in?
The number of half-a-billion dollar deals is coming down. We see more small deals.
What is happening in the energy and utilities sections?
These have bottomed out. We have a million here or there. Nothing very significant, but business is coming back.
What about automation and your initiatives such as the artificial intelligence platform, Holmes?
We are far more confident about handling our margins because of Holmes. We know how much Holmes can get us in terms of productivity.
In the first half, we have taken 3,000 people alone to manage our application in management and support base, just using Holmes.
Every six months, we have seen higher productivity. If you look at ticket rates, ours have not really changed.
Can you explain the 3,000 people?
The 3,000 people are not going out of the organisation, they have been retrained.
We added about 5,500 people last quarter. Utilisation will come down for the next couple of quarters as we conduct a massive retraining of the workforce.
We have to take hold of a whole bunch of people who have been working on older technologies and retrain them on the newer digital technologies.
This year we are going to retrain about 10,000 people, we think the number is going to be bigger than that in reality.
You are seeing the digital consumer business growing?
Everybody wants to be in digital. The digital business is de facto. Everybody wants you to participate in digital deals. And we are willing to do our fair share of that.
But, the average deal size in digital is small?
There will be never be the $100 million digital deal. It will be a series of small deals, project by project.
But, by being there, you can move from project to project. So the annualised revenue will be significant.
How is Europe doing?
Europe was affected last quarter by oil and gas. Otherwise we have seen enough traction.
It is not something we are concerned about.
We clearly see an opportunity to do more, especially in continental Europe.
Germany is a market that we have not broken into. That is what we would like to do.
We see the US market on the upswing. The share of the US as part of our overall business has grown to 52 per cent.
One and a half years ago it was 48 per cent. We really are gaining share in the US.
In the past five years Wipro has lagged larger rivals...
We will catch up; it is a matter of time. But, we are not unduly worried about top-line growth.
The biggest change for us is not the old business, but the digital business.
Image: Wipro Chief Executive T K Kurien. Photograph: Kind Courtesy, Wipro Technologies