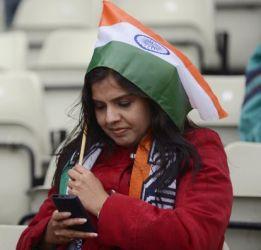 'One way of supporting economic growth in the country is by finding solutions on long-term energy.'
'We have to understand the problems in India and how it is different from other countries.'
'I have made personal investment in areas that excite me and in founders that impressed me.'
Starting with the University of California, Los Angeles, Tata Trusts will be launching a series of initiatives in India on exchange of big ideas.
Ratan N Tata, chairman of Tata Trusts, known for his passion for innovation, wants to get top global universities to ideate with Indian counterparts in fields as diverse as biosciences, material sciences and aerospace.
In conversation with Jyoti Mukul, Ratan Tata and Gene Block, chancellor, UCLA, share the details of the first such global forum on sustainable energy.
Excerpts:
In recent times, we have seen court directives on diesel vehicles, the Union government announcement to leap frog into Euro VI norms and the Delhi government's effort towards road rationing. Will such decisions force newer technology innovations and investment, especially by automobile firms?
Ratan Tata: One way of supporting economic growth in the country is by finding solutions on long-term energy.
Using new technology and renewable materials to ensure sustainability in the years to come is a must for economic growth.
That is the box we chose to be here today.
Gene Block: The horizon is not weighing on whether odd and even registration plates are a good strategy or not but looking at bolder technology. We all want to move in this direction.
Good strategy would be to see technology is sustainable.
In California, there will be all electric cars in some time and changes there have been happening for 40 years.
There were two versions of vehicles at that time in the US.
The 49-state version and the California state version, which was more fuel-efficient.
Car manufacturers have complained but steadily and miraculously developed technology to meet the requirements at the same time.
What impact do you see on the Indian automobile industry?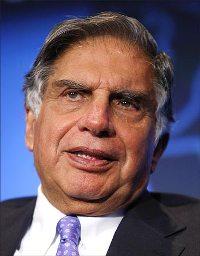 Ratan Tata (left): As far as graduating to Euro VI norms is concerned, there is an issue with fuel as well. It has to be low sulphur fuel and if that is being done, then I am glad.
It has its pollution advantages but the cost of vehicle goes up.
Will entrepreneurship in sustainable solutions survive the low costs being offered because of increased competition?
Gene Block: I am impressed by the creativity of individual entrepreneurs in this space. Alternative energy will become profitable in some time.
There have been extraordinary breakthroughs.
You could imagine there can be photo voltage sprayed from can on surface of windows.
There is a lot of research going on there. I don't think you can predict.
Science and technology keep moving ahead and so you can keep making investment.
What is the purpose behind holding the two-day forum?
Ratan Tata: The world over and in recent meetings, global leaders have committed to various goals, mainly related to eradicating poverty and protecting the planet from adverse effects of climate change and harmful emissions such as greenhouse gases.
India will emerge one of the important players in meeting these goals. I believe solutions cannot be just adapted from other countries.
We have to understand the problems in India and how it is different from other countries.
Through this forum, UCLA and Tata Trusts are trying to address issues in India relating to sustainability and energy.
Chancellor Block has brought with him some key faculty members who have experience in dealing with pollution and energy.
The intention is to get Indian scientists and institutions to interact with this faculty and look towards finding new solutions to our problems rather than straight adapting solutions from the US.
As the first stage, we are engaging with some of the best universities in the US on equal basis with India.
If India starts to engage with major universities like Massachusetts Institute of Technology, UCLA, Caltech, it could lead to research projects and addressing things jointly.
Tomorrow, we could do it in areas of life sciences or material sciences or aerospace. We are hoping there can be an exchange.
People in similar levels in India and the US get together and form some dialogue.
Hopefully, in two or three cases, there will be connections, research or exchange.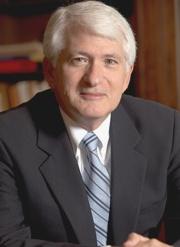 Gene Block (left): There is catalytic activity going on in the forum where there are scientists, entrepreneurs and engineers talking to each other.
Isn't bringing costs down crucial for the Indian market, especially in power generation because that impacts the health of distribution companies? How do you make green acceptable and affordable?
Ratan Tata: You have to know what you are looking for rather than conjuncture about cost today.
If you take a long-term view and do nothing to bring new technology to bare, you will be depleting your resources on fossil fuel and doing whatever fossil fuel does to you, or you can make investment in alternate energy sources.
It is not about being sustainable now, but for the generation next or the generations after that.
The options that we are trying to energise India on its own will be seeking new sources of energy that do not deplete resources and that we can put some clever minds together and provide solutions for India that may be different from the US.
There is a talk of reducing costs of solar panels by printing on paper.
The issue is, should we not engage? India can have the benefit of solutions. The fact is, India needs to look at renewable energy rather than depletion of resources that it has today.
That's the common area from where we start.
How different should the Indian solutions be from the ones in the US?
Ratan Tata: By way of example, if you take drinking water, you might have one type of solution in the US that meets various requirements and might have costs because it is needed to be efficient and cost effective on a huge scale but which you could not do in India.
Here you can have less sophisticated solution, which is safe and provides safe drinking water, but maybe at a lower volume, and if you took a US model and drafted into India, it may not be suitable.
We need to solve Indian problems in an Indian way for India with the benefit of interacting with faculty members who have the knowledge and the experience of working on such problems.

Gene Block: We're interested because each of our countries faces some of the same challenges, specifically campuses like us situated in Los Angeles where we focus on sustainability of the city.
Los Angeles depends on others for water supply, because it does not have sufficient supply and consumes a lot of energy. We are developing a series of approaches to address the policy, pricing and technology issues.
This is a rare challenge for Los Angles, but we are fascinated about implementing solutions with cities that have different constraints and in that Delhi can be one.
In your personal capacity, you have made investment in start-ups. Would you also look at the renewable sector either in your personal capacity or through Tata Trusts?
Ratan Tata: I have made personal investment in areas that excite me and in founders that impressed me.
There is not very much in the areas of sustainability or energy that I am looking at on personal basis.
In Tata Trusts, we have been looking at sustainability in many of projects because communities need to sustain themselves.
We have been moving away from the model of just hand-outs to creating prosperity which will lead to sustainable community.
In five-six areas, we are giving financial assistance to independent communities in areas of sustainability.