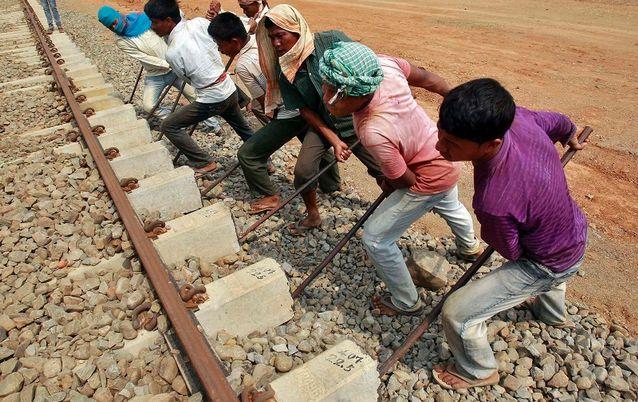 Labourers work at the installation site of a new railway track on the outskirts of Agartala, capital of India's northeastern state of Tripura. Photograph: Reuters
With stock markets volatile due to the downturn in the Chinese economy, the question is whether India can stay insulated.
Samir Arora (pictured below), founder and fund manager at Jakarta-based Helios Capital, believes so.
He tells Joydeep Ghosh the credibility of India in the eyes of foreign investors has also relatively gone up, with China's blunders in this crisis. Excerpts:
In the past few weeks, the markets have been highly volatile, with a downward bias. Is the worst over or not?
Since we do not specifically know the origin of this pain, it is difficult to say when it will settle.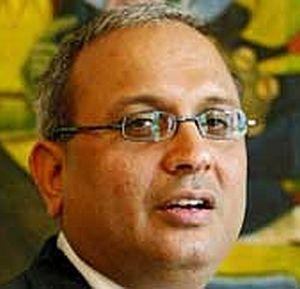 There are two specific probable causes — prospect of the US Federal Reserve raising interest rates and the ongoing weakness in China.
My view is that things will settle — they always do — but there is no harm or downside in waiting some more time to see what happens next.
How bad is the Chinese contagion and how badly could it hurt the Indian economy and markets?
We don't know but there is definitely a problem in Chinese growth. The only question is whether their government can engineer a soft landing or not.
We have learnt that a serious problem in any economically important part of the world financially transmits to other parts, so we cannot say that India will not be affected.
The question is about the degree and on that, I have no doubt that the "steady, no impetus forced" growth in India will find favour with investors after this phase is over.
India is doing quite well and I still have confidence that the government is doing a good job.
Investors wrongly focus on one or two symbolic issues each time to decide how a government is doing.
In the UPA government, it was opening of the organised retail sector to foreign investment; now, it is the land Bill and the goods and services tax.
Even if these issues are important, they are not the only reason why people will invest or not in India.
The credibility of India in the eyes of foreign investors has also relatively gone up a lot, with China scoring a number of self-goals during this crisis.
I strongly believe this will pay off big-time, over time.
What are the key things market experts looking at, in terms of signals?
I want three-four days of stability in both the US and Chinese markets simultaneously and we will increase our exposure to the market.
We think India is very well placed to continue to outperform its regional and emerging market peers over time.
Does the government need to do something specific to ensure the sentiments are positive?
I think the government has done a good job so far. We have avoided obvious goof-ups and there is considerable progress in key areas like roads, rail, defence, power, etc.
Passage of the GST bill will help but that is not exclusively in government's hands.
Overall, fund managers always want others (government and companies) to work harder; then, we don't have to work as hard!
With the US also expected to raise rates, do you think foreign institutional investor flows will get hurt further?
The debate in the US about whether a 25 bps rate rise will come in September or December is ridiculous.
If the issue was whether there will be a rate hike or not, it would have had some meaning but if there is already consensus that the rise has to be done, its precise timing should not matter so much.
I don't think this issue will affect us beyond the immediate short term.