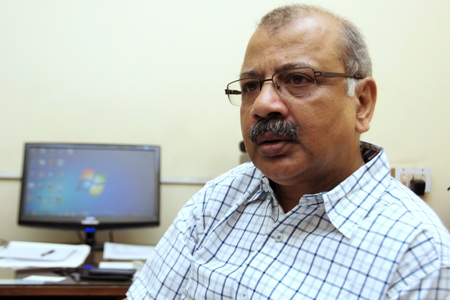 The Supreme Court recently rejected the plea of Novartis AG for patent protection of its anti-cancer drug Glivec.

The Supreme Court judgement (pages 22 -26) quite extensively quoted from Sudip Chaudhuri's book The WTO and India's Pharmaceuticals Industry (Patent Protection, TRIPS, and Developing Countries), which highlighted the adverse effects of product patents and positive effects of its abolition in the pharma industry in India.

Professor of Economics at the Indian Institute of Management Calcutta, Chaudhuri has done extensive research on products patents, pharmaceutical industry, industrial policy and the like.

In an interview to rediff.com's Indrani Roy, he talked about why Novartis ruling is a landmark, what effect will it have on research and development, the positive and negative effects of product patents among other issues.

Excerpts:

While pronouncing the verdict in the Novartis case, the honourable Supreme Court quoted generously from your book The WTO and India's Pharmaceuticals Industry: Patent Protection, TRIPS, and Developing Countries, Oxford University Press, 2005). How does it feel?

I am really very glad that an authority as impartial and as high as the Supreme Court of the country has used my book to deliver this judgement.
I am very happy that my research has contributed to a good cause.

What is this Novartis case about?

Novartis applied for a patent for imatinib in the United States in April 1994 and later started marketing a derivative of it, viz., imatinib mesylate as an anti-cancer drug under the brand name of Glivec/Gleevec.

Novartis could not apply for a patent for imatinib/imatinib mesylate in India because during 1972 to 1995, India did not recognise product patent protection in pharmaceuticals.

(The Supreme Court established that the 1994 US patent for imatinib covered imatinib mesylate too).

After 1995 when India introduced product patents, Novartis could not apply for a patent for imatinib/mesylate because patents are given only for new substances not for known substances.

By 1995 information on the drug was in the public domain and hence it was a known substance and hence not patentable in India.

What Novartis did in India after 1995 (in 1998) was to apply for a patent for a new form (beta crystalline form) of imitanib mesylate.

But what India did in 2005 when she re-introduced product patent is to insert a condition in section 3 (d) that "the mere discovery of a new form of a known substance which does not result in the enhancement of the known efficacy of that substance" is not patentable.

During 1995 to 2005, as permitted by TRIPS, patent applications were received but were kept in a 'mailbox.'

After 2005 when the examination of patent applications started, the patent application of Novartis was rejected by the patent office on the ground that it did not satisfy the efficacy criterion of section 3(d).

The Supreme Court judgement is basically related to the appeal of Novartis against this rejection which was upheld by the Intellectual Property Appellate Board.

The Supreme Court interpreted the word 'efficacy' to mean therapeutic efficacy.

Supreme Court rejected the appeal and hence denied the patent to Novartis because Novartis could not demonstrate that the new form enhanced the therapeutic efficacy of the drug.

The court rejected Novartis' claims of better bioavailability and better physical characteristics such as stability of the compound saying that these do not necessarily improve the therapeutic effect.

Why is the Novartis case so significant?

Patent is given for a limited time period, currently under Trade Related Intellectual Property Right (TRIPS) for 20 years.

Thus after the expiry of the patent, other firms can and do enter the market and that results in a fall in the prices and hence of profits of the company which had the patent.

The MNCs often try to block or delay this competition by getting new forms of the old drug patented.

But the objective of the patent system is not to encourage or permit patenting of new forms of old drugs to basically extend the patent term.

Thus what, basically, the Supreme Court is saying is that consumers should not be forced to pay higher prices just because it is chemically a new drug unless there is a therapeutic benefit involved.

It is not an anti-patent judgement.

It is not saying that a new form cannot be patented.

All that it is saying is that it cannot be patented unless it is therapeutically more effective. Linking patenting to therapeutic benefit is a simple but powerful idea.

The Supreme Court decision is consistent with TRIPS and has been arrived at not arbitrarily but by following transparent and internationally accepted legal processes.

Thus other countries -- such as the Unites States, Brazil and South Africa -- which have stricter patent regimes -- can introduce similar provisions in their patent laws to make drugs more affordable.

Thus the judgement has significant international implications as well.

Drugs may become more affordable. But will it not adversely affect innovation as Novartis is saying?

The principal economic rationale for granting patents is indeed that it will stimulate investment for research for innovation.

This is the positive effect.

But, patent rights which exclude others from producing and marketing it, lead to inhibition of competition and hence high prices and hence less access.

This is the negative effect.

As the judgement has reiterated and highlighted it is fundamentally important to balance these two divergent effects.

What is remarkable about the judgement is that the matter has been has been dealt with not just in technical and legal terms.

It has placed it in a much larger context.

The judgement in fact traces the history of the pharmaceutical industry in India to note that before 1972 when India recognized product patent protection, the country suffered because no innovation took place but had to pay high prices for patented products.

Ciba Geigy and Sandoz (the companies which later merged to form Novartis) enjoyed full product patent protection in India but were not involved in any innovative activities whatsoever.

The judgement further notes that it was not product patent protection but its abolition in 1972 which transformed the pharmaceutical industry and benefitted the country (and other countries which relied on supplies of low priced generics from India).

India was not an exception.

Switzerland where Novartis is located did not introduce product patent till late in her development phase.

The conventional wisdom has been that unless you have the capacity to do R&D and innovate - a situation typical of countries in earlier stages of development -- it is justified not to grant product patents because you do not benefit technologically but pay a higher price for the patented product.

The judgement is not saying that the innovation impact is unimportant.

What it is saying is that where the innovation impact is absent or trivial or limited -- as in the beta crystalline form case -- consumers should not be forced to pay a higher price and hence patents should not be granted.

Mindless patenting goes on in countries such as the United States -- a model which many developing counties willingly or not so willingly follow -- in the name of innovation.

The Supreme Court is trying to restore the balance in favour of the consumers.

MNCs who are upset with the verdict will they not stop innovating and investing in the country?

There are reasons for the MNCs to be upset.

When product patents are denied, they cannot charge high prices and hence their profits go down.

One of the ways they try to resist such a fall in profits is to try to influence particularly developing countries by issuing threats of dire consequences.

When India abolished product patents in 1972, similar threats were issued.

What happened?

Actually not only the pharmaceutical industry in India developed, the MNCs as a whole too contributed much more to the economy than they did earlier as I have elaborated in my book.

Now that product patents have been introduced in India, what are the MNCs doing?

As I have discussed in a paper published in the Economic and Political Weekly (March 24, 2012), they are more keen on importing patented products and selling at high prices rather than innovating or manufacturing in the country.

Novartis has spent a large sum of money for developing this drug. By denying it the patent, India is effectively not contributing to the financing of R&D by these organisations. India is free riding. Is this fair?

As I said, it is not an anti-patent judgement. In the Indian law, only some legitimate restrictions have been imposed.

But assuming that TRIPS agreement was not introduced and India did not re-introduce product patent protection, India would not have done a very unusual thing.

Most developed countries adopted pharmaceutical product patent protection after they had reached a high degree of economic development.

Among the major pharmaceutical producing countries, United Kingdom introduced pharmaceutical product patent protection only in 1949, France in 1960, Germany in 1968, Japan in 1976, Switzerland in 1977.

Thus, it is actually morally and historically unfair for the developed countries now to deny the developing countries the priviledges which they enjoyed at the corresponding stages of their development.

Western governments and MNCs often put pressure on developing countries to change their Intellectual Property laws. Will that change?

Such a financially and otherwise powerful organisation such as Novartis fighting such a long legal battle backed by Western governments could not have its way.

The judgement does show that pressures even when it comes from very influential circles can be successfully resisted.

This a very heartening news.

The civil society, particularly the Indian civil society played a very important role in this case.

With such a vibrant civil society and such an impartial and independent judiciary, the environment has definitely changed for the better.

As a result of this judgement will prices of drugs in general be more affordable?

This particular anti-cancer drug will become more affordable.

In future, thanks to this judgement and the simple but strict criterion of efficacy, it will be more difficult to get patents for new forms of old drugs.

Hence these will be more affordable.

But all the drugs which are under product patents and will be so in future will be high priced unless compulsory licenses are given to non-patentees to manufacture and sell these.

It is important to note that if rather than in April 1994, Novartis had filed the patent in the Unites States a few months later after 1 January, 1995 when TRIPS came into effect, the anti-cancer drug would have been eligible for a patent in India and section 3 (d) would not have been applicable (till that patent expired).

Hence to make patented drugs more affordable, other steps, including and most importantly compulsory licensing, is necessary.

In India, there is also the very critical problem that because of factors like low incomes, poor public health and inadequate insurance facilities, access to essential drugs, including those which are not patented, is very low.

Thus to ensure proper health care much more needs to be done.
Image: Sudip Chaudhuri | Photograph: Dipak Chakraborty