'While others went for big research business for diabetes and cancer, we went to antibiotics because big-pharma had vacated that space since the 80s.'
Illustration: Uttam Ghosh/Rediff.com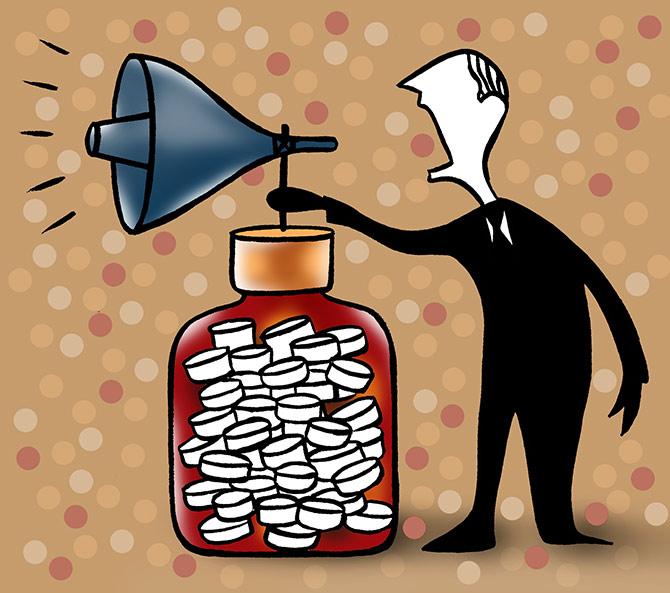 Indian pharma is in a transformative phase following the pricing pressure on generic drugs in its key market, the US.
While most firms are making a transition to less competitive complex generics and speciality drugs, Wockhardt is going beyond with its novel-drugs pipeline of five antibiotics.
Habil Khorakiwala, bottom, left, chairman of Wockhardt, is playing David vs Goliath to get a share of the blockbuster drugs market in the US, so far dominated by multinational giants.
Only 11 antibiotics in clinical trials have received qualified infectious disease product (QIDP) status from the US FDA, of which five are Wockhardt's drugs. In an interview with Abhineet Kumar and Aneesh Phadnis, he spoke about his revival plans. Excerpts:
With changing competitive dynamics in the US, do you think Indian pharma will be able to retain its significance?
The perception that pricing pressure and FDA issues will become major handicaps for the future growth of the Indian industry is not true.
The industry, 15 to 20 years back, was not even present in the US. Further, the US is one of the most competitive markets.
We got 35 to 40 per cent of prescription of all products in fifteen years, that is the strength and resilience of the Indian pharma industry.
Indian industry first started with the API (Active Pharmaceutical Ingredient), then pure generic and is now getting into complex generic.
There will be ups and downs from company to company, but we will continue to play a significant role as a country there.
Is the transition to complex drugs going to help?
Complex drugs will be less competitive than vanilla generic, but it is still going to be competitive as global players are there.
For any given product, if not 20 then at least half a dozen players would be competing there. This would also mean that the new entrants will face a lot of challenges.
The market has become tougher with increasing competition, consolidation in distributors' space and increasing regulatory overview. Therefore, a new entry will be even more challenging now.
What's Wockhardt's US strategy for generic drugs?
We have 79 ANDAs (Abbreviated New Drug Applications) approvals pending. The same number of ANDAs have also been approved.
We have FDA-related issues (five manufacturing plants facing compliance issues with the US FDA), which we expect will be resolved soon enough.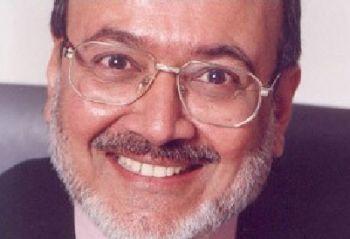 We should also discontinue one or two operations as part of the process. Some of the products we are already getting outsourced.
From a research and development (R&D) point of view, since we already have such a large portfolio of approved and pending products, we are comfortable for the next few years.
When can we expect Wockhardt's US sales to get back to the level they were at before US FDA regulatory challenges?
That is very difficult to say. We were at over $500 million in sales before the regulatory challenges came up (about five years ago).
Our current business is $100 million plus. We may not be there soon. Maybe after two-three years.
In 2018-19, we can see a small recovery but a full recovery for US sales would be possible only by 2019-20.
Indian pharma's track record in novel drugs for the US is rather bleak. What gives you the confidence?
One of the reasons why we succeeded in antibiotic research in the past 20 years is because many companies had vacated that space.
I spent about two years learning how drug discovery takes place and what are the up-side and down-side.
Ultimately, we are competing with big-pharma and we do not have similar resources.
We have to find a way to succeed with very limited resources.
While others went for big research business for diabetes and cancer, we went to antibiotics because big-pharma had vacated that space since the 80s.
I had data that approvals had come down and big-pharma was just accepting a few here and there as far as R&D is concerned.
They were buying drugs and marketing them though.
All R&D that we have done for innovative products in the past 20 years is coming up for the final phase of clinical trials.
WCK 5222 and WCK 4282 are going for clinical trials globally and have entered phase-III.
By the end of 2019, they should have received approvals.
Also, we will be completing phase-III trials for two drugs for India (WCK 771 and WCK 2349) and hope to launch them in the domestic market.
But why did big-pharma vacate the segment if it is a big opportunity now?
Back then, there were no billions of dollars in products expected in antibiotics.
At present, the prices of antibiotics have gone up in the US.
A few years back, these drugs were priced around $100 a day, but the drugs that were introduced in the past two years are now priced at $1,000 a day.
Our products are better than them.
The reality is that if these superbugs are not treated then there will be deaths because of that.
About 10 million people were expected to die by 2050 if the drugs had not been discovered.
However, that won't happen now as the drugs are coming.
Marketing novel drugs in the US has also been a costly affair, deterring many to out-license their products. What is your plan?
As far as the US is concerned, we will do our own marketing for both molecules.
We never had the thought process that we will do research and license out the product.
Conceptually, we thought of making it an integral part of the business.
Ours is a life-saving drug that will be used in the hospitals' intensive care units (ICUs).
Therefore, we would require a maximum of 200 people to cover the whole country.
Further, we can create a marketing organisation. However, for China, we may out-license the product because of the market's complexities.
What are your revenue expectations from these novel drugs for the US?
We had McKinsey conduct a study of our molecules and their view was that WCK5222 has the potential for more than $1 billion in peak sales in the US market.
It will start contributing the moment we launch. In five years time, we expect it to reach peak sales.
Five years is a reasonable time in antibiotics. In other spaces, it may take a little longer.
However, we do not really know about this drug as there is a big vacuum and it may reach peak sales much faster.
Now that the market is becoming valuable, do you see big-pharma entering this space and making it competitive?
They all want to enter. They will buy from small companies. Some of them want to start but one of the challenges in drug discovery programme is that you cannot turn the tap on and off when you like.
It takes time to build up research capabilities, innovation thinking, and all those things.
However, I do not know whether pharma would be putting their resources on this now.
They are working on vaccines. They got malarial vaccine done. Their focus is more on vaccines from a research point of view.
From a marketing point of view, they will buy some molecules and market it.
Our patent any way runs up to 2030 for all five products.
Also, we have five-year exclusivity because it's a new clinical trial and five years because of QIDP status.
We get minimum exclusivity of ten years for any of these drugs whenever we want to market irrespective of the patent.