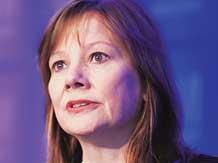 On her maiden visit to India as chief executive officer of General Motors, Mary Barra visited the company's facility in Talegaon, Pune, drove cars, and met suppliers, dealers and the business community to understand the needs of the Indian customer.

In conversation with Business Standard, Barra says GM is working on putting out the right products here because it will be difficult to make a mark globally without India. Edited excerpts:

GM has been in India for nearly two decades, yet sales have remained negligible.

The Indian market is very very important when you look at the fact that many predict by 2020 it will be the third largest car market behind China and the US.

It was good to be here, to meet many in the business community, to meet suppliers and dealers, to look at our operations.

It has been a great visit because I see a lot of opportunity here.

Very obviously, it starts with putting the customer at the centre.

When you look at the customer in India, he has got great choices.

To win in this market we need to make sure we come to the marketplace with great vehicles, not only safe and of the highest quality but beautifully designed and with the right features so that they distinguish themselves and then finally over the lifetime of the vehicle to ensure it is a great experience.

At GM, our goal is clear. We want to be a highly respected automobile company globally.

And, if we are not in the Indian market, that makes it very difficult.

How will GM go about setting things right?

We are focused on five priorities. First, we understand that the customer is at the centre and our goal is to earn customers for life.

We also understand the importance of brands and we want to make sure that we grow our brands.

Our two global brands are Cadillac and Chevrolet -- Chevrolet is the brand that we have in the Indian market.

We also want to make sure we are the leaders in technology and innovation, but it is not tech for technology's sake.

We want to make sure that the technology we invest in creates direct value for the consumer.

We have an opportunity to drive for more efficiencies.

We recently named our vice-president for operational excellence to make sure that in a very disciplined fashion we drive in efficiencies across the business -- not only in manufacturing and engineering but across all aspects.

And, the fifth priority is to start instilling a culture to win.

That is an important reason to be here this week, to get to spend time with the GM team in India and see their passion and their knowledge of the customer, their relationship with the dealer.

It has been a beneficial week from that perspective.

GM operations in India and China are a study in contrast. How do you intend to change things in India?

When you highlight China, there we play in the core segments. Here we are on the fringes, or not present in some of the major segments.

So what we are assessing is what is the right product portfolio.

And it is not just today. We are looking at the horizon.

The technical capability that GM has, we need to make sure we are bringing the right products to the market place.

What is the road map for product interventions in India and across the globe?

If I step around the world for a minute to look at places other than India, we have strong products lined up across the globe.

In Europe, we will be launching 27 new Opel models between 2014 and 2018.
In the US, from 2013-14 we have launched 32 new vehicles.

In China with our partners we will introduce 17 new and upgraded models.

In the international operations, including India, we have about 40 new products.

Right here in India, nearly 75 per cent of our sales are from either new or majorly redesigned products. So, we know that is our lifeline.
Besides, product introduction would you say that regaining customer confidence in the GM brand is a major area of concern for you given the recalls that have taken place in the company?

I would say as we go through the business we cannot escape the fact that we have had some challenges from the recall perspective.
We have dealt with those in a very straight forward manner by being transparent, by doing what is right for the customer and making sure we learn from it so that it never happens again.

We continue to look at issues but our goal is fundamentally to make sure we improve our development process for new vehicles, to make sure we build defect free vehicles for the future.
But if along the way we see that if there is a problem with the product, we will take appropriate action.

There has been a huge focus on improving quality across the company for each of the markets we participate in. I can tell you that earlier this year our VP of quality and customer experience visited our plants and did a product assessment. There was active work that was kicked off at the time.

We did exhaustive work to see if the problem on one vehicle was therein any other across our fleet, that is substantially complete. We launched the product integrity organisation where we benchmarked and incorporated learnings from industries like aerospace and nuclear that require a true zero defect mentality. If at any point in time, we learn there is an issue we will do a recall.

We have done a lot of work to make sure we have strong products. We will do the right thing and we are working hard to make sure that the new vehicles have even higher levels of quality.

GM continues to make losses in India. By when will Indian operations turn around and make money?

I am not going to speak specifically about the Indian market because again this trip was to come and spend time in many aspects that are critical for the business, meeting with our dealers, meeting with our suppliers, meeting with key members of business community to assess.

I think yes we have been here a long time and as we move forward and it is something we are doing in every market – making sure we put products in. We want to be not only a competitor in the market segment that we are in and in the countries we are in, but we want to lead.

Will you look at introducing the Cadillac brand in India?

Right now we are intent on achieving the true luxury status that Cadillac had held for many years. The most recent products launched in some markets, the ATS and CTS are award winning and the Escalade is doing well in North America.

We still have work to do to strengthen the brand. We are seeing great success in China and as we move forward and continue to build we will consider many markets around the globe. But we will do that in a very measured way, when we have to have the right product to lead from a segment perspective.

You are the first woman to head major auto company. Is that challenging?

I work in an industry that is incredibly exciting.
It is challenging, global and ever-changing.
I have never looked at it that way (that it is a men's industry), its an industry I love and I am second generation into the auto industry.
I have had big opportunities presented to me by GM through my career, from graduate level to education, and I have worked in many parts of the business.

I want GM India to provide a great opportunity for women. I encourage women to look into the maths and science arena.
I am an engineer and I think that is the strength of India -- it has a high graduation rate with technical degrees for both men and women. I would say they should continue to push for opportunities and look at GM India.

How do you see GM 10 years down the line? Will you be able to retain your leadership position?

We have demonstrated across many continents that we have the ability to do award winning products.
We have a well defined game plan as we go forward and have set out very aggressive targets for ourselves for which we have the capital installed across the globe. I hope to improve upon our leadership position.
Image: Mary Barra; Photograph: Kind Courtesy, Business Standard