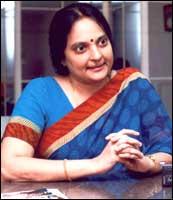 Akhila Srinivasan is the managing director of Shriram Life Insurance Company Ltd, which is part of the Rs 6,000 crore (Rs 60 billion) Shriram Group. She is also one of the key board-level executives of the Shriram Group, and the only female MD in the group.
There are very few women executives in the financial services sector, and she is one among the few. She joined the Shriram Group in 1986 as a management trainee, and in 2000, she was made the managing director of Shriram Investments. In 2005, she took over as the managing director of the newly floated Shriram Life Insurance.
Last month, the Royal Netherlands Embassy and Consulates General appointed Akhila Srinivasan as Honorary Consul of the Kingdom of the Netherlands.
In this interview with rediff.com, she talks not only about the insurance sector in India but also about the Indian economy, the stock market, and also the proposed reservation in private sector.
The insurance sector in India accounts for only 2% of India's GDP. Now that more and more private players are entering the field, how much more do you expect it to grow in the next 5-10 years?
Life insurance penetration in countries like India and China is very low while in the developed areas like Europe and the United States, it is around 7%. In a developing economy like South Africa, it is 16% of the GDP.
I feel we have hardly tapped the Indian market; after all, we have a population of 1 billion people. We have a very long way to go.
I think competition from private sector will see the market share going up. I expect it to go up to 5% though it is a tall order. That is because insurance companies cannot achieve market penetration overnight; they have to develop an agency force which is a 10-year process. To develop at least 100,000 of agents, it will take 15-20 years.
In 32 years, our (Shriram's) chit funds companies have built a huge network of around 600 offices in the country with 65,000 agents. Now, they will sell our life insurance policies also. This I feel is our strength.
You are a late entrant in the insurance market. Why did it take you so long when you have so many offices and so many agents working for you?
We had to muster capital as this sector is very capital intensive. Then, we got a good partner in Sunlam Life Insurance Ltd but only now. Sunlamp is an 85-year-old South African company with a profit of around Rs 1,000 crore (Rs 10 billion). We get expertise and capital from them.
Is it because the sector is very capital intensive that Indian companies are tying up with multinationals?
Yes. It is very difficult for Indian companies to raise Rs 125 crore (Rs 1.25 billion) of capital. Only very large groups like Tatas, Birlas, etc can manage such capital.
Shriram Life Insurance, you said would concentrate on the semi urban and rural areas. Is it because it is an untapped market?
Yes, it is an untapped market and that is where our strength lies. If you take a state like Andhra Pradesh, we have a very good presence with around 200 branches in the semi-urban and rural areas. In south India, apart from the chit branches, we have resident representatives in small towns where the population is around 5,000 or 6,000. If we take that also, we have around 700-800 outlets in south India alone.
Could you learn anything from what the other private players have done in the last 4-5 years? Did they make any mistakes?
Some of the companies have concentrated completely on the ULIP (Unit-Linked Insurance Products) market. They have not sold one traditional policy. We don't think it is the right approach because ULIP is totally dependent on the bullish market.
We learnt from them that we should have a balanced mix of traditional policy and ULIP. We also learnt that however hard you advertise, ultimately, it is the agent force that matters. The agent is the key in this sector.
In the next ten years or so, how do you see LIC and the private sector placed in the market?
It will be 50-50. Major players like Reliance and Bharti are also entering the market. The market is going to expand and open up, and it is going to help the Indian consumer. It takes months and years for an accident settlement to come from GIC (General Insurance Company), whereas today, thanks to the entry of private players, accident claims get settled in a few days time.
Are you happy with the way the Indian economy is growing? Is the 8% growth which the finance minister is talking about sustainable?
There was a prediction that if we continue to grow at 8-9% of the GDP, by year 2020,
we will eliminate poverty. But it remains to be seen whether we can sustain the 8% growth.
Yes, from 1991 when (former prime minister) Narasimha Rao opened up the Indian economy, the economy has been doing positively.
But I feel that the Indian economic growth is confined only to certain sectors. I call it sectoral imbalance. We talk of growth only in the IT sector and the ITES sectors. Okay, we are strong in pharma and biotechnology. But 70% of India lives in rural villages, so agriculture is the predominant sector in the economy.
Whatever does not touch agriculture and the farming community, cannot be counted as growth. The fact that agriculture has not registered good growth is debated. There has to be a balanced growth.
We say people living below the poverty line have come down by 5-10%, but is that enough?
Do you feel infrastructure is a neglected area in India even today, and that is one of the reasons why we are not growing like China?
Yes, I feel that the government has not given enough attention to infrastructure. Trade, commerce and business prosperity can be achieved only if we have infrastructure. That is the key. The Golden Quadrilateral is a very good idea.
Among states, Andhra Pradesh has built some very good roads, right from the days of NT Rama Rao. If you travel in AP, you will see that every nook and corner of Andhra is connected by good roads, which is not the case in Karnataka or Tamil Nadu.
In the case of cities, if you take a city like Bangalore, foreign investors are now shy of coming to Bangalore because of poor infrastructure. Equity investors comment that if it takes two hours to reach the hotel from the airport, they are not interested in investing there.
Those who visit China say that they are at least 20 years ahead of us.
Are you happy with the bullish trend you see in the stock market? Since it is happening because of FIIs, does it remind you of the East Asian crisis?
I feel that the Indian stock market has been going steady for the last two years, and it is well aligned to the growth rate we are witnessing.
As a finance company, we have benefited. Our share prices have gone up substantially. Investors are showing interest in our companies. There is definitely a slight over pricing but there is no cause for alarm.
Even when the East Asian crisis happened, India was not affected. So, I am not worried even today. There is no panic also in the market.
Where dose India stand in the world scenario and what is our strength?
In certain sectors like IT, ITES, pharma and biotechnology, we are doing well. I think it applies to all countries, except maybe the United States and some European countries. No other country can claim development in all the sectors.
The service sector is going to be our strength in the future because it is labour-intensive and manpower-intensive, and it is cheaper here.
The government is talking about implementing job reservation in private sector too. As the head of a private company, how will you react to this idea?
That will be a very bad thing to happen. The growth of private sector is based on the foundation of merit, talent and hard work. We believe in recruiting people who are well qualified and well experienced, and not based on any other criteria.
Reservation will seriously inhibit the growth of private sector companies. As a private sector enterprise, we would definitely oppose this move, and I am sure FICCI and CII will come together and lobby effectively with the government.
Lastly, let me ask you about the post of Honorary Consul of the Kingdom of the Netherlands which was conferred on you last month. How did it come to you?
It was a pleasant surprise to me. One-and-a-half years ago, I got a call from the business support office of the Netherlands here in Chennai saying that the Ambassador is coming to Chennai to interview me for this position. He interviewed four more corporate heads, and finally I was selected.
I consider this an honour and a privilege. I am required to do some consular work through a secretariat which I am setting up. We will be doing the processing of all the applications to go to the Netherlands. I will be like a goodwill ambassador.
The Netherlands also happens to be the largest donor for charity and development in the world. So, I will be networking with a lot of NGOs here and there so that we get funds for some good causes.
We ourselves are also involved in a big way in micro-credit financing through self-help groups in rural areas. It was for this work that I got the Mother Theresa Corporate citizen award in 2002-03. Anyway, I intend to play a positive role wherever possible.
Photograph: Sreeram Selvaraj