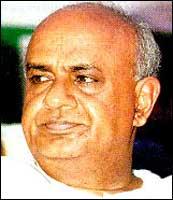 Former prime minister and leader of Karnataka's ruling coalition partner Janata Dal-Secular, H D Deve Gowda, has stirred up a big controversy with his remarks on the IT sector and Infosys.
Excerpts from his conversation with Business Standard.
You have spoken of the need to create wealth in Karnataka. How do you propose to do that?
By mobilising resources. Creation of wealth is not only by IT industries. Everybody has the impression that only the IT industry can create wealth. I am sorry. What is the contribution of the IT sector to the state? The exports are about Rs 27,000 crore (Rs 270 billion).
Yes, I too had taken some steps when I was the chief minister of the state and prime minister of the country to give emphasis to the IT sector.
The sector has made a big contribution to foreign exchange reserves. As far as taxation is concerned they [IT players] have contributed nothing to the [Karnataka] state coffers.
Your main emphasis is on agro industries and not on the IT sector?
So many other issues. Why only agriculture? There is horticulture, sericulture. What have you done for each of the family of landless labourers?
The IT sector has created only three lakh (300,000) jobs. I must complement those who have not taken a single gunta of land. Let them enjoy all tax benefits.
They are running in private buildings. Can any tall IT man say he requires 3,000 acre, requires 1,500 acres or 800 acres? Has Wipro taken any land?
Wipro has a big complex in Electronics City.
Now they have given some to Wipro because it has been classified as a special economic zone. They have given about 20. . . I have got the figures.
You are saying that Infosys has taken more land than it needs. . . ?
Why only Infosys? There are other people also, handsome people who are in close proximity with the corridors of power.
What is it specifically that you find wrong with Infosys?
Not Infosys. But a lot of land has been given in the last seven-eight years in the name of development of industry, whether the IT industry or other industry. Let everybody who wants land, approach the government. More than 85 per cent of the companies are running in rented buildings.
If a company needs a very big facility and it wants to construct its own campus and not have to go through property developers, is that wrong?
If the campus is limited for workers colony and houses its own employees, who prevents that? You must know that when I was chief minister, I had set up a committee to evaluate such projects. I am sorry to use a rude language.
Every project was asked to give information on their total investment, land required, how much employment they are going to generate, and power and water requirement.
All these requirements were assessed by a team of officers. There was no scope for any kickbacks [gestures money with his thumb and forefinger].
You mentioned the requirements. Infosys has asked for over 800 acres of land.
Infosys came into the picture later on. When I cleared the first IT project there was a big legal hurdle.
The previous Veerappa Moily government was unable to clear the project for two years when Krishna was deputy chief minister because it was in the green belt, and land reforms totally banned touching a single acre for any other purpose. I moved an amendment so that at least wherever land was required for industrial purpose, we should be able to get it.
In today's situation, is there anything wrong in Infosys wanting to build a big campus?
Why do you only harp on Infosys, mister? Why do you want? Why do you want? [Shouts, looks visibly angry]. Is he [N R Narayana Murthy] the only person who built the name and fame of the IT sector? Is Wipro not doing anything?
If you are a true journalist you must have a fair outlook. Infosys, Infosys, Infosys. If Infosys goes, all the world goes?
But you know Murthy has brought so much international fame to Karnataka.
The name of Silicon Valley given to Bangalore is not his creation. Don't talk. I know what it is. You people are under the impression that Deve Gowda has his own assessment. What is Bangalore, I know better than you people.
There is a lot of talk about Bangalore's infrastructure not being good. What is your solution?
In one year, has the infrastructure disappeared all of a sudden? Was everything OK during the five-year rule of Krishna? Within 60 days after Dharam Singh took over, the infrastructure disappeared?
Powered by