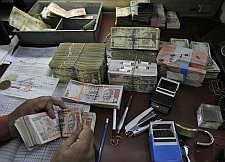 If you want to see rupee's value go up, then lower the interest rates, improve the growth and the currency will rise, says Surjit S Bhalla, below, left, chairman and MD, Oxus Investments, a New Delhi-based economic research, asset management, and emerging-markets advisory firm.

The Food Security Bill is highly inflationary and does not achieve the purpose of providing food to the poor, he says in an interview to Rediff.com's Faisal Kidwai.

What should be done to arrest the rupee's decline and bring down the current account deficit?

My basic view is that the rupee is controlled much more by economic growth than anything else. The dominant influence on the rupee is the nature and magnitude of growth. If the growth is low, worse off is the rupee. If the growth is high, better off is the rupee. If you want to see our currency improve, then lower the interest rates, improve the growth and the rupee will rise. I've different conclusions than the RBI or many people.

Many claim that the RBI cannot cut rates because the current deficit is high. I find no evidence, either theoretical or imperial, to support that claim. The RBI says it cannot cut rates because they have to look at the monsoon. There is no relationship between the monsoon and the value of rupee or interest rates. Their vision of economics and the world is very different from mine and they get their vision of economics from what existed 30 years ago.

Do you expect a change in view?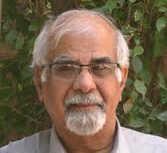 They have stuck to their view even though they have been considerably wrong for quite some time. I see no reason for them to change now. When the RBI governor changes then there is some hope that we might see a slightly different view. Governor Duvvuri Subbarao's term is expiring, this is the last economic policy he will be making; therefore there is some hope down the line. Hope in terms of sensible macro-economic and inter-state
policies.
Some analysts say that high non-performing assets pose a risk to many banks. What's your view?
Non-performing assets came about because the rate of growth is very low. So, is it any wonder that there are non-performing assets? If your interest rates go sky-high, then obviously there will be high non-performing assets or much more than had bargained for.
What are some of the major economic reforms you would like?
They have just passed the Food Security Bill that doesn't make any sense. Both on the fiscal side and on the monetary side we are in a corner.
Why doesn't the Food Security Bill make sense to you?
It is highly inflationary and does not achieve the purpose of providing food to the poor. The subsidy involved, if fully implemented as they plan to do, will be around Rs 150,000 crores (Rs 1,500 billion) to Rs 175,000 crores (Rs 1,750 billion). There are a lot of leakages. So whoever the present public distribution system system is helping in its leakage, it will continue to help them, whether it is political parties or companies we don't know.
Do you see any reforms happening before the general elections scheduled in 2014?
Not likely. For instance, I don't view the Food Security Bill as a reform. So if you are going to get more of this populism, then clearly this is not the time for economic reforms. They are also planning to bring in an ordinance that will keep political parties out of the purview of the Right to Information Act.
There's a view that Gujarat Chief Minister Narendra Modi will be a better prime minister. What's your take?
All we can say is look at the demonstrated leadership, whether it's Modi or (Bihar Chief Minister) Nitish (Kumar). We can look at how they have performed as a leader and we can look at how Prime Minister Manmohan Singh has done or try and guess how Rahul Gandhi will perform. We can see there is no comparison between Nitish, Modi and Rahul and Manmohan. I think it is genuinely true that most people have been very surprised by the complete lack of leadership shown by Manmohan Singh and Sonia Gandhi.