'Financial independence will help unlock the full potential of these businesses.'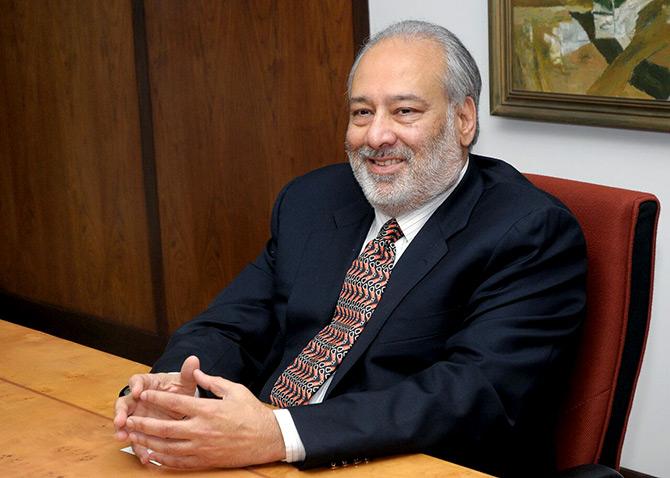 Textile and apparel company Arvind Chairman and Managing Director Sanjay Lalbhai and Executive Director Kulin Lalbhai tell Raghavendra Kamath why Arvind will demerge its branded apparel and engineering businesses.
What led you to this decision?
Sanjay Lalbhai: Financial independence will help unlock the full potential of these businesses. The demerger will free up our resources and allows us to renew our focus on textile business.
Over the next three to four years, we will invest Rs 1,500 crore (Rs 15 billion) in the textile business to transform it.
How has GST impacted your branded apparel business?
Sanjay Lalbhai: Whenever there is an early Diwali, you tend to lose out in the north.
If you compare Diwali to Diwali, the numbers are subdued. But organised players should now do well.
Unorganised players which avoid taxes will face challenges.
There was a temporary slowing, but things became normal quickly.
In fact, we did like-to-like growth of 16 per cent in the second quarter (June to September) this financial year.
You spoke about becoming one of the top 20 supply chain partners for global chains.
Sanjay Lalbhai: We have already become a preferred supply chain partner for many global brands.
For instance, we have tied up with PVH in Ethiopia. (Arvind has signed a joint venture agreement with Heritage Brands' PVH, a leading global apparel brand, to manufacture in Ethiopia and export eight million pieces of shirts annually).
We offer innovative and sustainable products, and provide complete solutions. We want to move ahead in that direction.
Arvind seems to be struggling with the GAP and Nautica brands. Also, may we expect any new brands from your stable soon?
Sanjay Lalbhai: Countervailing duties (CVD) came in between and it was imposed on the MRP (printed maximum retail price). That took away eight to nine per cent of margins.
Since CVD is behind us, we expect GAP to be positive in operating earnings next year and grow. Nautica is doing very well.
Athleisure (athletic leisure) is a big business opportunity. We have already started it in (our) US Polo and Flying Machine (brands).
Women's wear is also growing. About 50 per cent of Unlimited's (Arvind's value chain) merchandise is women's wear.
Retailers complain about getting the right real estate. What is your experience for your stores and mall rentals?
Kulin Lalbhai: Earlier, the number of malls coming up was not high. But when we plot the store opening for the next three to four years, we are seeing enough supply.
In newer malls, we are getting reasonable rents.
What key learnings did you have from omni-channel operations?
Kulin Lalbhai: Omni-channel will help get more of wallet share of our customers if we customise solutions for them.
For instance, our app can tell them that GAP has discounts on the apparel and they can visit them.
Photograph: Kind courtesy Haresh N Parmar/Creative Commons