'As a society, we are very intolerant to failures which is contrary to entrepreneurship because all entrepreneurs will not succeed.'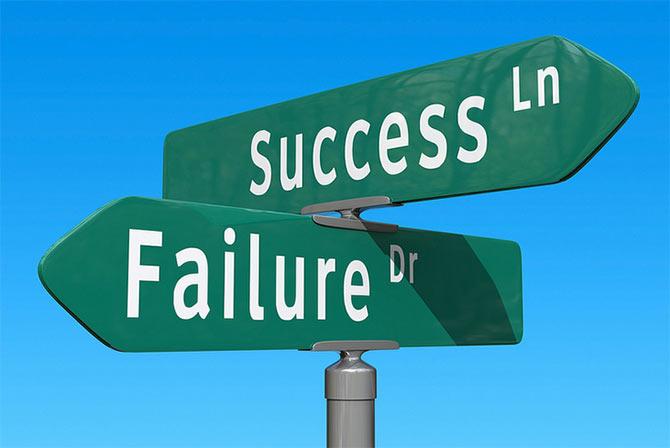 B V R Mohan Reddy, founder and executive chairman of Cyient Ltd and a former chairman of Nasscom, is considered a pioneer in the field of Indian IT industry. The honorary consul of Germany in Telangana and Andhra Pradesh, he has been part of central government initiatives like 'Make in India', 'Digital India', 'Swatch Bharat Mission'.
Other than that, Reddy, a Padmashri awardee, also serves as the chairman, board of governors, IIT-Hyderabad since 2012 and as director on the board of National Skill Development Corporation, as well as a member on the board of NIITUniversity and the Centre for Innovation and Entrepreneurship at IIIT Hyderabad.
In an exclusive interview with Shobha Warrier/Rediff.com, Mohan Reddy, left, talks about the future of the Indian IT industry.
You are a first-generation entrepreneur. With a better ecosystem and social awareness, do you feel this is the best time for an entrepreneur to be in India?
Absolutely. Other than ecosystem and social awareness, there are two more important things that are happening in India. Technology is going through a major shift.
If you go back into the history of mankind, you find that technology always changed. Whenever a change happened, there was an upliftment of the economy and comforts of the humankind also happened.
What is different about the technology shift today is, I call it the velocity of change is at its best.
The second difference is that the predictability of change has come down quite dramatically. The old order would change from the new order that would come by.

The way in which Trump is making the pronouncements, it is certainly concerning to me. He is not understanding the implications of how well the industry has done for the American companies.

What kind of changes do you foresee happening in the near future?
If you take, for example, SMAC (Social, Mobility and Cloud). First they talked about social mobility and cloud, then it was Big Data and now it's automation.
I am also a firm believer that a lot of intervention will happen because of augmented reality, virtual reality, mixed reality, etc.
All these technologies have become so unpredictable; every day there is a new technology that is coming up. With velocity of change, predictability has come about. Therefore, it is technology at its best now.
When the change is so rapid, those who are worried about are the existing players because they have to regroup and retrain themselves.
But if you look at this from another point of view, challenges also lead to opportunities. It means technological changes are creating new opportunities. What do entrepreneurs look for? They look for opportunities and so, this is the best time for entrepreneurs.
Do you see more innovation happening in India?
Yes. Technology shift does not mean you can do whatever you like; you need to innovate.
So, more than inventions, incremental changes will happen which is, creating solutions which are much different. For example, iPhone cannot be called an invention; it's an innovation.
Even the glass top of the iPhone was designed 30 years back which was more for chemical use and industrial use. Then they brought the cost down and commercialised it and made it literally unbreakable.
Therefore, you have technologies around you; you have to come out with extremely innovative solutions for the new needs.
How prepared are Indian entrepreneurs for coming out with innovative solutions?
If you ask me whether they are 100% prepared, the answer is no, they are not 100% prepared.
But the good news is that an ecosystem is being created.
For example, I did three things in the last three years. One is, we started teaching entrepreneurship at IIT-Hyderabad. You can't make entrepreneurs but you can create an ecosystem and awareness for them to become entrepreneurs.
When they are technically competent with a degree from an IIT, you also know what entrepreneurship is all about, what is an idea, what is leadership, what a business plan is, what is dreaming big, etc.
You also need to have a co-working space, and that's what is called incubation centres. We created the best Incubation centres in India called T-Hub in Hyderabad which has become an incubator of incubators.
What is needed next is, money. It's to help the entrepreneurs with capital that we started the Hyderabad Angel Investors and Venture Capitalists.
This kind of spectrum was not there in this country before. So, you have technology at its best and also the ecosystem.
Next is, the opportunities on the ground is also very large in India. Also, the initiatives the government has taken now like the Make in India, Digital India, Smart India etc. throw up a lot of opportunities. You combine technology with opportunities and then you have the ecosystem with awareness that is created; it cannot get any better.
The only challenge is, we don't have the depth of knowledge which you see in the western world.
What exactly do you mean by depth of knowledge? The other day many CEOs in the US, from Facebook, Google, Twitter, etc said that Silicon Valley is what it is only because of the brains from all corners of the world which of course, will not happen in India in the near future. Is that what you mean?
The best of brains is there but the challenge is we have not applied ourselves. We are very well taught but we are not knowledgeable. When you apply teaching, it becomes knowledge.
You have to assimilate, understand and apply them. Application has not been there. This cannot happen overnight. You just can't say, hey entrepreneurs, you come and do whatever you want.
As a society, we are very intolerant to failures which is contrary to entrepreneurship because all entrepreneurs will not succeed.
It is said that only 2 out of 10 succeed…
You are generous. I would say, only 1 out of 10 succeed. I will go further down and say that out of 100, only 10 succeed. In that 10% also, you have variants; 2 or 3 will be highly successful, 3 or 4 will be successful and so on. So, the highly successful ones are just 2%.
You have to understand that failure is a part and parcel of entrepreneurship and failure has to be tolerated by society.

Unless these students have depth in terms of technology and they apply it, entrepreneurship will not happen.

You said that application of knowledge is not there. Is it not the failure of the education system?
Exactly. We now say that we have produced 700,000 graduate engineers in this country. But how many of them become entrepreneurs? That is because they don't have the depth of knowledge in many areas. They have not applied themselves in what they learn. That is where the gap lies. This is not happening in the western world.
I will give you an example. Students do project work in the last semester of their engineering. This is an amazingly good initiative where students can apply whatever knowledge they have acquired in a real-life problem and find a solution. What do they do? They buy projects done by others and submit.
Unless these students have depth in terms of technology and they apply it, entrepreneurship will not happen.
When you became an entrepreneur, you chose to be in the realm of R&D. Even when India became a big global player in the field of IT, the complaint was that we were service centric.
When do you see India moving towards R&D?
I am a strong proponent of, you should do what you are good at. So, we were good in services and we should continue to do it.
The second thing is, we also have learnt from this industry success story that whenever you needed a change, you have to change quickly. The original business model was to do with body shopping. By 2000, we started doing Y2K. 2003 became the era of dotcom. 2008 was the year of meltdown. But you look at the industry; it continued to grow despite all the global setbacks. It grew in size.
What we always found was that services was our key area and we should continue to play the part.
I think there was some resistance coming from services as automation has come in but the good news is that it is a 25-year-old industry and with this, enormous amount of maturity has come by. The industry is transforming itself very well. The current flavour of the season is the digital world and we are now writing applications for the digital world.
I feel Indian companies are intensely participating in the new technologies that are coming.
With Donald Trump as the president of America and the travel ban, restriction on H1B visa, immigration woes, how worried are you about its impact on the Indian IT industry?
It is definitely very concerning. I don't deny that. From 2014 onwards, everybody has been using the word, VUCA. Yes, it's a volatile, uncertain, complex, ambiguous world.
You know the word has its origin in Afghanistan. The American Generals were using this word to describe the ground situation there. I want to use the word VUCA to describe the ground situation in America. It's extremely uncertain, extremely volatile, extremely complex and extremely ambiguous. That's where we are today.
There will be fairly large implications because of each one of these actions. But some can be corrected.
For example the H1B visas. It's not an uphill task so long as a grandfathering can be done.
He announced saying he didn't want so many H1Bs and he wanted the companies to get their acts together. It's fine if he wants to provide employment to the locals, otherwise, if he suddenly stops them, aberrations will come by. Everyday they are coming out with new bills and these will keep happening.
The second thing that is worrisome is whether he would impose import tax.
He is talking about swadeshi and threatening to tax goods from Mexico…
Exactly. But the import tax cannot be done as the import tax we think; he may say net import tax. If he puts 20% tax on software, our exports will be stopped. Then Modi can say, I will put 40% tax on your planes. Who is going to pay for all this? People will have to pay. Then, American planes will become more expensive in India and we may stop buying from America and buy French planes.

You can't make entrepreneurs but you can create an ecosystem and awareness for them to become entrepreneurs.

The word complex is very relevant today; it's not going to be easy. You cannot simply say, I will tax your products, I don't want anybody to come here, etc.
Did globalisation happen yesterday or day before? It took 25 years of relentless efforts people have put in to bring it in. Right from the post Second World War, globalisation had started.
You take Boeing. 30% of its value addition is done by the United States and the rest are from many countries lie Japan, Korea, India, etc. It is no longer a world with iron curtains.
Somebody said, today the borders between countries are like lines drawn on sand.
In such a world, you cannot say, I will not allow people to enter my country. It's very concerning.
In 1991 when India opened up, all these countries and multi-national companies told India that it could not remain isolated any longer. Today the same country is saying they would close the borders. Is it really possible to build walls between countries now, literally and figuratively?
No. When they talk about 40% as import tax, they do not understand that they export twice that number to Mexico. Now, Mexico can stop exports to America; they can also stop imports from America. It is a very complex situation.
Do you think the IT industry in India will be affected by all this?
The way in which he is making the pronouncements, it is certainly concerning to me. He is not understanding the implications of how well the industry has done for the American companies.
I will give you an example of an American company that makes aircrafts and when they had to do a brand new engine design, the original budget for R&D was $1.5 billion and the Board rejected it. Then they partnered with an Indian company and presented it to the Board at $900 million, two-third of the cost presented initially, and the board approved it. The engine is a reality now. And a lot of innovation went from India on this particular project.
So, you can't completely shut yourself from the world. If Americans have to pay for the cost, inflation will go up there. An average American may make $60,000 instead of $40,000 but if the inflation goes up by 15%, what meaning has the increase in his salary mean?
Lead image used for representational purposes only. Credit: Chris Potter - StockMonkeys.com/Creative Commons.