'The world over, everybody is asking for the same medicines, same APIs, same KSMs.'
However, there is just one supplier -- China -- for the entire world.'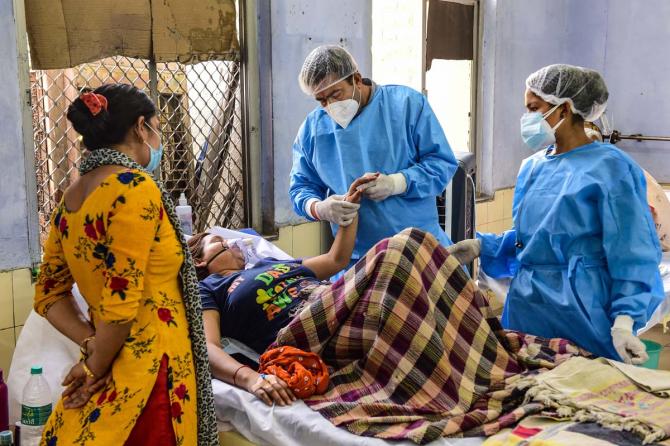 Ashok Kumar Madan, executive director, Indian Drugs Manufacturers Association, explains to Prasanna D Zore/Rediff.com what led to the recent jump in prices of essential intermediates necessary for manufacturing of medicines used for managing the COVID-19 pandemic.
What is the ground situation now so far as shortage of Active Pharmaceutical Ingredients (APIs) needed to manufacture drugs used in the treatment of COVID-19 are concerned?
There was an issue with Sichuan Airlines when they suspended their operations to India about a month back for about 15 days. That was a concern; we had raised our concerns with the ministry of commerce and sought the help of the external affairs ministry too.
Our concern then was if this suspension of (Sichuan Airline's operations to India) were to continue for a longer period it may lead to problems for the Indian API industry, not just for manufacturing of COVID-19 drugs but across the board for all other drugs manufacturing.
How did the government respond to your concerns?
The commerce and external affairs ministries did help us along with the Indian embassy in Beijing. Flights by Sichuan Airlines resumed from May 9.
So, today there is no gap between the demand and supply of APIs.
At the moment we can only say there is no concern. We cannot say about the demand-supply mismatch because many companies do maintain inventory levels of three to four months all the time.
After last year's episode when Wuhan got closed in February 2020 due to COVID-19, Indian companies, especially the larger ones, have been maintaining bigger inventories.
What led to the rise in prices of essential APIs used to make drugs like Ivermectin?
The price of Ivermectin has gone up from Rs 18,000 to Rs 50,000, almost a 200 per cent jump. The prices of paracetamol too have gone up by Rs 600 per kilogram. This has led to an increase in the prices of APIs.
Prices of many APIs along with those of key starting materials and intermediates, all coming from China, have gone up. We can understand the price surge when there is an increase in demand. This is simple economics.
To add to this, sea-freight rates along with air-freights have gone up. There have been steep rise in container charges by about $500 to $700 per container by the shipping companies.
We made an appeal to the ministry of shipping and aviation also to take up this rise in freight at the political level.
Certainly, governments don't have control over sea- and air-freights as they too are dictated by the demand and supply dynamic, but we can always request the governments for its kind intervention. After all, we too give them (companies based out of India) business and they too come to our country to do business. So, we wanted the government to help us here.
How did the government help to bring the situation under control?
As far as freights are concerned they have not yet gone down, but discussions have been held between the various ministries we were in touch with.
As far as suspensions of flights were concerned, the government's intervention did help in resumption of flights. That helped us get the necessary APIs, but we also have increased demand because of the increase in our requirement. Simultaneously, there is also an increase of demand from other countries because of COVID-19.
The world over, everybody is asking for the same medicines, same APIs, same KSMs ( Key Starting Materials). However, there is just one supplier (China) for the entire world. That's an anomaly.
We do get certain APIs, from Switzerland, The Netherlands, the USA; like for Remdesivir we are dependent on the USA; for Amphotericin-B you have to depend on certain items coming from Switzerland and The Netherlands.
Has the demand for Remdesivir come down after the WHO advisory related to its effectiveness in COVID-19 management?
What has happened is it (Remdesivir) has only out of the advisory for COVID-19 management. But doctors can always prescribe the drug; they have been using it and prescribing it. Demand for APIs used in the manufacture of Remdesivir continues to be there.
Even for Amphotericin-B, which is being used extensively to treat black fungus.
We do not have enough production of Amphotericin-B in India. Now, five more manufacturers have been given the permission. But again you need the KSMs and the intermediates.
One of the intermediate required for Amphotericin-B is lipoid, which comes from Switzerland. There is only one source. The same lipoid is also used by Pfizer and Moderna for their mRNA vaccines. So, you are vying for the same materialfrom just a single source which is also supplying it to Pfizer and Moderna in the USA.
Are Indian manufacturers getting adequate supply of lipids from Switzerland?
We understand that recently we have received one consignment from Switzerland. If we start manufacturing Amphotericin-B today the lead time is 25-26 days. For (manufacturing of) Remdesivir too, the lead time is around 24 days.
Lead time is the time between the start and completion of manufacturing of a drug.
Are we then still facing the same issues that we have been facing all these days when it comes to availability of life-saving drugs like Remdesivir and Amphotericin-B?
We have to be always on our toes. We should keep procuring as much material as we can while we can. We should not be complacent.
What would be the message to the government so far as becoming independent in manufacture of life-saving drugs?
The Government of India is already sensitised to the issue and they have already started schemes like PLIs (production-linked incentives) but the thing is when you start doing anything you are part of the global chain. Even if you want to be independent of anybody it will take you eight to ten years to reach that stage.
Even if you reach that stage, suppose you start making all the APIs you need within India, then you have to deal with the availability of KSMs and intermediates and then you are looking again to China and then you try filling that gap. So, this is a complete chain and it won't be possible to build the entire chain in India.
We can try to be independent to the extent possible, but it is not feasible to produce everything in the country. Efforts can always be made towards that direction so that we have something on our own also.
What are the main challenges that the drugs industry is facing today?
The domestic industry is facing challenges in terms of pricing. The prices of APIs and other key materials have gone up and we have requested the government for some reprieve on this front and allow price increase (in the domestic market) of non-scheduled drugs also so that manufacturing remains financially viable.
Our request is under the consideration of the government.