'Our clients need business. For business you need workers and so we decided to help.'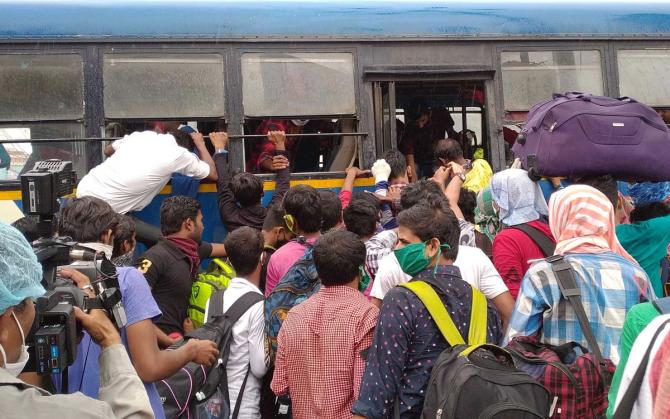 Although the nation-wide lockdown imposed in late March to curb the spread of coronavirus has been eased in many parts of the country to allow the resumption of economic activity, migrant workers, whose en masse return home shocked India's conscience, are nowhere close to returning to their workplaces.
The fear of the virus is one; there is also the worry if they will have a job if they do return.
Offering a solution is Lowe Lintas, the creative agency of MullenLowe group, once of the largest agencies in India, which has created a tech platform called Kaam Wapasi, a tech platform to help migrant workers get back to work and at the same time assist employers with access to a pool of readily available workers.
"Kaam Wapasi will be accessible to workers across the spectrum and as it grows, we hope that more companies join us in this endeavour," Virat Tandon, below, CEO, MullenLowe Lintas group, tells A Ganesh Nadar/Rediff.com.
You are a brand-building and advertising company, why the sudden interest in migrant labour's employment?
The pandemic has caused problems for everybody in the world. Migrant workers walking back home shocked us all. We decided to help and spoke to our clients.
After the lockdown opens, migrant workers will not come back to factories, construction sites, among others till they think that it is safe. They will not come back till they are assured that they have a job.
So we decided to launch an online platform that connects the migrant workers to jobs. We are part of the ecosystem. Our clients need business. For business you need workers and so we decided to help.
How does Kaam Wapasi work?
In our online portal there are two aspects. The migrant workers have to fill in their names, mobile numbers, skill, experience, current location and where they want to work.
On the employers side they have to fill in the skills required, city and how many people they require.
We have a 'matching engine' that matches the two data. We send the details to the employers. They will contact the workers.
According to Census 2011 there are 12 crore to 14 crore (120 million to 140 million) migrant workers and half of them don't have smart phones. The other half have normal phones, and we have an IVR number for them.
Our matching engine will also find them jobs closer to their individual locations.
How scalable is your project?
It is a light platform, 40,000 people can log in at the same time. It can be upgraded.
So can we call you the Linkedln for migrant labour?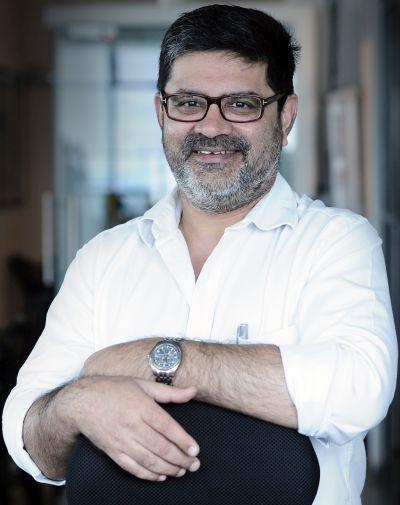 Earlier, we never thought about migrant labour. We are getting them jobs. There is much more we can do. Right now it is an employer's market, we are trying to give the migrant workers more bargaining power.
The name doesn't matter.
Apart from helping demand meet supply, will Kaam Wapasi be involved with workers' employment in any way?
Not right now! It would get too complicated to get involved just now. It will make the platform too heavy. That might happen in the future, to find them alternate jobs.
Projects are not long time, after one job finishes they can apply again.
The success of the project depends on its popularity. The segment you are targeting, you cannot get through to them via TVCs etc. So will a migrant worker, say, in Darbhanga, know about Kaam Wapasi?
Employers will put up jobs. We are fortunate to find partners in various parts of the country. The other partner is Bharti Airtel who will identify the migrants.
Radio city, the FM channel, is also giving us air time.
Tell us about your brand collaborations, how did they come about? What do they bring to the table for a project of this nature?
The idea was big, we could not pull it off by ourselves. We approached big companies, like-minded corporates came together. Razorpod is not charging us, they are working with us.
Everybody wants to contribute. Axis Bank is going to popularise it through their branches and MSME customers.
The lockdown is still active in many parts of the country. Plus, states have their own restrictions on outside labour. How will you overcome these bottlenecks?
Employers and employees will have to do that.
On our platform we are going to put up guidelines on how to be safe on the journey and at the workplace.
www.kaamwapasi.com or give a missed call on 1800-202-44-88.