'People are quite productive while they work from home.'
'The sooner we accept the new normal, the better it is.'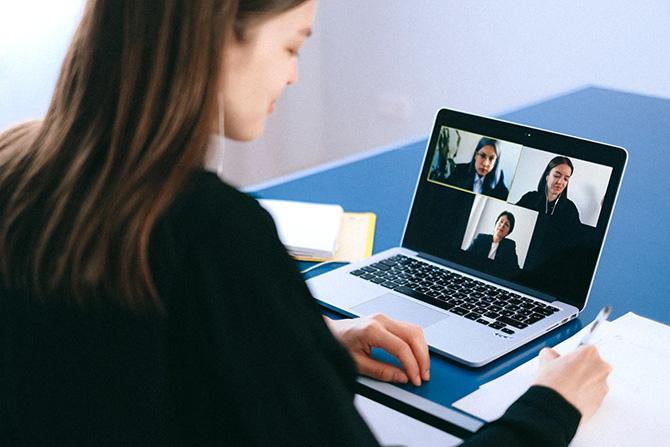 When we enter the workforce we learn a lot from our co-workers, team-mates and seniors.
We get praised if we did something right.
We also get criticised.
But we learn a lot from this personal interaction.
The mentoring we receive at the beginning of our careers often helps us throughout our working careers.
However, most youngsters who join the workforce this year will have to get used to the 'work from home' culture.
How will our young workforce adjust to this new reality?
How will they learn values of team work and commitment while on the job?
A Ganesh Nadar/Rediff.com speaks to Shefali Desai, left, an HR professional for 22 years, to find out.
Shefali is the global head of talent acquisition at Norton LifeLock, an American software company with offices in Bengaluru, Chennai and Pune.
While recruiting freshers to 'work from home', apart from academic qualifications, what are you looking for?
Adaptability and flexibility are very important. Not only for freshers, but also for experienced candidates.
We will be looking for the level of commitment and self discipline in a candidate.
It is easier to communicate when you are face to face with the person. But when you are in a remote set-up, the ability to articulate one's point of view purely on the call is very important.
Freshers learn a lot from their seniors and colleagues when they join an organisation. How will this happen when they work from home?
These are challenging times. We know that freshers need hand holding so managers and HR will do that till they settle down.
We assign virtual buddies who will be in touch with them when they need them at all times.
The head of HR and managers send e-mails to the freshers every week to check on them. The CEO writes to them individually too.
How do you encourage team spirit while working from home?
The sooner we accept the new normal, the better it is.
Every Friday we send out an e-mail to all employees. We make sure our employees connect more often on e-mail.
We also have our internal communication platform. We have fun events there.
Employees are encouraged to post pictures of working from home. There are also groups on that platform. So it is a group platform and also a global one.
Once every month, the CEO and HR speak to all employees. We connect frequently.
Small teams also have virtual coffee time, where they have a drink and chat.
Loyalty to an organisation also comes from working together. How do you encourage this in a new recruit?
Loyalty is ensured when you make them feel safe.
We care for them even when they work from home. WiFi compensation also helps.
Ergonomics -- furniture has to be tested to make sure that you don't get a backache. Companies help their employees get such furniture.
Most organisations know there is no start and end time when you work from home.
Employees are encouraged to take leave on certain days. They can log in when they wish as long as they are able to finish their work.
Emotional connect is very important for loyalty.
How do you ensure productivity without putting her/him under stress that 'big brother is watching'?
People are quite productive while they work from home. Productivity has not dropped. In fact, employees are now used to the new norm.
What are the facilities a fresher needs to have to successfully work out of home?
A laptop with all applications used by the company has to be installed.
A work buddy is a must. The buddy must have a checklist about what s/he needs to talk to the fresher about.
HR orientation on the various policies of the company is very important. It makes them feel at home.
This must be done within the first two weeks of joining.
*Kindly note the main image has been posted only for representational purposes.