'The real estate sector has been badly bruised because it has become too reliant on funding from NBFCs, including housing finance companies.
'When the NBFC industry was rocked late last year by a large default, the real estate sector was hit hard.
'An intricate web of links between rural incomes, construction activity and shadow banks are fuelling the economic slowdown', says Pranjul Bhandari.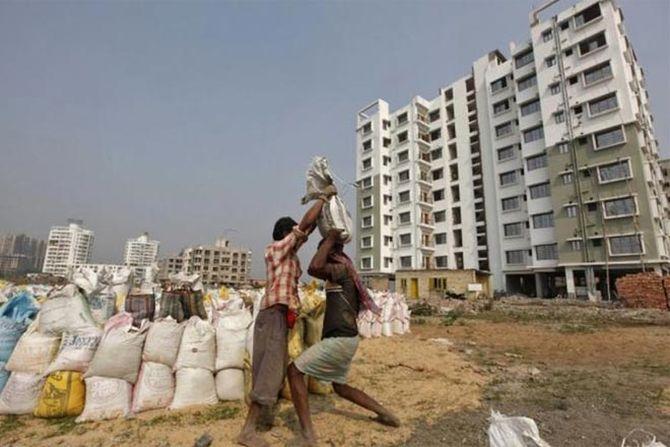 India's economy has hit the brakes hard with growth falling to 5 per cent, from 8 per cent a year ago, and impacting everything from consumption to construction.
But how did this slowdown occur so quickly and become so pervasive?
We believe much of the blame lies in the strong links between sectors that at first glance can appear largely unrelated.
Our analysis shows that India's ongoing rural distress has been worsened by the slump in the construction sector which in turn has been driven by the serious problems in the shadow banking system that's made up of non-bank financial companies (NBFCs).
These three areas make up a large part of India's economy with our analysis showing how the troubled NBFC sector continues to cause widespread pain.
India's rural economy has been in focus since early 2018 when wages in the villages started to fall, unemployment rose, and this toxic combination pulled down consumer spending.
Two commonly used indicators of rural consumption - two-wheeler vehicle sales and the production of consumer non-durable goods - have slowed markedly.
Most analysis points to falling food prices as the root cause as it leaves farmers less well off.
But this is not the only reason for falling incomes.
Rural Indians have increasingly moved away from working in agriculture and moved into construction employment, especially urban construction jobs, and it's this shift that's also amplifying the rural distress.
Our deep dive into the employment status for rural males shows that the reliance on agriculture-based employment has fallen from a 71.4 per cent share of total rural employment in FY00 to 55 per cent in FY18.
Over the same period, the reliance on construction-based jobs has risen quickly from 4.5 per cent to 14.5 per cent.
Rural workers were initially attracted to urban construction projects because of the higher wages on offer.
But when the building craze in the cities screeched to a halt, labourers rushed back to the villages, putting further downward pressure on rural wages.
But why did the building craze halt?
Construction activity suffered because it is dominated by the now-ailing real estate sector.
Broadly speaking, 70 per cent of the construction activity is led by residential and commercial real estate.
The remaining 30 per cent is driven by infrastructure.
And the real estate sector, in turn, has been badly bruised because it has become too reliant on funding from NBFCs, including housing finance companies.
From the perspective of real estate developers, the dependence on NBFC funding has risen sharply over the last few years.
In FY18, 100 per cent of the incremental credit taken by real estate developers came from NBFCs, compared to 50 per cent five years ago.
So when that source of lending dried up when the NBFC industry was rocked late last year by a large default, the real estate sector was hit hard.
That then had a knock-on effect on the construction industry and subsequently to rural employment and incomes.
So can India's mainstream banks come to the rescue?
In theory, yes. But not as easily in practice.
Banks work under strict regulatory limits, which do not allow them to increase lending to the real estate sector rapidly.
In the quarter ending June 2019, the overall lending to real estate developers contracted as a rise in bank loans was not enough to offset the contraction in NBFC credit.
And if the NBFCs remain cash strapped, funding to real estate developers will remain uncertain and prevent any significant rebound in the construction sector.
By understanding all these links, it's no surprise to find that the slump in rural wages accelerated after the NBFC fallout and the real estate slowdown at the end of 2018.
All said, until NBFC lending restarts, construction may not fully pick up, and rural wages may not rise back up quickly either.
This leads us to ask what can authorities do to prevent the slowdown from spreading further?
The government has taken an important step by announcing a stimulus package to revive stalled housing projects.
This may help solve some of the liquidity issues faced in the real estate sector (where the project is intrinsically sound, but is facing a funding shortfall).
But a second step may also be needed.
Given the deep interlinks with the rest of the economy, some NBFCs and real estate developers may need a direct and rescue operation.
For instance, the government or the Reserve Bank of India could identify the more systemically important firms, supervise them more closely, find buyers or get owners to recapitalise them, while also making sure the private shareholders shoulder losses.
This will help tide over the "solvency" problem (where the net worth of the project is in question).
Either way, we believe India's best bet to arrest the ongoing slowdown is to study the often ignored interlinks across sectors, identify the weakest link, and intervene with full might.
Pranjul Bhandari is chief India economist, HSBC Securities and Capital Markets (India).
Photograph: Rupak De Chowdhuri/Reuters