'From the investor's point of view, a real change would happen only when business environment in all our states qualitatively improves,' says NITI Aayog Vice-Chairman Rajiv Kumar.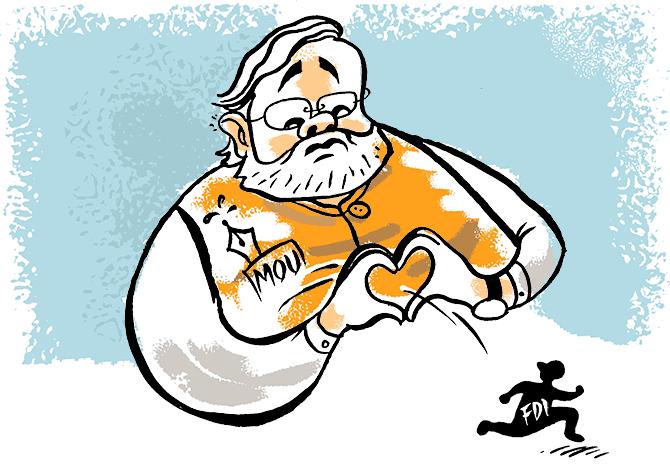 Investors, both domestic and foreign, should be pleased at the good news that India's position in the World Bank's Ease of Doing Business Global Ranking has improved further this year.
India's ranking has climbed from a rather miserable 142 in 2014 to 63 in 2019 in the Ease of Doing Business 2020 Report.
While the jump this year is not as big as in the previous years, India was still adjudged the 9th best performing nation.
Coming after the sharp reduction announced in the corporation tax rate, this news should further buoy investor sentiment.
The reduction in corporation tax rate to as low as 15% for new investment and production units has put India in a most competitive position vis-à-vis all other economies.
These measures will, of course, show results with a lag.
It would be imprudent to expect them to have an immediate impact on the rate of investment and capacity formation in the country.
Therefore, we can hope for a recovery in the investment cycle in the second half of FY 2020, which would then be sustained in the coming years.
Following are some aspects of the Ease of Doing Business rankings that need to be recognised:
1. As the finance minister has herself noted, estimating these rankings on merely two cities does not reflect the strongly differentiating conditions that prevail across different states in the country.
It is time, therefore, to have a larger number of cities covered for estimating these rankings.
2. It is now quite evident that investment climate in individual states is the principal driver of investment activity in the country.
It may not be an exaggeration to say that 80% of the bottlenecks/constraints faced by existing and potential investors are now within the purview of individual state governments.
Therefore, it is perhaps time to construct an objective Ease of Doing Business ranking across all states in the country.
3. It has to be ensured that such a ranking is undertaken by an external agency, such as the World Bank or the NITI Aayog, and is based on investors's perception of the investment climate in individual states.
In my view, preparing such a ranking will have a strong positive impact on promoting private investment and getting the states to effectively compete in attracting new investment.
To rely solely on large, once-off investor summits and conventions often produce minimal results.
It is time that states switched over to regularly improving their business climate and monitoring the progress on a real-time basis.
4. Improvement in aggregate business ranking disguises some of its salient features.
For example, India's ranking in 'enforcement of contracts' has been stuck at 163, out of 190 countries, placing it in the bottom decile.
This is clearly unacceptable as it creates significant uncertainty for investors about being able to enforce their property rights in case of a dispute.
In this regard, it is worth pointing out that the Tata Trust has taken a laudable initiative of preparing a 'Justice Report', which attempts for the first time ever to rank states on four pillars of justice delivery.
These four pillars are: Police, Prison, Justice and Legal Aid. The report is to be launched on November 7, 2019.
I am hoping that this report and its subsequent annual editions will lead the states towards improving judicial governance, which is the key to improving business climate in the country.
5. On two other counts, India still does not perform adequately.
For starting a business, the country ranks a lowly 136 with a minor improvement of one rank over the previous year.
This amply reflects my earlier observation that a significant part of improving the business climate now rests with individual states.
It is in the states that investors find it difficult and face several hurdles in starting businesses, whether small or large.
Similarly, registering property, for some reason still remains a daunting exercise.
While there is an improvement of 12 ranks from 166 to 154, we need to do more as the right to property is one of the fundamental rights in the country.
6. Another aspect where more improvement is required is in facilitating the payment of taxes.
While there has been an improvement of six ranks on this count, we still rank a lowly 115 in 2019, having improved from 121 in 2018.
Facilitating direct tax payment, both by individuals and corporations, has been on the policy agenda since 1993 when I was the economic adviser to the department of economic affairs in the ministry of finance.
It was during those years that there was an initiative to establish a large taxpayers unit, whose mandate was to facilitate tax payments and ensure no harassment for large taxpayers.
It is time to effectively resuscitate this initiative so that large taxpayers, which could be restricted to 10% of total taxpayers, experience a degree of comfort and hassle-free treatment in meeting their tax compliances.
7. It is, perhaps a sign of the times that our ranking in 'getting credit' has slipped from a good 22 to 25 this year.
This surely relates to the banking sector where credit conditions seem to have hardened over the last 12 months.
This needs to be quickly reversed. It is important that a large number of our business entrepreneurs who exist in the informal sector have better access to the formal sector.
The Mudra Loan scheme, under which loans worth Rs 9.1 trillion have been issued to 206 million borrowers since its inception in April 2015, has surely improved credit access to those in the informal sector.
But more needs to be done.
With a greater focus by state governments on improving the ease of doing business in their jurisdiction, India can surely hope, as the prime minister has exhorted us, to enter the top 50 ranks in the Global Ease of Doing Business Index.
Though this in itself would be a huge achievement, we would need to improve even further as our economic growth and employment generation will continue to require massive investments in the private sector.
From the investor's point of view, a real change would happen only when business environment in all our states qualitatively improves.
It is time, therefore, to rank all the states for their business and investment environment on the basis of investor perception.
Views are personal.