'Handled poorly, it could either lead to a witch-hunt in organisations that is fertile soil for yes-men; or lead to even bona fide decisions and entire organisational systems being held to ransom,' says Somasekhar Sundaresan.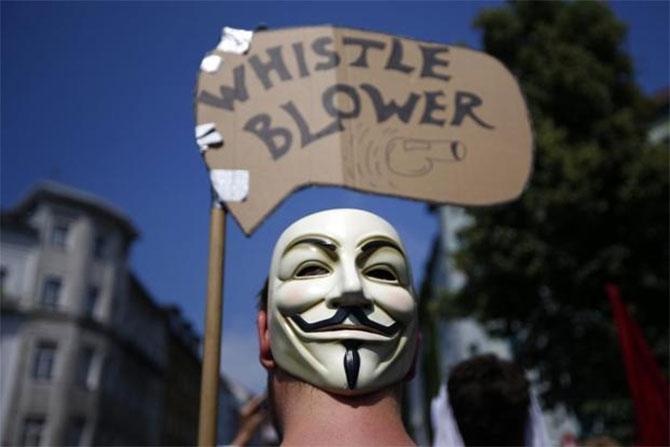 Yet another whistleblower complaint has been reported against yet another listed company.
Yet another flurry of activity around handling the fallout will follow.
Something or nothing may come of it.
However, there is one abiding requirement that policy-makers must attend to: A legal framework to deal with whistleblower policy that deals with all facets of the phenomenon.
The law and practice around handling complaints from whistleblowers has evolved organically, and not by a push from a law.
Company law and securities regulations simply require the need for a whistleblower policy within the corporation.
Yet, whistleblowing and handling whistleblowers is a tricky area.
Handled poorly, it could either lead to a witch-hunt in organisations that is fertile soil for yes-men; or lead to even bona fide decisions and entire organisational systems being held to ransom.
There was a time when the Government of India had a stated policy on ignoring anonymous and pseudonymous complaints.
Unless a complaint was backed by a real name, vigilance probes would not be initiated.
In public office, every hour of the working day can involve taking decisions that would disappoint someone or cause heartburn.
Therefore, unless one affords protection from the exercise of judgement being judged, and the wisdom of a decision being substituted by another's wisdom, an organisation would be incapable of being governed.
Yet, in reality, there is no dearth of serious action being triggered by letters and complaints that are anonymous, and what is now par for the course, pseudonymous complaints.
The more grave the contents of the complaints, the more difficult it is to ignore it on the ground of the complaint being anonymous or pseudonymous.
With corporate boards, complaints of this nature are even more rampant.
One must not forget that light from any source can be illuminating.
Therefore, when a complaint is anonymous or pseudonymous, the board of directors should consider the personality of the CEO and the work environment in the organisation.
The 'stronger' (read, more autocratic and overbearing) a CEO, the greater the need for a complainant to mask her identity.
The more inclusive and accommodative a CEO is of the diverse views within the work space, the more circumspect and stringent the board of directors should be towards anonymous and pseudonymous complaints.
This is easier said than done.
Invariably, embedded into the probe into a complaint is a deep desire to know who the complainant is.
The more iron-fisted the leadership, the greater the risk to the whistleblower's safety and security.
Whistleblower protection, and an organisation's attitude towards it, can tell a story about how autocratic and 'statist' the organisation is.
One man's patriot reformist is another man's traitor.
The United States, whose policies for the corporate world led the thinking around the world on how to make use of whistleblowers's concerns to reform corruption in corporate America, is the most authoritarian when it comes to handling whistleblowing of the government's own wrongdoing.
See the plight of Edward Snowden (physically in danger and marooned outside his country) and numerous others who are like-minded and are languishing in jail.
The current US President likens probes into credible complaints by whistleblowers in his office to 'lynching' (indeed an American term in this context).
Today, companies that have nothing to do with the government too need to handle whistleblower complaints and in fact enable a framework where complainants can come in without fear of being identified.
From a phase of not taking a non-transparent complaint seriously, market reality has moved to treating as illegal the very demand to know the identity of the whistleblower.
A disgruntled owner of an opinion that is in conflict with the ultimate collective decision in an organisation can wreak havoc if his views are overridden.
It is time for a comprehensive empirical review of how whistleblower policies have been used, abused, and organisationally handled in corporate India.
Some indication of an ideal approach to handling whistleblower complaints, and how organisations would be treated by the law in relation to handling of these complaints, would be an important nudge to the development of the law.
Today, boards of directors too are exposed to being accused of mishandling of such complaints -- either of taking frivolous complaints too seriously or of taking important complaints lightly.
The greater the ambiguity in the law on how one would be treated, the lesser is the ease of doing business (the much tired phrase) in India.
Somasekhar Sundaresan is an advocate and independent counsel.