Raghuram Rajan's departure holds lessons for all.
We need to learn how to value and retain talent.
At the same time the talented too must realise that talent alone does not ensure the top job, says Sanjeev Nayyar.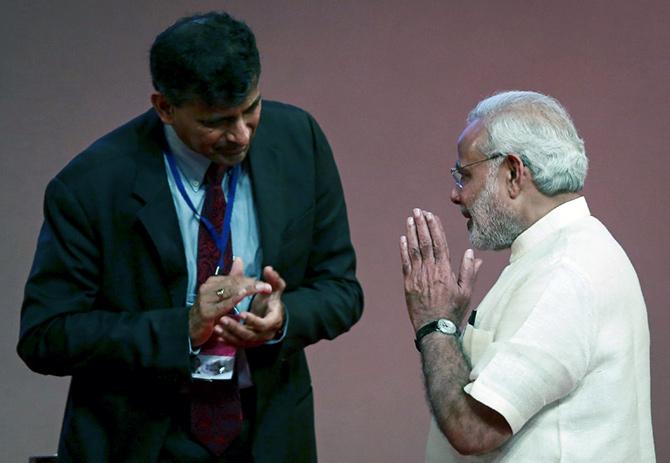 IMAGE: Prime Minister Narendra Modi with Reserve Bank of India Governor Dr Raghuram Rajan in Mumbai, April 2, 2015. Photograph: Danish Siddiqui/Reuters
I am an admirer of RBI Governor Dr Raghuram Rajan. Having assumed the job during a very difficult time, he brought stability to the markets, inflation under control, started a war against crony capitalists and tempered interest rate cuts admirably.
Under his stewardship India's foreign exchange reserves have touched record levels. He came with internationally acclaimed academic credentials, brought a global understanding of financial markets to the job, became governor at a very young age and was the first governor to have come from outside the government/RBI system.
Not only is he very articulate, but his dashing looks and personality fetched him a 'rock star' status. By making known his intent to return to the groves of academe much before his term ends, Dr Rajan has given the government enough time to find a successor, again a commendable thing to do.
Having said that, the campaign for his extension and the timing of some of Dr Rajan's words call for introspection.
One, the media support and online petition for Dr Rajan's extension.
Sections of the media, led by business newspapers and television channels, drummed up support for Dr Rajan's extension. Post Dr Subramanian Swamy's intemperate outburst, a number of leading intellectuals rightly defended Dr Rajan. A leading Modi baiter recently wrote, 'Transition in RBI's top job should be openly discussed, and the pros and cons of possible candidates weighed by the public.'
Earlier, too, when Dr Rajan spoke on matters outside his domain, he received widespread support from the liberals.
In short, Dr Rajan became a poster boy, larger than life, for the English media and the liberal class. Let us take a fictional example to see how his extension might have panned out elsewhere. Just assume the following scenario.
Natasha Singh, editor of New Delhi Times, revamped the paper to make it very readable. She became so popular that even competing newspapers began to write about her. Her relationship with the owners, the Pollock family, was mixed. They disliked her independent streak but admired how she turned around the newspaper.
At 43, she was the youngest among her peers. Her five-year contract was set to expire in November 2016. Five months prior, the owners of NDT were bombarded with mails demanding Natasha's term be extended. Well-meaning readers started an online petition too. She was spoken about as being indispensable to NDT.
The Pollock family were in a Catch 22. On one hand they knew how Natasha connected with the readers while on the other they invariably had little say in the way the paper was run. They were also worried about Natasha overshadowing the Pollocks and assuming a larger-than-life persona.
Discussions with Natasha went to and fro for months. Eventually the Pollocks decided against granting her an extension and promoted an equally talented lady as editor.
Observation one: In any organisation no employee can come to assume an image of being larger than the institution itself or that of the owners.
Readers might recall how Ratan Tata, on assuming leadership of the Tata Group, systematically went about cutting the wings of group satraps like Ajit Kerkar and Russi Mody. Here is an interesting story: 'Some time in 1991 -- just two years before his retirement ('ouster' would perhaps be a more appropriate term) -- Russi Mody had invited a few journalists from Kolkata to visit the Jamshedpur plant of Tisco, as it was then known, to figure out which way the wind was blowing in his battle with Ratan Tata.
His crisis managers took the team to a few areas in the plant where workers had put up huge placards saying, 'Jab tak suraj chand rahega, Russi Mody tera naam rahega. Predictably, the next day's headlines in a few newspapers read: 'Workers throw their weight behind Mody'.'
'It was an obvious naivety on the media's part, but the stage-managed show of workers' support for him was also a reflection of the desperation of a man who wanted to retain his throne somehow.'
Another example could be the former CEO of a leading Hindi entertainment channel, who probably lived with the illusion that the turnaround in the channel's fortunes were solely because of him and a single successful programme.
Observation two: The Modi Sarkar's relationship with the English media can at best be termed as lukewarm. Used to a Congress way of thinking and working, they are just about beginning to understand and accept the change in style. Some even mock the prime minister for his inability to speak convent-educated English and his Gujarati accent.
Clearly the PM has a mind of his own. He will push the system to realise his vision of Jan Dhan Yojana, digitisation and is against crony capitalism of the type witnessed during the UPA. By virtue of his Gujarat experience Modi knows of the media's double standards -- statements like 'transition in RBI's top job should be openly discussed' were never written during Congress rule but is reserved for the BJP.
It is thus no surprise that the government has chosen to let Dr Rajan resume his career in academics.
If the media had not created so much of hype over Dr Rajan's extension, maybe Dr Rajan would have further gained from working in the real world and India too would have benefitted.
In India, for sure, there is merit in being low profile. Ask Vijay Mallya, or learn from the late Harshad Mehta.
The Business Standard editorial of June 13, 2016, stands out: 'An unnecessary controversy has been generated in the traditional and social media over Reserve Bank of India Governor Raghuram Rajan's possible second term. Such ringing endorsement of a central banker -- including online petitions and supportive statements from sundry Mumbai industrialists, Mohamed El-Erian, the influential chief economic advisor at Allianz, and Luigi Zingales, Mr Rajan's University of Chicago colleague and co-author -- is unprecedented.'
While I admire Dr Rajan's decision to inform RBI employees of his decision to move on after the markets had closed, thus not destabilising the financial markets, the communication is unprecedented in government and corporate worlds.
How would the boards of Unilever or Tata Sons respond if the CEO of their subsidiary had addressed such a communication before leaving? It is no ordinary mail and virtually a report card of Dr Rajan.
Since when have Reserve Bank of India governors started giving out report cards to their employees? Or, is there more here than what meets the eye?
If the timing of Dr Rajan's communication had government buy-in, then the exit could have been managed gracefully.
At the same time, Dr Rajan did not endear himself to the government with some badly timed statements.
One was his convocation speech at IIT-Delhi where he got caught in the very polarising tolerance versus intolerance debate.
As a citizen of India Dr Rajan has an equal right to speak his mind. As RBI governor, Dr Rajan should have been careful.
Instead of courting controversy, I wish Dr Rajan had told IITians how his study of science had helped him in his job as an economist or asked why so many IITians do not make a career in science but end up selling soaps or in financial markets.
Two, when the prime minister launched the Make in India programme, Dr Rajan spoke about India not following the Chinese model etc. Without getting into the right or wrong of the points made, is it appropriate? Or is there a precedent of an RBI governor commenting on matters of government policy? Or, was Dr Rajan speaking as a leading economist?
Again, this controversy was best avoided and surely did not endear him to the government which wanted to revive manufacturing and employment.
Former RBI governors like Y V Reddy and D Subbarao too had differences with the government, but the details were rarely in the public domain.
Notwithstanding the above, it is possible that the IAS lobby ganged up against 'outsider' Dr Rajan, industrialists affected by his NPA drive lobbied against him, or 'there were concerns that the role of looking for the next governor would be entrusted to a selection committee, whose members did not have any experience of the RBI.'
According to a report, 'Rajan demanded that the governor's job be given Cabinet status since the RBI governor is actually higher than the finance secretary in ranking. The demand was turned down. Recently, the government decided to make him a member of a panel that would shortlist a deputy governor, a panel that would be headed by the Cabinet secretary, and not the RBI governor.' It is possible Dr Rajan did not like the attempts, correctly so, to undermine the governor's position.
It is up to the government to now send out the right signals. Attempts to undermine any RBI governor will have negative consequences for the markets and India's credit standing.
Dr Rajan's departure holds lessons for all, be it sections of the media, politicians or the people themselves. We need to learn how to value and retain talent. At the same time the talented must realise that talent alone does not ensure the top job. Ask Dr Manmohan Singh!
India survived post Pandit Nehru, Indira Gandhi and grew significantly under P V Narasimha Rao and Atal Bihari Vajpayee. Samah kissi ki leye nahin rukta hai (time does not stop for anyone).
We shall miss you, Dr Raghuram Rajan, our best wishes always!
Sanjeev Nayyar, an independent columnist, has worked with some of India's best corporates over a career spanning 14 years before turning consultant and life coach. On Twitter: @sanjeev1927