The list of corporations publishing biographies has lengthened steadily as companies have realised the effectiveness of story telling as a brand building tool. Kanika Datta investigates the rising trend.
Illustration: Dominic Xavier/Rediff.com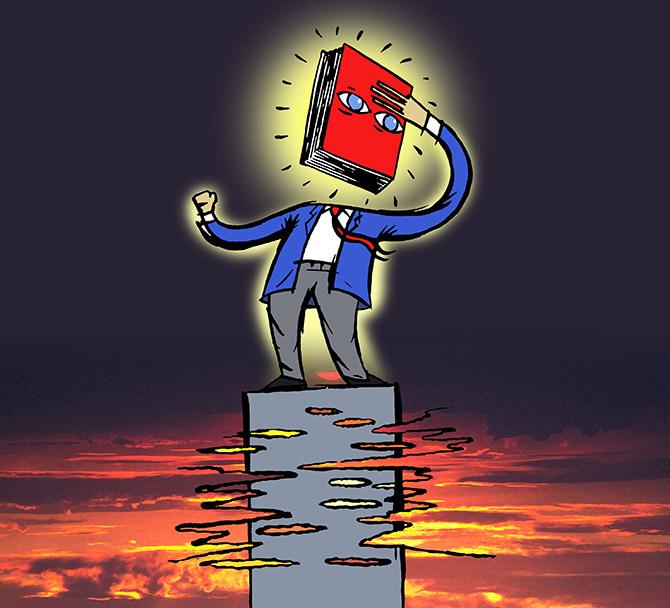 The dismantling of the licence raj from 1991 onwards provided corporate India with a new-found freedom to grow in any way it chose. Now, well into the 21st century, many corporations and promoters have achieved critical mass.
In the process, they have also discovered a new and relatively subtle way to build their brands: by telling their stories. As a result, the list of corporations publishing semi-independent accounts has lengthened steadily in the past decade in particular.
Riding the trend with some energy has been the Tata group.
Tata insider R M Lala penned several in the 80s that have remained reliable sellers ever since for Penguin. But it was the Ratan Tata era, which took the group aggressively global, that saw a steady stream of books.
Several of these were studies by external management academics -- such as Tata: The Evolution of a Corporate Brand (2010) by the Canadian consultant Morgan Witzel; Nanovation: How a Little Car Can Teach the World to Think Big and Act Bold (2011) by Kevin Freiburg, Jackie, Freiburg and Dain Dunston, three leadership experts; Jewels in the Crown: How Tata of India Transformed Britain's Jaguar and Land Rover (2013) by Ray Hutton, an automobile journalist; and Making the Elephant Dance: The Tata Way to Innovate, Transform and Globalize (2015), by Sunil Mithas, B-school professor at the University of Maryland.
Two prominent ones were written by insiders: Tatalog: Eight Modern Stories from a Timeless Institution (2012) by Harish Bhat, chairman of Tata Global beverages and the group's brand custodian; and former TCS chief S Ramadorai's post-retirement memoir, The TCS Story and Beyond (2013).
For the most part, however, it is the newer, emerging conglomerates that have chosen to chronicle their stories.
Among the earliest trend-setters was Ranbaxy: The Rise of an Indian Multinational (2005) by Bhupesh Bhandari, a senior journalist at Business Standard.
When it was written, Ranbaxy was one of the early movers among Indian corporations to start buying assets overseas.
Kishore Biyani, early to spot the opportunities in organised retailing, was among the first of the new-generation businessman to spot the brand-building bonus in a memoir, writing, in collaboration with his communications director, It Happened in India, (Rupa, 2007).
In 2013, Harper Collins published Mythbreaker: Kiran Mazumdar-Shaw and the Story of Indian Biotech by a journalist and Jaico published A Bank for the Buck, the story of HDFC Bank.
In 2014, came a biography of Hero's O P Munjal written by a motivational speaker.
But it was in 2016 that the trend took off, with books on electrical products company Havell's founder Qimat Rai Gupta by his son Anil Rai Gupta (Penguin), an account of Apollo's controversial history and global growth under Omkar Kanwar by a British journalist (Rupa), an independent account of domestic snack food major Haldiram's (Bhujia Barons, from Penguin) and a paean to micro-finance institution and now bank, Bandhan (Random House) by its strategy advisor.
The latest to write a memoir is R K Somany, titled Bringing the Rainbow: The Hindware Story (Rupa).
The critical point about this trend is that it is distinct from the plain vanilla "vanity publishing" business, in which corporations commission and pay publishers to produce coffee-table confections for sundry stakeholders.
The impulse for the latest crop of business and corporate chronicles has come from publishing houses that have spotted an opportunity of mutual benefit. Once the proposal is accepted, the corporation or promoter concerned may author the book, write in collaboration with a writer of their choice or, sometimes, someone suggested by the publisher.
Though these books may not sell as much as an Amish Tripathi or a Chetan Bhagat, several have sold 15,000 copies and more, which publishers consider "good". These numbers, some publishers concede, often include some buybacks, but this is not always the case.
Jagdish Khattar, former Maruti CEO, who co-wrote his memoirs with journalist Suveen Sinha in 2013, says his publisher, Penguin, permitted him limited buybacks, but only at a discount.
How far does this work in enhancing a brand?
Tata Sons' group spokesperson Debasis Ray says, "Such books certainly complement the corporate communication message and they help narrate the story of a group that is unique and unusual in its shareholding structure, work ethic and so on."
"I think they can be good brand-building tools, particularly for B2B and recruitment spaces. But for B2C the reach of these books would be limited," says Pranesh Misra, chairman and managing director, Brandscapes Worldwide.
Former FCB Ulka CEO Ambi Parameswaran, whose latest book Nawabs, Nudes and Noodles (Pan Macmillan, 2016) chronicles the story of Indian advertising, thinks such books can achieve credibility if they are written by a corporate historian or as an autobiography.
"They certainly provide people with a perspective and are useful for B-schools and similar educational institutions," he says.
For independently-authored chronicles to rise above the standard hagiography, then, the question of credibility is linked to the degree of information-sharing and independence. For the Tata group, Ray says there is no attempt to dictate the brief, but they do insist on a fact-check.
One problem, adds Parameswaran, is that Indian companies are typically wary of divulging information that is not in the public domain.
There have been exceptions: in Bhujia Barons, the group gave the author freedom to examine some less savoury episodes in its history.
In The Z Factor: My Journey as the Wrong Man at the Right Time (Harper Collins, 2016) Subhas Chandra offers some startling revelations of the confluence of politics and business.
But for the time being, 'sensational' memoirs remain the prerogative of Bollywood.