Yes, India needs desperate measures to kick-start growth. But selling off its lungs to the highest bidder to hack away cannot be the way out, says Sumit Bhattacharya.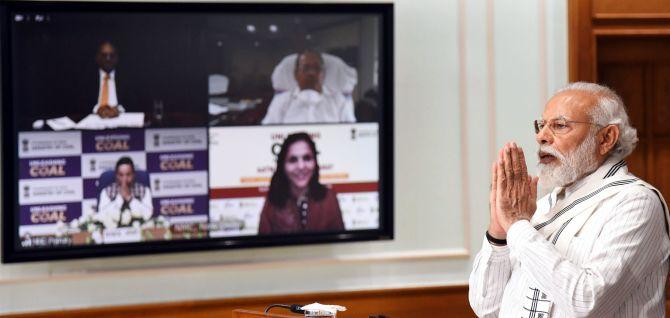 Prime Minister Narendra Modi's announcement of the auction of 41 coal blocks in some of India's most pristine green belts and areas already wracked by mining is perhaps best described by that old Chanakya chestnut, vinaash kale viprit buddhi.
Anyone who knows someone struggling to find a hospital bed or in hospital with COVID-19 and astronomical medical bills probably knows about the vinaash kale bit.
The International Monetary Fund's World Economic Outlook Update for June 2020, released on June 24, is also cheerfully headlined: 'A Crisis Like No Other, An Uncertain Recovery'.
Global growth is projected at at -4.9 per cent in 2020, and the Indian economy, the IMF said, would register -4.5 per cent growth in 2020-2021, a drop of 8.7 percentage points from last year.
From the IMF to the social media economist, everyone understands that in such times drastic measures are needed. But falling back on coal at a time when the world resembles something we thought would happen 100 years later seems equally evidently disastrous. The viprit buddhi.
How mining destroys the environment has by now become painfully evident. Airpocalypse IV, Greenpeace's report in January this year on 287 cities and towns in India, found Jharia in Dhanbad district of Jharkhand's coal belt the most polluted town in the country. The second most-polluted was the Dhanbad district headquarters.
Jharia is the closest to Mordor, the evil Sauron's land in The Lord of the Rings, that one can imagine.
There are vast stretches where fires rage underneath the ground. Every time it rains, the smoke rises up through the ground, cracking huts and tenements of the coal workers among whom bronchial diseases and other ailments are common.
Twenty-two of the 41 coal blocks up for auction are in Jharkhand.
Jharkhand, Chhattisgarh and Maharashtra have objected to the Centre's move of auctioning coal mines.
Jharkhand Chief Minister Hemant Soren has challenged the Centre's move in the Supreme Court, which has not covered itself with anti-government judgments of late.
He has said that the mines would not fetch their true price in the midst of the global pandemic, and the environmental and socio-economic damage would be too great.
'Decision by @CoalMinistry + @PMOIndia to go ahead with #CommercialMining & #CoalBlock auctions w'out acknowledging our concerns around the potential socio-economic + enviromental costs & the impact on our forests & tribal population is blatant disregard of Co-operative Federalism,' Soren tweeted two days after Modi's announcement.
The environmental impact assessment (EIA) of many of the mines has not been done, many including Soren have pointed out.
Environmentalists are up in arms over the new draft EIA rules that, among other drastic proposals, reportedly aim to regularise illegal industries for a fee and waive public hearings for 35 highly polluting industries.
The deadline for objections to the EIA is June 30, amid a global pandemic.
Many of the mines across the states are in areas protected under the Schedule V of the Constitution. Areas that have dense and vast stretches of forests, and tribal populations.
Many of the mines across the states are in areas protected under the Schedule V of the Constitution. Areas that have dense and vast stretches of forests, and tribal populations.
Maharashtra Environment Minister Aaditya Thackeray has written to the prime minister, pointing out that one of the mines is in the big cat corridor of the Tadoba Andhari Tiger Reserve that was twice scrapped earlier because of green damage concerns.
In Chhattisgarh, two days before Modi's announcement, nine sarpanches reportedly wrote to the prime minister against opening up mining in the Hasdeo Arand area.
They said the gram sabhas in the region had built a model of 'aatmanirbhar' local self-governance under the provisions of the forest rights laws and that ignoring local opinions flies in the face of Modi's call.
Chhattisgarh's environment minister Mohammad Akbar has written to the Centre that five of the blocks under Hasdeo Aranya and the adjoining Mand river catchment area not be auctioned.
Akbar said the Chhattisgarh government wanted to declare the area an elephant reserve.
Globally there is growing consensus -- apart from the handful of leaders who seem hell bent on becoming horsemen of the apocalypse by feeding greed over green -- that destroying large forested areas also gives rise to disease and pandemics.
A report by thr McKinsey Global Institute this year says India could experience heatwaves by 2030 that no human being would be able to survive. The effect of concrete jungles on intensifying heat is also well documented by now.
As the coronavirus forces the world into survival mode, it is doubly important to not go back to what we have been doing wrong over millennia. A rethink of development is in order, the most hardened of capitalists now are saying.
Even the IMF, which no one can accuse of being a bleeding-heart tree-hugger, has suggested: '...building on the record drop in greenhouse gas emissions during the pandemic, policymakers should both implement their climate change mitigation commitments and work together to scale up equitably designed carbon taxation or equivalent schemes'.
According to an article in Nature, daily global carbon dioxide emissions fell by 17 per cent by early April 2020 compared with the mean 2019 levels, thanks to global lockdowns because of COVID-19.
Climate scientists have pointed out that is nowhere near enough needed to ward off the catastrophic changes we are already getting glimpses of. And according to The New York Times, emissions are surging back as countries reopen their economies.
There can be an argument that green dreams are not practical at a time when the country is looking into an economic abyss. But then, to twist Nietzsche's quote about battling demons, if you gaze for long into an abyss, the abyss gazes also into you.
Yes, India needs desperate measures to kick-start growth. But selling off its lungs to the highest bidder to hack away cannot be the way out.
That is not being vocal for local, nor a way to atmanirbharta. And neither is it Chanakya niti.
Sumit Bhattacharya is a Kolkata-based journalist and musician.
Production: Aslam Hunani/Rediff.com