but are we chasing yesterday's dreams, asks Ajit Balakrishnan.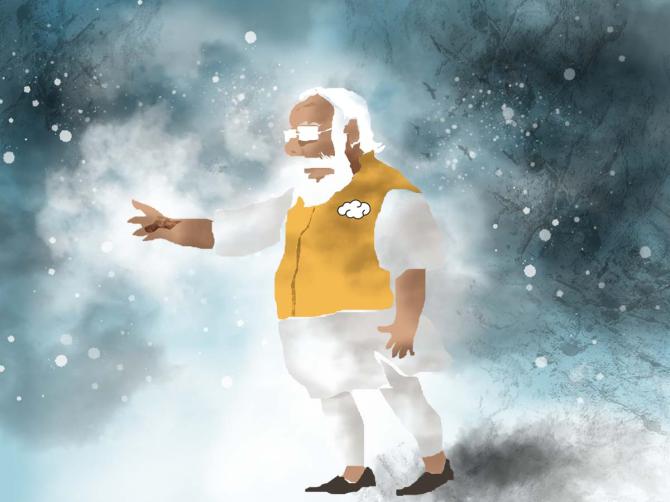 'Apple planning to shift its iPhone manufacturing away from China to India', screamed the headlines of many news outlets in India, repeating a Reuters news story.
This shift was being spearheaded by Apple's manufacturing partner Taiwan-headquartered Foxconn at a cost of $1 billion and would create 6,000 jobs at the site chosen by it, Sriperumbudur, near Chennai.
'The Indian government today approved applications of 16 electronics companies, including 10 mobile phone manufacturers, for the reward under the product-linked incentive scheme for a total disbursement of Rs 40,000 crore,' screamed another headline recently.
Such dreams of India's self-sufficiency, if not world dominance, in electronics manufacturing are, of course, not new for us.
In the mid-1950s, soon after Independence, we created Bharat Electronics, in Bangalore, and Indian Telephone Industries, also in Bangalore.
In the mid-1980s, came Sam Pitroda and the Centre for Development of Telematics (C-DoT), another massive government initiative to connect India through rural telephone exchanges.
What is with this continuous replay, almost like a television serial, of dreams and aspirations, headline announcements, the vast flow of funds, domestic manufacturing efforts, only to see these dreams drift away while the industry takes a sharp left or right turn in another direction?
It's not a lack of sincerity in these efforts, nor lack of persistence or even lack of leadership talent. What else could it be at work?
Perhaps we should spend a moment on describing the ecosystem within which these battles are fought and, for this, there is no better case to study than the one of Nokia, which, in the year 2000, was the world leader in the mobile phone category with revenues of $4 billion, and, which, a short 10 years later, crashed and burned.
What really happened?
We do know that the launch of the Apple iPhone in 2007 was one possible event that impacted Nokia, but was that all?
Was it that Nokia did not have cheap enough manufacturing resources?
Was it that their phones did not have touch screens like Apple's?
None of the above, it turns out. Nokia's Symbian operating system software could not match the software features of the Apple iPhone.
The Apple iOS operating system allowed Apple to add applications made by third parties on to its phone.
Soon the iPhone was not just a phone, but also a camera!
And soon again, it was no longer a phone with a camera: It was a phone with a camera, which also lets you download music and listen to it on the phone.
And such new features kept galloping, aided by another Apple innovation, the App Store.
To add to Nokia's misery, Google, again a software-focused company, launched the Android software system, which allowed anyone with basic electronics manufacturing abilities to put together a branded phone that ran on this Android software system.
The market was immediately flooded with low-priced phones from South Korea and China, running on the Android software system that destroyed Nokia completely.
What had failed Nokia were not its manufacturing skills, but the lack of features in their Symbian operating system that could match neither Apple's iOS operating system, nor Google's Android operating system.
No amount of outsourcing assembly to cheap labour countries like India would have helped.
Stepping back a little, the reader can notice that the emergence of the smartphone (as the Apple iOS and Google Android-based phones were called) had in one stroke destroyed a whole range of electronics manufactured hardware products: Physical cameras, gramophones, and transistor radios!
All these aspirational objects that a person rushed to buy with his/her first salary were replaced by a smartphone!
What is even more frightening than this is another process underway: The impending irrelevance of machine guns, battle tanks, warships, and a host of other military hardware weaponry.
An enemy adept at cyberwarfare can bring a halt to India's banking system.
Imagine the economic catastrophe if no one in the whole of India is able to buy or sell or transfer money for, say, one month!
No amount of jet fighters and tanks or even nuclear bombs will be able to help the country recover or retaliate!
The moral of the story is that electronic hardware assembling skills are not the key to a nation's future prosperity.
Attracting foreign companies to locate electronic assembly operating in India is only a way for these companies to escape high import duties. No real skill creation takes place.
What is the practical policy alternative?
Look at the critical parts of the Apple iPhone that were created using the United States defense department funds: The multi-touch screen, the large LCD screen, the Siri-Voice Assistant and, going back a little earlier, cellular phone technology, the memory hardware, and finally the internet itself!
As for Google, the two founders Sergey Brin and Larry Page, in their 1998 Stanford University paper on Page Rank, which they wrote for their PhD degree, the technology which enabled them to dominate the Search business in the world, gratefully acknowledge the funding provided by the United States Defense Advanced Research Projects Agency.
As we speak, the battle for Cloud computing, which is a dramatic shift from saving our data locally on on-premise storage facilities to the Cloud, is on, and guess what, the United States defense department is getting ready to offer a $10-billion contract to one or two American companies.
This contract will, of course, set the winners on course to dominate the world Cloud computing market with the features and technologies built during this massive Defense contract.
Does it not make us all wonder why India is unable to use a tiny part of its vast defence spending to fund such innovation and create Indian world-leading companies as well as save our country?
Ajit Balakrishnan is an Internet entrepreneur and his e-mail is ajitb@rediffmail.com