What's hot? What's not? What's next?
C P Gurnani shares his highlights of the World Economic Forum Annual Summit in Davos.
Illustration: Dominic Xavier/Rediff.com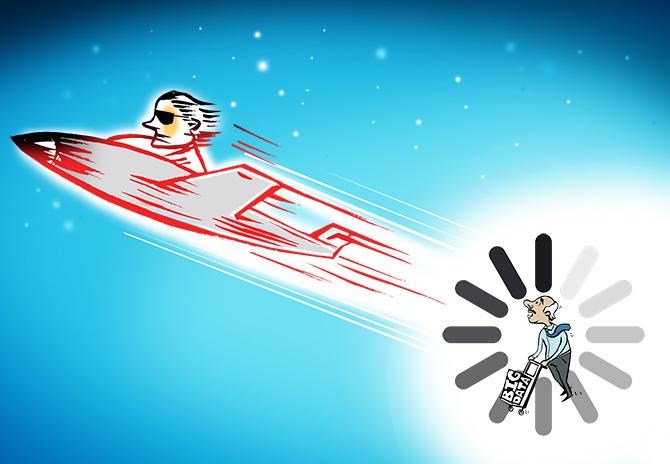 Much is happening at the World Economic Forum Annual Summit, Davos, since Tuesday. With an additional 1,000 attendees than previous years, the chatter seems to be getting smarter by the day.
The session on Smart Cities (which I attended) told us several things :
1. The future of cities and services are bound by all aspects that are "smart" -- smart planning, smart infrastructure, smart networks, smart security, smart communities -- all for the future of smart citizens.
2. Information technology firms need to see this as a tremendous opportunity to work closely with governments, planners and corporations to deduce everything that is "smart".
3. Infrastructure based on communications isn't enough -- the real question is how to monetise them? There lies the collaboration to create an ecosystem of smart trends backed by internet of things, sensors, analytics, cybersecurity, etc.
4. Almost everyone here seems to agree that data has deeply influenced almost all business decisions, but what's next? Will data continue to grow? What technologies will develop around it? Or will Big Data become a relic as quickly as the next trend of cognitive technology emerges? Or are we looking at a future of "fast data"?
5. Whether the real impediments identified as capital and infrastructure were reiterated. Privacy policy implications around autonomous cars and corollary issues were discussed.
The other smart musings were Chinese President Xi Jinping in defence of globalisation, should the US go cashless -- Nobel Laureate Joseph Stiglitz's point of view, Donald Trump's aide (Anthony Scaramucci) clarifying why the world may have got the President-elect all wrong, the eight men who own as much wealth as half of humanity to the advent of the Fourth Industrial Revolution chaired by Meg Whitman, CEO of Hewlett Packard, had me keep both my ears to the ground.
Elsewhere, the conversations on why Europe lags behind on 3G speed, why their companies rent airwaves whereas in the US they buy; whether AT&T, which today has 140,000 people to run its network may need not more than 90,000 and the emphasis on retraining, were being heard.
I was asked by many about the future of jobs. All I can say is that the jobs of tomorrow won't map directly to the roles, skillsets and industries we know today. And as the digital economy becomes more pervasive, accounting for 15 per cent of global productivity in 2005 and is expected to reach 25 per cent by 2025 -- so the obligation of business and political leaders will come into sharper focus.
In less than 10 years, three quarters of the global labour market will be made up of millennials and those that follow (12-18 year-olds, the so-called Generation Z). Both generations must be given the tools, education and infrastructure that will enable them to drive our economies forward.
I met several leaders. Notable among them were Jack Ma (Alibaba), Marc Benioff (Salesforce), Bill McDermott (SAP), Gavin Peterson (BT), and the one common view that emerged from the conversations is the need for speed -- to be able to think ahead of others and implement before others, to stay competitive and unique. These are the people who are creating solutions and software that are going to power tomorrow's enterprises and are doing real implementation of futuristic technologies.
I have never failed to see the same kind of optimism in all of them while they all know that we all have to reshape and stay tuned for tomorrow, knowing that it could turn out to be quite uncertain.
C P Gurnani is CEO & MD, Tech Mahindra, and chairman, Nasscom