Corrosion is a big menace for anything with steel application from rebars in construction, oil and water pipelines, railway track, power distribution poles to automobiles, says Kunal Bose.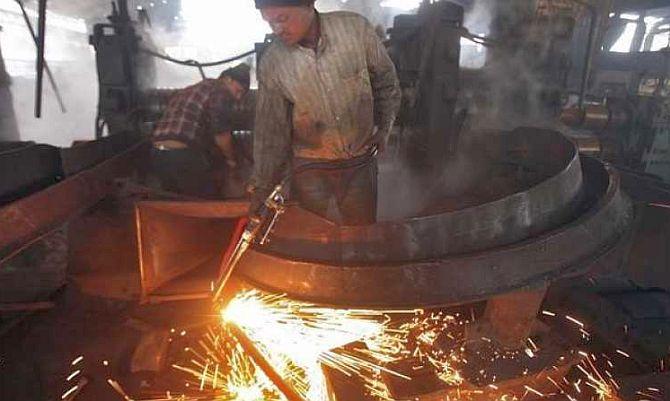 India raced past Germany last year to become the world's fourth largest automobile market with sales of 4.02 million vehicles. The three countries ahead of us were China, the US and Japan.
What was particularly outstanding for India was its achieving the globe's fastest rate of growth in automobile sales in 2017 at 9.5 per cent.
No wonder, there is a compelling pull for leading auto groups in the West and Japan to go on strengthening their manufacturing muscle here.
A question is now thrown at them and their two Indian peers as to why they are using carbon cold-rolled (CR) steel and not the desirable galvanised steel in building cars here for local marketing.
Call it make in India for the world, manufacturers from Maruti Suzuki to Hyundai to Ford are all exporting cars in growing numbers taking advantage of skills availability and comparatively low production cost.
Interestingly, while the cars exported from India are by regulation built with galvanised steel, all the sub-Rs 10 lakjh vehicles sold in the local market will have their panels - bonnet, boot, sills and doors - made from CR steel with attempts to improve its anti-corrosive character through coatings and treatments.
As field surveys conducted by IIT Bombay first in Mumbai in 2015 and then in Chennai earlier this year show, however advanced the coatings are, they are not found effective in stopping blisters, surface rust and perforations appearing on panels.
Therefore, coatings are no substitute for hot-dip galvanised steel.
A major survey conclusion is that more than perforations, cars suffer damages by way of blisters, surface rust and imperfections as they get exposed to aggressive climate marked by high levels of humidity, marine environment and acid rain.
More the cars age, greater will be the damages by corrosion, especially in their under-body and structural components. Over 60 per cent of cars on Indian roads have surface-rust.
Interestingly, the source of inspiration for IIT work was the series of parking lot corrosion surveys of cars done in Detroit in Michigan in the 1980s at the behest of American Iron and Steel Institute and the Big Three US automakers - GM, Ford and Chrysler.
Based on survey recommendations, the US automobile industry migrated from using CR steel to galvanised and galvannealed steel for making car interior, exterior and under-body parts.
At the same time, much improvement continued to happen in base coat and clear coat paint technology, thanks to increasingly large R&D investments by Western and Japanese paints industry.
A little known fact here is that consumer activists and government nudges played an important role in forcing the US automakers to use galvanised steel instead of CR steel.
Consumer activist and clean environment crusader Ralph Nader was in the forefront of public campaign against rusting of cars, which at some point compromises their structural integrity and safety of riders.
Government mandate and safety consideration have led automakers in Europe, Japan and South Korea also to use galvanised steel.
Based on this, cars in all these countries carry anti-corrosion and anti-perforation guarantee for at least ten years.
This, however, is not the case with the automobile industry in China and India where only the ones made for exports have panels and under-body parts made of galvanised steel.
According to Sunil Duggal, CEO of Hindustan Zinc, "if Indian buyers are not insisting that their cars too should be made of galvanised steel, it is because of their lack of awareness."
The same is the case with China.
Both the countries need activists like Nader to create public awareness and to prevail upon the governments to use the "law and tax incentives" to give a boost to the use of galvanised steel in all coastal zone constructions, bridges and highways besides cars.
Corrosion is a big menace for anything with steel application from rebars in construction, oil and water pipelines, railway track, power distribution poles to automobiles.
The country continues to lose anything between 4 and 5 per cent of GDP due to corrosion.
Not only this, many of the recent bridge collapses in India will be traced to using normal black steel rebars.
This is sadly in spite of galvanised rebars having "four to five times higher capacity to withstand chloride concentration than the normal variety. These also remain passivated at lower ph levels, substantially slowing the rate of corrosion," says Duggal.
Steel ministry mandarins have long recognised the need for compulsory use of hot-dip galvanised rebars in all constructions from house buildings to bridges in coastal areas.
This is because combination of salt in coastal area air and high humidity will subject any metal surfaces to corrosion as it will penetrate all openings in concrete structures.
In time, the structures become weak making them highly unsafe.
India's 7,517-km coastline includes some major cities, including Mumbai and a good number of trading hubs and ports.
Closer the reinforced concrete structures are to a sea, greater are their vulnerability to corrosion.
Mandatory use of galvanised rebars in coastal areas may cost a little extra at construction time.
But in the long run, this will result in a major saving besides ensuring safety for users.
The American Institute of Architects says the only way to make coastal infrastructure "decay resistant" is to use galvanised steel.
Galvanisation does not add to the strength of steel, which is decided by its carbon content and thickness.
When carbon steel is given a bath in molten zinc, a corrosion resistant layer is formed. The metal thus galvanised finds protection from moisture, salt spray and industrial chemicals.
The unique anti-corrosion properties that steel retains in aggressive environments over decades on galvanisation has led International Zinc Association to recommend that India, whose over 125,000-km rail tracks pass through different climatic zones, should progressively change over to galvanised rails.
Rail track glavanisation is recommended on four counts.
First, rails have a life of 800 gross million tonnes. In our traffic condition, they should have a life of up to 13 years. But corrosion reduces rail life by half.
Second, replacement of rails well ahead of their normal life costs the country around Rs 450 crore a year.
Third, accidents happen because of undetected corrosion of rails, fishplates and bolts.
Galvanisation will give protection to the rail track network.
Finally, as Indian Railways wants to run trains at faster speeds to be able to carry more passengers and goods, rails must not be exposed to corrosion.
The fourth widely consumed metal in the world, nearly half the output of zinc is used for steel galvanisation.