Why Danone, Philips, and to an extent Nestlé and P&G remain under stress in India is a subject perhaps worthy of a business school case study, says Shailesh Dobhal.
Illustration: Uttam Ghosh/Rediff.com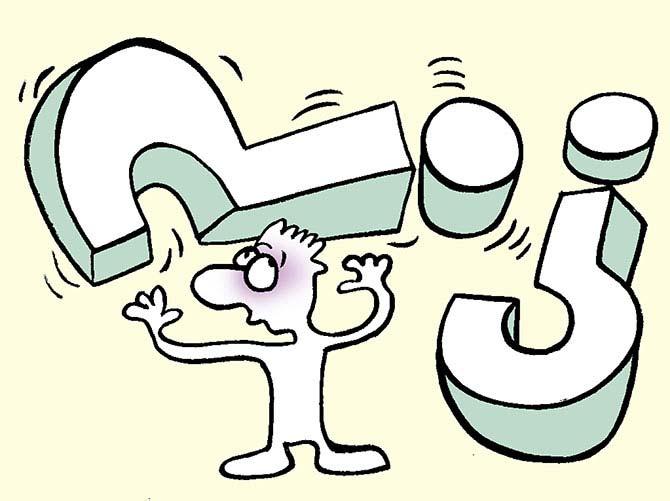 Recently, two seemingly unrelated reports on the same page of a pink daily got me thinking on the journey of multinational corporations in India.
After almost a decade of breaking its joint venture with Nusli Wadia-led Britannia and striking out on its own, French food major Danone announced it is exiting the dairy business in India, and will instead focus on growing its nutrition business in the country.
The frustration of not being able to crack the world's biggest milk producing and consuming market was hardly lost on anyone, more so given that fresh dairy products is the euro 22 billion Danone's global cash cow.
The other news on the page was on Dutch consumer-health care-lighting major Philips crossing the billion dollar sales mark in India.
Not exactly a moment of celebration or reckoning if you have been around for over eight decades, and seen many latecomers -- Koreans, Chinese, desis -- literally take the market from under its feet.
Danone and Philips are not alone. There are many, like them, who are brave enough and continue to fight the battle, not exactly a global Goliath but more a challenger doing catch-up here.
So whether it is the world's largest consumer goods major Procter & Gamble or world's biggest food firm Nestlé, somehow they do not look like great achievers here.
They too, much like Philips, have been around for decades, and there were moments when it looked they were finally breaking out and challenging the hegemony of the leaders.
For P&G it was the '90s when its battle with Unilever's India subsidiary, the then Hindustan Lever, looked like a battle of equals.
Two decades on, Hindustan Unilever outsells P&G three to one, and many Indian firms, including one led by a yoga guru, have gone past the Cincinnati-based giant.
In fact, the topline of P&G's biggest unit in India, the unlisted P&G Home Products, shrunk for the second consecutive year in FY 17, the last year for which data is available.
Nestlé, for all its global brand muscle and long presence in India, has been unwilling to battle it out with either HUL or Amul maker Gujarat Cooperative Milk Marketing Federation for the growing ice cream market in India, besides much else.
There was a time it entered packaged water, and under its effusive managing director Carlo Donati, wanted to take Nestlé mass market in India, "cook for the common man" so to say, but that moment somehow fizzled out.
Why, even the bluest of blue MNC General Electric punches above its (sales) weight in India.
I had put that question to its then India CEO, John Flannery, and now its global chairman, and he was candid enough to admit it: "Yes, you're right. We get access to government et al because of being GE.
"And one of my objectives here is how to make that (bigger than life) perception and reality (of size) converge."
This was almost six years back, and GE has won the long-in-the-making Indian Railways diesel locomotive contract, so it's likely that some of that convergence might have happened.
The bigger point remains, nonetheless.
In the past three-four years alone, there have been a flight out of the country by MNCs.
Was French retailer Carrefour a bit impatient with India's policies when it closed down its five cash-and-carry outlets in 2014?
And was American General Motors gutsy in quitting one of the world's biggest car market?
And why Danone, Philips, and to an extent Nestlé and P&G remain under stress in India is a subject perhaps worthy of a business school case study.