'Political parties can play up different ideological aspects to fit individual voters.'
'For example, a party may present itself as business-friendly to one individual while it could target another voter by harping on communal fears.'
Devangshu Datta explains Psychographic Profiling.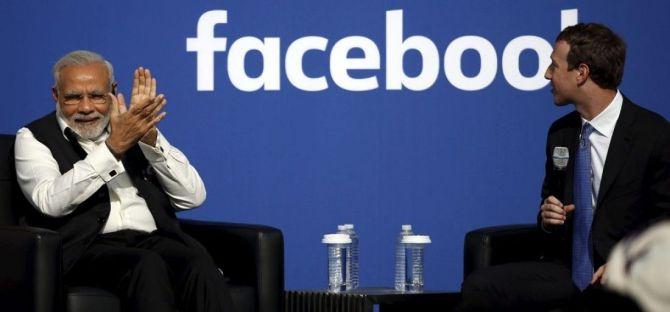 IMAGE: Prime Minister Narendra D Modi with Facebook CEO Mark Zuckerberg at the Facebook headquarters, September 2015. Photograph: Stephen Lam/Reuters
Psychographic profiling has become a catchphrase after revelations that Cambridge Analytica used this mysterious technique to influence 200 elections around the world.
The British firm harvested the data of millions of social media users, 'psychographically profiled' them and ran micro-targeted campaigns to influence their votes.
What is psychographic profiling?
It is a method of gaining insight into the interests, activities and opinions (IAO) of people.
Another important acronym is OCEAN, which is the 'big five' personality traits of Openness, Conscientiousness, Extraversion, Agreeableness, Neuroticism.
When the IAO and OCEAN attributes of a person are known, the profiler can predict and influence behaviour.
This has gained momentum and popularity due to three things.
First, given the Internet, e-commerce and social media, billions of people generate masses of digital data and it's easily stored.
Second, big data and machine learning techniques can sift through this data to find connections and correlations.
Third, those insights can be monetised by targeted ads and personalised marketing campaigns.
Marketers collect both demographic data and psychographic data.
Demographic data consists of hard facts such as age, gender, education, profession, income, location, et cetera.
Psychographic data is 'softer' and more subjective.
Typically, the following psychographic data can be harvested to figure out IAO.
What sort of Web sites do you surf?
Who are your friends?
What movies do you watch?
Who are your relatives?
What Facebook messages do you 'like'?
What social media groups do you belong to?
Which Twitter accounts do you follow?
What topics do you post on?
The answers present an accurate picture of IAO.
Clothes, books, food, drink, music, pets, sports and hobbies, dating partners, sexual proclivities, holiday destinations, and so on, are also all grist to the psychographic data-mill.
Your phone calls, text messages, the pictures you take, your health, and your financial patterns, are constantly collected.
Your location is mapped, minute to minute.
Birds of a feather do flock together. Your political, religious and social inclinations are likely to be revealed by your activity and that of your friends.
Many things can also be guessed with high accuracy from metadata.
Say, Google knows somebody searched for symptoms of a certain disease, contacted a pathology lab, arranged a medical appointment and went to a pharmacy.
A 'diagnosis' can be made.
Given enough data, machines can predict a person's behaviour and reactions with more accuracy than that person's family and close friends.
Products and services can then be pushed in targeted fashion.
Obvious examples include YouTube, Netflix and Amazon presenting content that it thinks you will like and pairing that content with ads that you will like (or, at least, not dislike).
Data mining can throw up many associations.
For example, martial arts fans are likely to be interested in adventure sports holidays.
A Lord of the Rings geek is also likely to be a Potter-maniac, while a Bergman fan will like watching Ibsen performed on stage.
Sometimes the machine-insights don't make sense to humans while still being actionable.
For example, people who dislike Israel favour certain brands of shoes!
Even if we don't know why, we can present shoe ads alongside anti-Israel content.
The connections can be even darker -- fans of a certain type of religious music are likely to distrust people who belong to other faiths.
The messaging is reinforced by understanding the individual's OCEAN quotient.
A high degree of openness equals a willingness to try new stuff.
A conscientious person is driven by responsibility to family -- insurance can be pitched to that person on those grounds.
A neurotic person, on the other hand, is more likely to buy insurance if the ads target his hidden fears.
Similarly, political parties can play up different ideological aspects to fit the IAO-OCEAN of individual voters.
For example, a party may present itself as business-friendly to one individual while it could target another voter by harping on communal fears.
The nasty aspect of Cambridge Analytica campaigns was that it focussed on fear in the Trump presidential campaign and the Brexit Leave campaign.
Fake news and xenophobic, racist messages targeted voters who were most likely to be influenced by those.
The algorithms worked. (Such algos can misfire as well.)
Obviously, psychography won't go away.
Indeed, it will become a more accurate tool as the Internet of Things gathers yet more data.
In itself, psychography is morally neutral.
We, meaning society as a whole, must introspect on the need for data privacy.
We also need to be a little afraid that machines can, without much human intervention, craft and deploy algorithms that shape opinions.