Given that India gets a huge part of its oil supplies from Iran through government-owned oil PSUs, any unwelcome shocks in global crude rates could be absorbed well enough, reports Aveek Sen.
Illustration: Uttam Ghosh/Rediff.com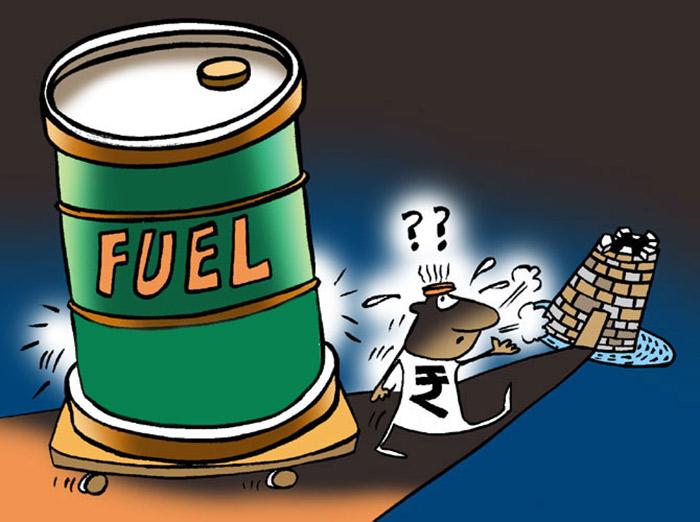 Crude oil jumped by more than 1 percent on Tuesday, November 13, the biggest one-day increase in a month.
Brent crude futures LCOc1 rose 80 cents on the day to $70.98 a barrel.
This came after Saudi Arabia's Energy Minister Khalid al-Falih announced a cut of half a million barrels per day starting December. Along with its partners, the Saudis proposed a cut of around one million barrels per day (bpd) from present levels.
Ahead of the meeting of OPEC and non-OPEC key producers Al-Falih had said there was no consensus yet on a broader output cut. The meeting of the joint ministerial monitoring committee in Abu Dhabi will not take decisions, the ministers said, but will propose recommendations for a crucial ministerial meeting in Vienna early in December.
Among those attending the meeting in Abu Dhabi were Russian Energy Minister Alexander Novak, Oman's Oil Minister Mohammed al-Rumhi and UAE Energy Minister Suheil al-Mazroue.
Production from Saudi Arabia, Russia and the United States alone has risen by 1.05 million bpd in the last three months based on official output figures.
'This has left OPEC scrambling to adjust its own output, which, at around 33.3 million bpd, accounts for roughly a third of the total global daily supply,' Reuters reports.
'An official from group member Kuwait said on Monday major oil exporters had over the weekend 'discussed a proposal for some kind of cut in (crude) supply next year', although the official did not provide any detail.
'One of OPEC's biggest problems right now is the surge in US output.'
'One thing that is abundantly clear, OPEC is in for a shale shocker as US crude production increased to a record 11.6 million barrels per day and will cross the 12 million threshold next year,' Stephen Innes, head of trading for Asia-Pacific at futures brokerage Oanda in Singapore, was quoted as saying by Reuters.
"Under US pressure Saudi Arabia did increase production (to offset the impact of non-availability of Iran oil), but they have been trying since the last two years to take crude price to 80 dollars per barrel or more," explains S C Tripathi, former secretary, ministry of petroleum and natural gas.
"The Saudis will use every opportunity to take prices higher, the production cut announcement itself will push price higher," adds Tripathi.
"I fully expect some form of production restraint from the producers," says Vandana Hari of Vanda Insights, a Singapore-based provider of intelligence on the global energy markets.
"Whether it happens as a formal production cut when they meet in December or it happens a little more informally," Hari adds. "That Saudi Arabia reduces its own supply or over-supply and perhaps takes Russia along as well with agreement between the two producers. That remains to be seen. But I don't think OPEC would like to see the market swing to another over-supply in 2019. It certainly would not want to see Brent crude slip below $70."
"I think they will try and defend a $70 floor for Brent," Hari points out. "In short, of course, there could be exceptional circumstances. I don't think the outlook with regard to strong production growth in non-OPEC in 2019 or a deceleration in demand growth in 2019. I don't think that outlook itself is likely to change in the coming months."
"What could change though is, of course, unforeseen situations where you have another major outage in Libya, Nigeria or even elsewhere," warns Hari. "In that case, all bets are off."
"But barring that, if the scenario remains going into December as it is today -- inventories are rising, crude markets are in a contango, there is enough supply in the physical market and demand expectations are being tempered for 2019, then I do expect supply restraint from the producers."
"Right now," says Narendra Taneja, a BJP spokesperson and energy expert, "the market is self-supplied. Any production cuts don't have a big impact. OPEC is a divided house with Saudi Arabia, Iraq and Kuwait on one side and Iran and others on the other."
"The US agreed to give some countries, including India, waivers for oil imports from Iran," Taneja adds. "The supply constraints are taking care of. The market is well supplied. There is no unusual rise in demand."
"A small cut of half a million barrels by Saudi Arabia will not have much effect in the short term."
"The Saudis had even asked for a cut of one million barrels per day," Taneja points out. "These are just proposals as of now. Only in December, when the OPEC meets will we know for sure. In the past, Saudi Arabia has even spoken about pulling out of OPEC and forming a new cartel, the super OPEC."
Asked if the increased supply from the Kirkuk oil fields in Iraq will have any effect on oil prices in India, Taneja says all oil fields in Iraq are major suppliers to India.
Iraq, he adds, is trying to overtake Saudi Arabia in global oil sales.
Oil to India and China, he explains, is more expensive than that sold to the West as "we have to pay what is known as the 'Asian premium'."
Asked about discounts to India in oil purchases from Iran, he says that no discounts are generally offered.
The only relief is that the credit line is longer -- it is not three, but six weeks.
Iran also offers to deliver at Indian ports and takes care of the shipping.
"Moreover, given the geography, shipping time from Iran is four days and is cheaper compared to from West Africa, the US or Venezuela."
Iranian journalist Hossein Lotfi says Teheran will grant discounts to India because Saudi Arabia is competing with Iran.
Mojtaba Mousavi, editor, Iran's View, an Iran-based Web site covering Iran's domestic and international affairs, says, "This (announcement) can just stop a further decline in crude oil rates. Some OPEC members thought they could replace Iranian oil after US sanctions."
"I don't think oil prices will rise again," says Mousavi. "The US is also trying to keep oil prices low so it can try to cut Iran oil exports while preventing Iran from benefiting much from oil exports."
Meanwhile, Petroleum Minister Dharmendra Pradhan met Saudi Arabia's Energy Minister al-Falih and discussed the way forward with the mega refinery in Maharashtra.
He also supervised the signing of an MoU between Indian Strategic Petroleum Reserves Limited and the Abu Dhabi National Oil Company to explore possibilities of the latter storing its crude in India's strategic petroleum reserve in Padur, Karnataka, which has a capacity of 17 million barrels.
In the coming weeks it will be clear how the global crude oil rate changes will impact India in case of a rise.
But it seems, for now, there won't be any unwelcome shocks.
Moreover, given that India gets a huge part of its oil supplies from Iran through government-owned oil PSUs, any unwelcome shocks in global crude rates could be absorbed well enough.
Aveek Sen, an independent journalist, covers cyber security and the geopolitics of India's neighbourhood, focusing on Pakistan, Afghanistan, Iran and Bangladesh.