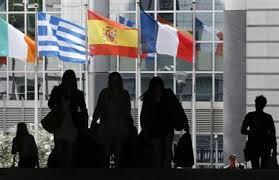 Where is world economy headed, especially when central banks of big economies are pumping out enormous amounts of cash in an effort to get growth going?
The Chinese economy is slowing down, Russia's is tanking. Europe can't seem to get out of its debt and currency crisis, and Japan can't seem to get growth going. Brazil is troubled by more than lower oil prices, while in Europe it is not just Greece and Spain that are the problem.
Italy's economy has shrunk every year for the last five years, and has enormous debt weighing down its future.
The US economy has been the only bright spot in recent months, while Indian gross domestic product (GDP) numbers have just done a rope trick.
Where is the world economy headed, especially when the central banks of the largest economies are serially pumping out enormous amounts of cash in a desperate effort to get growth going?
It helps to look at medium-term trends, over five years since the financial crisis of 2008 (international data comparisons are available only till 2013).
Among the great developed economies of the world, the United States has grown, Japan has been stagnant and the European Union's GDP has shrunk.
Between the three of them, overall GDP has expanded by barely three per cent in these five years. Indeed if you take the six largest economies of Europe, every one of them has seen GDP shrink (Germany only marginally so).
The BRICS economies offer a sharp contrast to this trend. Chinese GDP has doubled, and India's has grown more than 50 per cent. Brazil and Russia have grown, too, but more modestly.
When all four BRICS economies are taken together, they grew 60 per cent in this period. Barring accidents, the combined BRICS GDP may become bigger than America's in a couple of years.
Five years ago, they were less than two-thirds of the US economy.
The swing from the developed economies to the emerging markets is a broader trend, not confined to BRICS.
Seven smaller emerging economies - like Indonesia and Mexico, Saudi Arabia and Argentina - saw their combined GDP grow by close to 40 per cent during this period.
Most of them matched India's five-year growth, while Indonesia and Nigeria did even better. Indeed when you look at the African economies, they have had some of the best growth records of this period.
Africa was the fastest growing continent in 2013, and a third of the sub-Saharan economies have been growing faster than six per cent.
It goes without saying that country rankings have changed.
India was ranked 12th among the large economies in 2008, and moved up to 10th by 2013, overtaking Canada and Spain.
In 2015 it could well be eighth, overtaking troubled Russia and shrinking Italy.
Brazil meanwhile has moved up from 10th to seventh, and China has moved from third to second, while Russia has remained where it was, in ninth place.
Canada and Spain have now dropped out of the top 10. This is not to suggest that no wealthy, trillion-dollar economy is doing well.
Canada, Australia and South Korea have all grown in these five years.
Nevertheless, the shift in momentum towards the emerging markets is undeniable.
If one were to look ahead to the next five years, these trends are almost certain to continue, despite China slowing down and Russia losing its way in a haze of tough-state nationalism.
India's growth prospects have improved, and Indonesia (which recently overtook Turkey's economy in size) could join the trillion-dollar club before too long.
The original BRICS countries should have been less politically correct when they included South Africa in their grouping and added Indonesia instead, even if that meant three Asian members and no African representation.
With South Korea and Australia the two best-performing rich countries, there is little doubt that the swing towards Asia is even more marked than the rise of the emerging economies as a whole.