States can better spend their extra share of taxes on a fiscal stimulus than can the Centre, says Andy Mukherjee.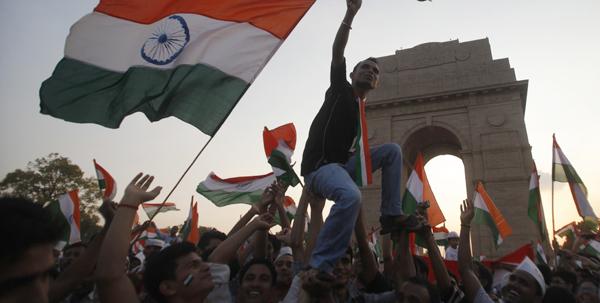 Image: Indian states will spend 60 per cent more this year than the central government, according to Credit Suisse. Photograph: Reuters
Indian states are preparing for a Rs 1.9 lakh crore (Rs 1.9 trillion) tax windfall this fiscal year.
It's an unexpectedly generous bounty from New Delhi, and not many of the 29 sub-national governments know exactly how to spend the funds.
Eventually, though, a healthy cheque-writing contest will begin, giving a durable boost to the broader economy.
The states' collective share of taxes collected by the Union government has gone up to 42 per cent starting this month, according to a new formula for fiscal transfer.
Previously it was 32 per cent.
The difference works out to Rs 1.9 lakh crore this fiscal year alone. In addition, municipalities and villages will get Rs 2.85 lakh crore (Rs 2.85 trillion) more from New Delhi over five years.
The net gain is smaller.
While New Delhi is empowering states to spend more on their own priorities, it is also scaling back support to some federally sponsored welfare programmes where the Centre gives money to states but with strict conditions on how it is to be used.
Nevertheless, states will still have an extra Rs 1.39 lakh crore of spending power this year.
And this doesn't even include the funds some of them will soon start receiving from recently auctioned coal blocks.
Indian states will spend 60 per cent more this year than the federal government, according to Credit Suisse. Just five years ago, that gap was six per cent.
Considering that the Constitution makes the states responsible for executive action in everything from power and irrigation to education and healthcare, the shift is overdue.
It's also healthy. A 2013 central bank study found state expenditure to have a far bigger beneficial impact on growth than spending by the Union government, which is much more likely than states to use borrowed funds to make payments.
But borrowing by the government tends to push up interest rates and reduce private investment and consumption.
The net benefit for the economy is, thus, smaller when New Delhi is in charge of most spending decisions.
Restoring the federal balance in resource-sharing is, therefore, one of the more important achievements of Prime Minister Narendra Modi's government, which completes its first year in office next month.
Giving states a fatter wallet is also necessary because they are about to forgo most consumption taxes from April 2016, when India introduces its central goods and services tax.
That switch, which will help to usher in a seamless, nationwide market, requires a quid pro quo.
By passing more tax collection to states, Mr Modi has also opened up the possibility for a much-needed fiscal boost to gross domestic product (GDP).
It would have been almost impossible to dispense a large fiscal stimulus using the Union government's Budget.
The central authorities can only ratchet up spending on rail, roads, defence, telecommunications and banking. Mr Modi has already announced large increases in rail and road investment.
Telecom firms are now mostly private, and state-dominated banking needs less government involvement, not more.
Supporting large defence-related investment is still problematic because of technology gaps. India's recent order for 36 Rafale fighter jets came after years of trying to persuade France's Dassault to manufacture in India.
Those negotiations went nowhere, and the armed forces suffered from having to make do with obsolete, inadequate equipment.
The Union government's ability to prime the fiscal pump is also limited by its chronic and large deficit.
By comparison, states are more prudent and can easily do more with the money they will now get from New Delhi.
To see how greater spending by India's sub-national governments could be an important catalyst for private investment, consider the possibility that they spend a part of the windfall on capitalising their bankrupt electricity boards. It's an urgent priority.
These state-run electricity buyers lost an estimated Rs 31,600 crore (Rs 316 billion) last year, most of it in just six states.
All of them pay far higher interest rates than the national average.
If an equity infusion could halve the Rs 24,000 crore (Rs 240 billion) in annual interest that these six utilities currently pay, almost two-fifths of the commercial losses of India's power business would disappear. That, in turn, would make new power plants by private investors more viable.
Fiscal devolution could also lift public investment. Credit Suisse equity strategist Neelkanth Mishracites the example of a Rs 2,527-crore (Rs 25.27 billion) state-funded project to pump river water to arid regions of Gujarat using pipelines.
Currently, the water flows via canals, and is exposed to theft and evaporation losses. Not only will 29 per cent of the state's population benefit from more assured water supply, the young girls who spend large parts of the day fetching water for their families would be able to go to school instead.
Projects like these are still the exception.
Credit Suisse's analysis of recently announced state Budgets in India shows that most of the spending plans are heavily tilted toward paying salaries and pensions of teachers, policemen and health workers.
States are bracing themselves for the wage shock that's going to hit them after government workers get their once-in-a-decade pay boost from January 2016.
That could end up disturbing Mr Modi's calculations. If states shy away from making new capital investments, the economy won't receive the full advantage from the prime minister's bet on "cooperative federalism".
That would add to pessimism about Mr Modi not being the pro-business messiah that corporate India had hoped for.
Earnings are still lacklustre, investment impulse is still weak and real interest rates are still too high.
Rural incomes have been hurt by Mr Modi's anti-inflation campaign, which has sharply squeezed the prices the government pays for crops.
Foreign investors, meanwhile, are upset over tax bills on past profits from buying and selling Indian shares.
The opposition Congress party is trying to make a political comeback by mobilising farmers against acquisition of agricultural land for large infrastructure projects.
Mr Modi can only hope that the fiscal transfer to states ends up stimulating more than government servants' wages, and that sub-national executives line up enough shovel-ready projects to give growth a push.
The sooner the states join the race to write cheques, the better it will be for both India's economy and its prime minister's reformist credentials.
---
Andy Mukherjee is the Asia economics columnist at Reuters Breakingviews in Singapore.