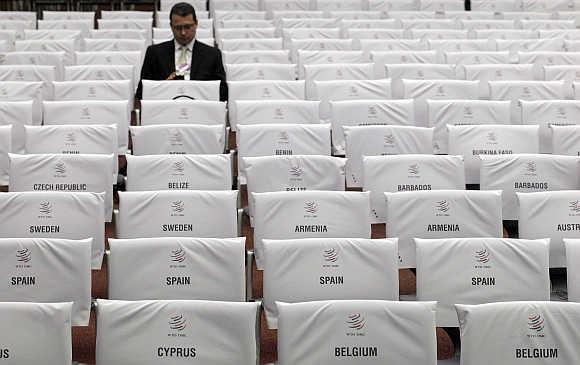 The Greater Mekong Sub-region economic corridors initiative offers a model that should be duplicated in South Asia, notes Barun Roy.
Slowly but surely, the Greater Mekong Sub-region (GMS) is moving towards a higher degree of physical and economic integration among the six nations that constitute it as a natural economic area sharing common interests, goals and problems.
Over the last several years, these nations have pulled their will and resources together to create cross-border transport links and turn them into economic corridors to boost trade and investment that will help them emerge out of their current state of backwardness.
Bound together by the Mekong River and having an area of 2.6 sq km with a combined population of about 326 million, the six GMS constituents are Cambodia, the Yunnan Province of China, Laos, Myanmar, Thailand and Vietnam. In 1992, they engaged in a common initiative to co-operate with each other to enhance mutual economic relations.
The Asian Development Bank (ADB) has been actively pushing the programme since 1998 and now acts as its secretariat.
After years of negotiations and studies, things began to fall in place by 2008 and the nations are now fully convinced about how crucial this initiative is to their future growth.
Three priority transport corridors are helping to build the muscles of the integration move.
One is the North-South Corridor connecting China's Yunnan province and northern Laos, now with no access to important sea ports, all the way to Singapore via Malaysia.
This artery will have a western sub-corridor linking Kunming and Bangkok, through Chiang Rai; a central sub-corridor from Kunming to Hanoi and Haiphong in Vietnam; and an eastern sub-corridor running from Yunnan's Nanning to Hanoi.
The second is the East-West Corridor connecting the ports of Da Nang in Vietnam and Mawlamyine in Myanmar, cutting across Laos and Thailand and providing a continuous land route between the South China Sea and the Indian Ocean.
The third is the Southern Corridor linking Bangkok with Phnom Penh and Siem Reap in Cambodia and Ho Chi Minh City in Vietnam.
Between themselves and with the help of other feeder links, these corridors will open up vast areas of the underdeveloped hinterland in each country, opening up new prospects for the development of smaller towns.
It is these transport arteries that are being transformed into economic corridors. At a forum in Hanoi early last month, ADB reported that most of the infrastructure needed for enhanced connectivity has been put in place, though the projects have yet a lot of hurdles to overcome.
The idea is to transform corridor towns into economic hubs, establish cross-border special economic zones, export processing areas and industrial parks, and create key logistical centres in order to ensure a freer flow of trade and investment.
Last year, the member countries agreed to draw up a $50-billion pipeline of potential projects to be undertaken over the next 10 years.
One major objective is to create a power market in the sub-region. The GMS economic corridors initiative offers a model that could, and should, be duplicated in South Asia, another Asian sub-region waiting to emerge from its patch of darkness.
Now that the new government in New Delhi is keen to develop its foreign policy around trade and investment, a network of South Asian economic corridors becomes all the more relevant, especially from the point of view of regional co-operation.
ADB has often expressed its interest in promoting sub-regional integration in South Asia and perhaps could be involved as a facilitator.
Prime Minister Narendra Modi's first foreign policy initiatives through his early engagement with Bhutan and Nepal sound a positive note and raise hopes for the adoption of a wise and common-sense foreign policy, earlier driven by blind political interests.
We looked at the West and the East but largely ignored our own neighbours, letting the field open for doubts, suspicions and discontent to grow where co-operation and goodwill should have prevailed.
It's high time all this now changes before the vacuum gets any deeper and we're caught in situations that may not be to our liking.
All one needs is the will, and the good thing is the Modi government is in a position to exercise that will without trying to be a bully.
It has got Nepal and Bhutan on board, which could help develop, among many other things, a sub-regional power market out of the huge hydroelectric potential these two countries have, along with India's own north-eastern states. Now it needs to turn its attention to Bangladesh, Pakistan and Sri Lanka as well.
For obvious reasons, China should be in our focus, too.
This may prove to be a difficult task because these relationships are deeply mired in narrow domestic politics on both sides of the concerned borders.
But one must make a try, and once the benefits of increased economic co-operation are evident, politics will surely lose its sting.