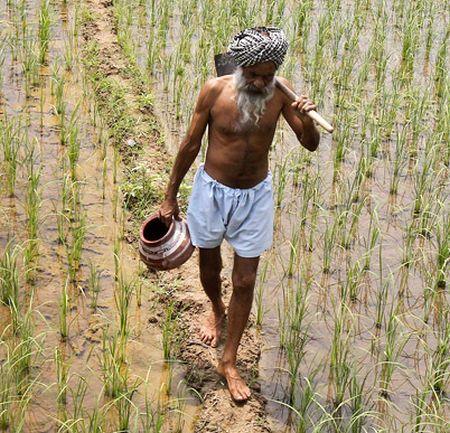 Let states pass their own land acquisition laws

Ten chief ministers may have offered Prime Minister Narendra Modi's government a way out of the logjam facing its contentious amendments to the land acquisition and compensation law.
With an overriding ordinance issued three times in the face of implacable opposition from the Congress and sundry other Opposition parties, prospects of the Bill -- currently being scrutinised by a parliamentary joint committee -- being passed in Parliament looked increasingly remote.
Mr Modi appeared to have staked considerable personal prestige on the Bill, going by his forceful arguments in favour of it on one of his Sunday radio broadcasts.
But on Wednesday, those chief ministers who attended the meeting of the National Institution for Transforming India, or NITI -- nine of them ruled by the Bharatiya Janata Party or its allies in the National Democratic Alliance -- suggested that they be allowed to pass their own land acquisition laws, picking or rejecting those elements according to their requirements.

This is a sensible solution for several reasons.
First, it creatively leverages the Constitutional provisions that keep 'land' as a state subject but make land acquisition -- that is, the non-voluntary transfer of land for public purposes – a concurrent subject under which both Centre and state can frame laws.
Second, it affords states some flexibility in framing laws and rules more closely related to their own political situations and economic trajectories.
It saves the government the seemingly irreconcilable accusations of being either pro-poor and anti-development or anti-poor and pro-development.
Third, it transfers to the states the tricky business of managing the myriad conflicting oppositions and stakeholders involved in two key aspects of the amendments — scrapping the social impact assessment and the consent clause for 'public interest' projects.
Some states are keen to retain SIA -- Tamil Nadu and Punjab, for instance -- whereas others (notably Maharashtra) would like to eliminate it.
Likewise with the consent clause, that mandated consent from 80 per cent of owners to acquire a parcel of land.
Fourth, it addresses a long-standing grievance -- that the Centre has retained the right to exercise the principle of 'eminent domain' and do away with both SIA and consent clauses under 13 specific provisions (such as for coal mines or railway projects).
Fourth, it will force states to be competitive in attracting investment and balance the dynamics of their internal politics.
West Bengal's Mamata Banerjee, for instance, has begun to understand that her campaign that ended the small car project in Singur has a downside in terms of raising investor confidence or generating jobs.

Rajasthan established a healthy precedent with its amendment to labour laws -- also a concurrent issue and also always controversial. State governments in Madhya Pradesh and Haryana, too, are moving ahead with reforming their labour laws.
Land acquisition laws could follow a similar route.
Most importantly, it will enhance the kind of policy variety and innovation that is always more desirable in a country as widely diverse as India.
This could even see the emergence of a type of competitive federalism where states without progressive land laws might fail to attract fresh investments or lose out prospective investors to competing states that have more attractive laws.
This might even spur further reforms.
Image: A farmer; Photograph: Reuters