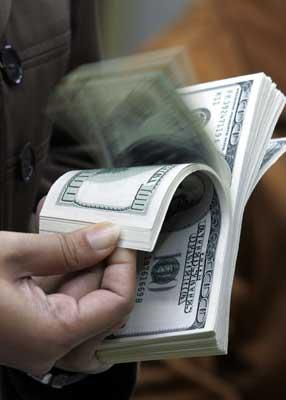 The outlook remains problematic
A great deal has been written in recent months about how current political trends in many advanced countries -- anti-immigration, anti-globalisation and even anti-trade -- have to do with the frustration felt by ordinary people who have not seen their economic prospects improve in recent years, even as the rich have prospered.
But if you look at the detailed statistics put out along with the International Monetary Fund's quarterly World Economic Outlook, it becomes clear that the underlying problem is lack of growth, more than inequality.
The advanced economies have been experiencing their longest period of slow growth in many decades.
In the last six years, up to and including 2016, their average rate of growth has been barely 1.6 per cent.
It gets worse if you take the slightly longer period, from the crisis year of 2008; the average rate of growth since then is barely 1.1 per cent.
There is no period since World War II, 70 years ago, when the economies that are now bracketed as economically advanced saw such a sustained period of very slow growth.
And, according to the IMF forecast, this picture is not about to change soon.
As for inequality, the truth is that it has actually been coming down in a country like Britain.
Meanwhile, the growth performance of what are bracketed together as the "emerging market and developing economies" presents a contrast.
The last nine years (2008 to 2016) have seen an average rate of growth of more than five per cent -- which is better than their historical performance.
The worrying signal, though, is that the growth rate for these countries has dropped in the last couple of years to barely four per cent.
Both Latin America and Africa have seen growth collapse in 2015 and 2016.
It is the superior performance of the two largest economies in this category, namely China and India, which has propped up the average for all lower-income countries.
The other two Brics economies, Brazil and Russia, have seen GDP actually shrinking.
As a consequence of their faster growth, emerging market and developing economies have progressively accounted for a steadily larger share of the global economy.
In the way that statistical averages work, they have consequently sustained average global growth rates at about three per cent -- which by historical standards is par for the course.
But this is when growth is measured using purchasing power parity, which gives emerging markets a greater share of the world economy; global growth as measured by the market value of currencies is just 2.5 per cent.
Without China and India, it may be just 1.5 per cent.
The global growth challenge is, therefore, obvious, but has been obscured by the current zeitgeist, which relates to the frustration and pain felt by ordinary people in the advanced economies, faced as they are by economy-wide stagnation and the prospect of job losses.
Among the manifestations of this are Donald Trump's wild-card emergence as the Republican nominee for US president, and the Brexit vote.
Policy makers in the advanced economies have been forced to resort to unconventional and potentially risky practices like quantitative easing, creating aberrant results like negative interest rates -- and with them the prospect of more turbulence and possibly financial shocks.
That cannot be helpful to the emerging market and developing economies when they have already lost some of their momentum.
The global outlook as a whole remains deeply problematic.
The image is used for representational purpose only. Photograph: Reuters