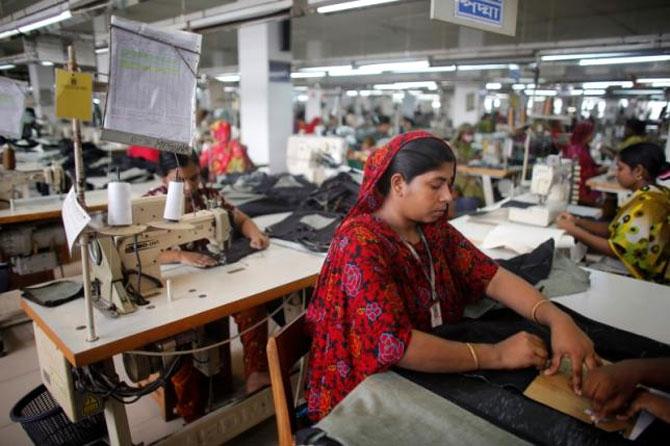 The garments story can suffer an immediate setback if foreign buyers consider it too risky to travel to Bangladesh.
The terrorist siege of a café in Dhaka's high-security diplomatic area in which at least 20 people, mostly foreigners, have died confirms the worst fears about the Bangladesh government's inability to control the rise in Islamic militancy in the country.
This comes in the wake of over 40 individuals, like secular bloggers and members of minority communities, being killed in public places in the last three years.
The earlier attempt by the authorities in Dhaka to argue that it was difficult to protect individuals from rogue attacks and that Islamist militancy had not established a presence in Bangladesh will now have to be given up.
It also has to be acknowledged that there is a threat to the well-being of the nation in the immediate future.
The Awami League government led by Sheikh Hasina has been credited with ushering in a period of stability and economic uplift by achieving steady growth of six-seven per cent over several years.
This has been critically enabled by booming garments exports as Bangladesh has beaten most other Asian countries, notably India, in replacing China as a global leader in the low-cost manufacture and export of garments.
The garments story can suffer an immediate setback if foreign buyers consider it too risky to travel to Bangladesh.
A good number of those killed in the siege were from Italy, a key player in outsourcing of garments.
If the growing trend of extremist violence -- the so-called Islamic State has owned up to perpetrating the latest carnage -- is not checked then there is bound to be an adverse economic impact.
And if that continues for long, then India could well see economic refugees crossing the porous border across which both individual militants and carriers of counterfeit currency have been regularly travelling.
Few are right now optimistic about the Awami League's ability to retain control over the situation as its democratic credentials have lately been questioned.
It was high on legitimacy when it won a landslide victory against the Bangladesh Nationalist Party to come to power in 2008 through elections held under a caretaker government.
The Awami League's refusal to hold elections under a similar arrangement a couple of years ago and the BNP's decision to boycott the elections have robbed the Awami League's mandate of legitimacy.
What is worse, Bangladesh's actions in bringing to book the perpetrators of crimes against the people during its war of independence have been viewed by international rights groups as unfair as standard international procedures have not been followed during the trials.
Bangladesh can remain secular, as most of its citizens are, only if the government of the day is seen to be fair to its political opponents while firmly going after terrorists.
The developments in Bangladesh are not good for India because of the political realities currently prevailing.
Illegal migration from Bangladesh, irrespective of its size, has played a key role in mobilising support and ensuring victory for the Bharatiya Janata Party in the recent Assam elections.
The Bharatiya Janata Party in eastern states has, for good political reasons, been campaigning against not just the illegal migrants and terrorists slipping in, but also the smuggling of cattle into Bangladesh.
If the situation there deteriorates, political forces in eastern India seeking to maintain social harmony and a secular atmosphere will find their task becoming increasingly difficult.
The image is used for representational purpose only
Photograph: Reuters